United First and United Global First :
United First Class with a fabulous choice of meals and superb inflight entertainment is available on flights within the United States. The cabin consists of extra-wide seats draped in with leather upholstery. Seats come with extra legroom. Complimentary quality blankets are offered to travelers. Complimentary beverages including wines, beer, soft drinks and coffee are available. Other inflight facilities include complimentary movies, complimentary Hemispheres Magazine and complimentary audio device with sound-proof headsets for the United First passengers.
The Global First class seats are private suits with additional storage capacity
The seats can be rolled out to full flat beds with complimentary quilts and pillows
Complimentary amenity kits containing skincare products for inflight use
Full six-course meals including appetizers, soups, salads, main course, desserts
Complimentary beverages and finest whiskies from across the globe
15.4 inch screens with 150 hours of preloaded content and sound-proof headsets
Complimentary newspapers and magazines
Access to United Airlines lounges at selected locations
Priority check-in, baggage handling at selected airports
United Business :
United Business Class is available for flights to Canada, Singapore, Tokyo, Guam, Latin America and the Caribbean. Spacious seating, complimentary blanket and welcome drink are some of the exclusive service features of this travel class. Such facilities as priority check-in, priority boarding and priority baggage handling are provided to the United Business Class travelers.
The seats can be reclined to 180 degrees and come with illuminated seat controls
Complimentary amenity kits containing Cowshed skincare products
Complimentary pillows and blankets of high quality
Pre-flight beverage and light meal service
Inflight dining menu offers signature desserts, appetizers, salads, main course dishes
Beverages on board include Jet Airways cocktails and various international wines
Mid-flight snacks served on long-haul flights
In-flight entertainment is the same as that for United Global First
Access to selected United Clubs and partner lounges
Priority Check-in and baggage handling
United Economy Plus :
The United Economy Plus offers spacious seating with extra legroom of about 5 inches on select aircraft used to operate United Airlines flights from USA to India. The Economy Plus offers the best inflight services and facilities to make travel a unique experience. Complimentary juices and soft drinks are served to welcome passengers on board. Free pre-arrival snack is available on selected routes. The airline provides in-flight shopping for various lifestyle products free of tax.
Economy Plus seats are wide enough for comfortable seating
Seats can be reclined to a comfortable position for sleeping
Complimentary pillows and quilts are provided for use
Free snacks are served to Economy Plus flyers before departure on select routes
Complimentary inflight dining services
Premium wines and champagne available for purchase
Inflight entertainment includes various TV shows and movies
Complimentary inflight magazines and sound-proof headsets
Inflight shopping catalogue for duty-free shopping on board
United Economy :
United Economy travel cabin consists of plush seats with extra legroom. Besides meals for purchase, complimentary beverages and snacks are served to the passengers of United Airlines flights with cheap economy tickets. Fleece blankets and pillows are provided to the United Economy passengers during flights to Asia, Africa, Europe, South America, the South Pacific and the Middle East. Audio-visual entertainment and inflight magazine keep travelers engaged on the United Economy flights.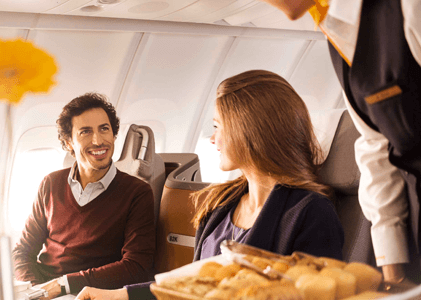 United Airline's inflight entertainment content varies from aircraft to aircraft and depending on routes during international flights. The United Private Screening (inflight entertainment system) airs a variety of programs including movies and TV shows in three different categories: Personal Device Entertainment, Seatback on-demand Entertainment, and Mainstream Entertainment. Some of the programs are available on seatback monitors and some are accessible through personal devices depending on the aircrafts used to operate United Airlines flights from USA to India.
The airline provides the DIRECTV programming on select flights. It gives direct access to some popular TV channels and the latest movie releases so that flyers can watch their favorite shows and catch up new films. United Airlines has started installing inflight Wi-Fi systems across its fleet to help passengers check social media updates, access online video content and stay connected. Currently, it is available on 700 aircraft. The use of onboard Wi-Fi service for videoconferencing or Voice over Internet Protocol (VoIP) is prohibited on United Airlines flights.
United Airlines offers two magazines "Hemispheres and Rhapsody" for inflight reading. Hemispheres dishes out in-depth articles and features on the latest trends in different niches including travel, entertainment, sports, fitness, health, and business. This inflight magazine is available on all flights to India from USA. Rhapsody is a monthly luxury lifestyle magazine offering news and articles about culture, dining and hospitality. It is exclusively available in the premium travel cabin and at the United Cub lounges.
United Airlines baggage allowance for Economy flights to India from USA is two bags of free check-in baggage; each weighs up to 23 kg. If the total weight of 2 free checked bags exceeds 46 kg, United Airline's excess baggage fee would be levied. The airline permits two pieces of free check-in baggage per traveler on Business flights from USA to India. Each check-in bag should not weigh more than 32 kg in the Business Class. One cabin bag of 7 kg is allowed per traveler on all United Airlines flights between USA and India, in all travel classes.
The above-mentioned baggage details for Business and Economy flights vary depending on United Airline's connecting flights and codeshare flights. Besides, the registered users of United Airline's frequent flyer program, MileagePlus, are eligible for complimentary excess checked baggage based on their memberships.
Online check-in is the most convenient way to check in for United Airline flights. You can check in from anywhere within 24 hours before your departure and get a printout of the boarding pass. You can opt to have a soft copy of the boarding pass emailed to your mobile device so that you can show it during security checking and boarding while departing from certain cities. Airport and baggage check-in timings vary depending on origin airports.
Those having United Airlines reservations for domestic or international flights can check in online if the first flights in their itineraries are operated by United Airline, if their itineraries contain no more than four segments, and if they are traveling in a group of fewer than nine persons. If you have paper-ticketed reservations for United Airlines flights, you are not eligible for online check-in.
If you are not familiar with the online check-in process or not eligible for checking in online, there are dedicated kiosks at airports.
MileagePlus is United Airline's reward program offering a number of benefits to frequent flyers. It is one of the best frequent flyer reward programs in the global air travel industry, according to Global Traveler Magazine. MileagePlus is the key to unlock the potential value of your frequent United Airlines flights in number of miles which you can redeem to bag award tickets for the next travel. Frequent travelers can earn and spend miles on flights with the codeshare partner airlines. The benefits that the registered users of United Airline's frequent flyer program enjoy depend on their membership and account status.
Benefits and Privileges of United Airline's MileagePlus :
Cruise booking to several destinations across the world
Accommodation booking at brand hotels and resorts
Free subscription to popular magazines and newspapers
Shopping for lifestyle items and entertainment products
Booking of rental cars, including full-size sedans
Holiday package booking to any place in the airline's network
Free cabin upgrade and excess check-in baggage
Priority check-in, priority boarding, priority baggage claim
United Airlines has the world's third largest fleet in which, Boeings occupy a major part. The fleet includes aircrafts like Boeing 787-8 Dreamliner, Boeing 787-9 Dreamliner, Boeing 747-400, Boeing 777-200, Boeing 767-300ER, Boeing 767-400ER, Boeing 757-200, Boeing 757-300, Boeing 737-700, Boeing 737-800, Boeing 737-900, Airbus A319 and Airbus A320. The average fleet age of United Airlines is 13.6 years. The airline has some 720 aircrafts in its fleet.
Boeing 787-900
Boeing 787-900 is the latest Dreamliner model with twin General Electric GEnx Engines and can fly at a speed of 560 mph. Its three travel classes - Business, Economy Plus and Economy have a total of 252 seats, out of which 48 are in Business Class, 88 are in Economy Plus and the remaining 116 are Economy seats. The 22 inch Business Class seats can be reclined to 180 degrees. The Economy Plus seats can be reclined up to 4 inches and are 17.3-inch wide. The Economy seats have 3-in recline and 17.3-in seat width.
Boeing 747-400
Boeing 747-400 is one of the dependable aircrafts in the fleet of United Airlines for international routes. Powered by Four Pratt &Whitney PW4062 turbofan engines, it can reach a speed of 567 mph. B747-400 accommodates 374 passengers in four travel cabins. There are 12 Global First, 52 Business, 88 Economy Plus and 222 Economy Class seats. Seats in the Global First and Business Classes are full flat beds measuring 22 and 20 inches in width respectively. The Economy Plus seats can be reclined by 5 inches and are 17-in wide. The Economy seats can be reclined by 4 inches measure the same in width as the Economy Plus seats.
Boeing 767-400ER
There are 16 Boeing 767-400ERs in the United Airline fleet. Powered by the twin General Electric GECF6-80C2B8F engines, B767-400ER can fly at a maximum speed of 530 mph. Out of 242 seats, 39 are in the Business Class, 70 seats are in the Economy Plus and 133 seats are in the Economy Class. The Business class seats can be rolled out to full-flat beds and are 21 inch wide. Both the Economy Plus and Economy Classes are equally wide measuring 17.3 inches.