Jet Airways operates cheap flights to India from USA in three travel classes: First Class, Premier and Economy Class. The First Class is a cocoon of luxury in the air. The Premier Class offers cozy environment for business travel, and the Economy Class offers comfortable travel within budget.
Jet Airways First Class :
Jet Airways First Class flights from USA to India are synonymous with luxury and comfort.
The First Class consists of private suites with seats which can be rolled out to full-flat beds
The First Class accommodates only eight passengers on board.
Each suite comes with a private wardrobe, sliding doors and window access.
A fine range of sumptuous dishes from different cuisines is served
Jet Airways signature cocktail and the finest whiskies from across the globe are served
Free access to Jet Airways lounges and partner lounges
Jet Airways Premier Class :
Traveling in the Premier Class is an altogether different experience. The meticulously designed Premier Class is suitable for both work and relaxation in the sky. Everything in the Premier Class from seating to inflight dining is stylish and classic.
Jet Airways Premier Class features seats that can be rolled out to full-flat beds.
All the seats in the cabin offer lots of private space and surrounded with a wall of privacy
'Dine Anytime' is a unique feature providing dining service round the clock.
Aisle access and window access to every seat.
Access to Jet Airways and its partner airlines lounges
Jet Airways Economy Class :
Jet Airways Economy cabin is suitable for Economy flights to India from USA for budget travelers. The cabin is ergonomically designed and equipped with essential amenities in keeping with the basic needs of Economy passengers.
Economy Class seats come with 'hammock' headrests and foot nets for extra comfort
The seats can be reclined to a comfortable position for sleeping.
Delicious Indian and international dishes with complimentary beverages are served
The seats are equipped with personal 10.6 inch touchscreens with preloaded entertainment content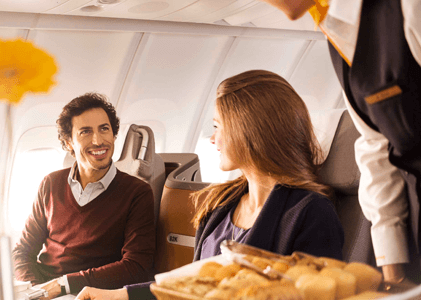 Jet Airways provides world-class inflight entertainment in all travel cabins during flights from USA to India. The Economy cabin is provided with seat-back 10.6-inch TVs with touchscreen. The Première cabin features 15.4-inch personal touchscreen LCD TVs. 23-inch LCD flat screen TVs with Bose noise- cancelling headphones are installed in Jet Airways First Class suits. The entertainment systems screen the latest movies from Hollywood and Bollywood, games, TV shows and various other programs.
Exclusive dishes from Indian and intercontinental cuisines are served on all flights to India from the US. Inflight menus vary depending on travel classes. Special meals are provided for children on demand. The airline also serves various religious and medical meals on demand.
Jet Airways has an inflight monthly magazine "JetWings", which features stories about travel, entertainment, fashion and technology. The airline also has an inflight shopping catalogue named "JetBoutique", which lets you shop for various items on board.
Jet Airways free baggage policy allows Economy Class passengers to carry two check-in bags of 50 pounds each and the linear dimension of each bag's wheels and grips should not exceed 62 inches. The baggage allowance for Jet Airways Business Class is three check-in bags of 50 pounds each, on flights to India from the US. The linear dimension of each bag should not be more than 62 inches.
Jet Airways' Economy Class travelers can carry a single cabin bag of 15 pounds during their flights to India.
Jet Airways web check-in facility lets travelers check in at airports in no time. You can obtain your boarding pass right away from the airline website, using the web check-in facility. The facility is available on Jet Airways website from 48 hours to 2 hours prior to a scheduled flight. Jet Airways has advance check-in kiosks at selected airports.
'JetPrivilege' is Jet Airways loyalty program for frequent fliers, with five membership choices: JetPrivilege Blue, JetPrivilege BluePlus, JetPrivilege Silver, JetPrivilege Gold and JetPrivilege Platinum. You can earn miles on Jet Airways flights and its codeshare flights. The miles can be redeemed for Jet Airways cheap flight tickets to India from USA and other lucrative offers.
Benefits of Jet Airways frequent flyer program :
Earn JPMiles for booking flights with Jet Airways or any of its airline partners
Get access to lounge services at select airports based on your membership
Earn additional JPMiles on transactions with the airline's program partners
Redeem miles for award flights to more than 6000 destinations with Jet Airways and its partners
The JetPrivilege Platinum, Gold and Silver members can carry one extra check-in bag of 23 kg
Get such facilities as priority check in, priority baggage tagging, and priority boarding
There are total 115 planes in the fleet of Jet Airways, at present. The average age of the Jet Airways fleet is 5.9 years. The fleet includes planes of different models like Boeing 777-300ER, Boeing 737-700, Boeing 737-800, Boeing 737-900, Airbus 330-200, Airbus 330-300, ATR 72-500 and ATR 72-600.
Boeing 777-300ER
Boeing 777-300ER is a wide-body aircraft in the fleet of Jet Airways. A total of ten Boeing 777-300ER planes are there in the fleet. Boeing 777-300ER has a total of 346 seats including 8 seats in the First Class, 30 seats in the Première Class and 308 seats in the Economy Class. The seats in the First and Première Classes have 180-degree recline and can be converted into lie-flat beds. The Economy seats are wider and can be reclined to a comfortable position of 11.5 degrees. With twin powered engines, the aircraft flies at a speed of 905 kmph and up to altitude of 43,100 feet. Boeing 777-300ER is used to operate some of the Jet Airways flights to India from USA.
Boeing 737-800
Jet Airways has a total of 64 Boeing 737-800s in its fleet. Of the total 168 seats, Boeing 737-800 has 12 seats in the Première cabin and 156 seats in the Economy cabin. The Première Class seats can be rolled out to lie-flat beds, while the Economy seats are comfortable enough to make you travel at ease on long-haul routes. The Boeing 737-800 flies at a speed of 835 kmph and up to an altitude of 41,000 feet.