Lufthansa First Class :
"Excellent" is the only adjective to describe Lufthansa's First Class cabin. Creativity meets technology and quality meets sophistication to ensure perfection in the design, décor and service that Lufthansa First Class boasts of. Ergonomically designed seats with flexible seat adjustability turn into two-meter long beds offering peaceful sleep. The cozy ambience of the cabin makes you breathe in an air of comfort. Lufthansa Media World makes the First Class cabin an entertainment zone in air. Every First Class seat is accessorized with a large-size individual screen. Do experience the old-world hospitality with contemporary charms on Lufthansa First Class flights to India from USA.
Lufthansa Business Class :
Lufthansa's Business cabins on short-haul routes and Lufthansa's Business cabins for long-haul flight are different to some extent. Lufthansa Business Class travel is an exceptional experience of hospitality from boarding to landing. Dipped in natural colors and draped in quality upholstery, the Business cabin offers an agreeable ambience. Inflight dining over a spread of delectable buffet doubles the joy of traveling in Lufthansa Business Class. The Business Class service is extended to the "Welcome Lounge" at select airports. Space for productivity on board is a big draw of Lufthansa Airline's Business Class flights from USA to India.
Lufthansa Premium Economy :
Premium Economy is Lufthansa's brand new travel class for long-haul flights from USA to India and other international destinations. Lufthansa Premium Economy combines the best of Business Class and Economy Class in seating, service, entertainment and comfort.
Premium Economy seats are wider than Economy seats and offer a generous amount of legroom
Premium Economy passengers are provided with travel kits containing essential accessories
Seats in Lufthansa Premium Economy are equipped with 11 to 12-inch entertainment screens
Passengers are given fruity welcome drinks and bottles of water at their seats
Passengers are served meals of their choice on China tableware in Premium Economy
Passengers are given access to select Lufthansa lounges on payment of a fee
Lufthansa Economy Class :
Lufthansa Economy flights to India from USA offer a comfortable travel experience as seats offer greater legroom and individually adjustable headrests. Indian Eagle books Lufthansa's cheap economy flights from USA to India and assures you of the best travel with the benefits below:
A unique selection hot and cold beverages is served with a little snack or a hot meal
Long-haul Economy class flights are full of inflight entertainment programs
Inflight entertainment systems screen the latest movies, TV shows, and air radio programs
A special "movie snack" is served during inflight entertainment on select routes
A wide choice special meals with dishes from Indian cuisines and others is served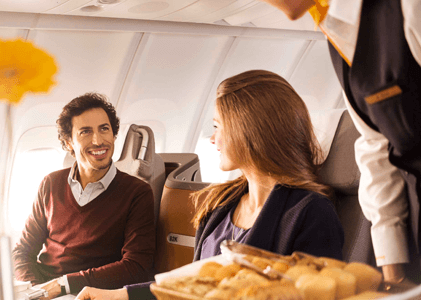 Lufthansa flights in the First Class and Business Class are popular for exclusive inflight dining, which the airline describes as "Nonstop You". Dining in the First Class on Lufthansa USA flights to India and other prime destinations is an unforgettable experience designed by top chefs from the gourmet world. Business Class travelers are treated to a wide range of menus on long-haul routes. Apart from special meals including various dishes, complimentary beverages and snacks are served on Lufthansa's Economy flights to India.
Lufthansa Media World has facilitated exclusive inflight entertainment in the First Class and the Business Class. Watch, listen and play as per your preferences. You can exercise full control over the personal screen that dishes out a host of programs in five different categories: WatchEnjoy, ListenRelax, StudyPlay, KidsFun and FlyLufthansa. The Lufthansa inflight entertainment content comprises 100 movies, 200 TV shows, 300 audio CDs, 30 radio programs and many games in eight different languages. There is no room for sports fans to get bored as they can catch the latest sports coverage in the WatchEnjoy category. The Lufthansa Media World program list is given to every First and Business class traveler.
On Lufthansa Economy Class flights to India, travelers can navigate the touchscreen of their personal entertainment systems to choose from the extensive program list. The user entertainment interface is available in 10 different languages: English, French, Chinese, Italian, German, Arabic, Korean, Portuguese and Spanish. The variety of content in different entertainment categories such as romance, comedy, drama and thriller is the same in Economy Class as in First and Business Classes.
2 check-in bags weighing 23 kg each are allowed per passenger on Lufthansa flights from USA to India in Economy Class. The Lufthansa baggage allowance for Business Class flights to India is 2 pieces of check-in baggage weighing up to 64 kg or 140 pounds in total per adult traveler.
You can carry only one piece of cabin baggage weighing maximum 8 kg on Economy flights to India from USA operated by Lufthansa. As per the Lufthansa baggage allowance for the Business Cabin, you can carry 2 pieces of cabin baggage weighing 8 kg each on Business Class flights to India.
The checked and cabin baggage allowance varies in case of Lufthansa's connecting flights and codeshare flights.
Lufthansa Airlines offers several check-in options including web, mobile and airport kiosks. You can check in on the airline website via your mobile device and receive boarding passes at one click. Or you can check in at kiosks or traditional check-in counters at airports. You can check in for Lufthansa flights worldwide within 23 hours before departure and reserve your seat on board.
You can register on the airline website with your mobile phone number and email address for Lufthansa's automated check-in facility. You will receive your boarding pass via an SMS or email within 23 hours before the scheduled departure. The service is free for all Lufthansa flights in Germany and Europe.
The late night check-in service is available for direct and connecting Lufthansa flights to the USA, Canada and Mexico. It enables passengers to check in their baggage the evening or night for their early morning flights. The service is not available for Lufthansa flights departing North America for security reasons. However, this facility is popular with group travelers, family travelers and those with a lot of luggage.
Miles & More is Lufthansa's frequent flyer reward program available in four categories: Member, Frequent Travelers, Senator and HON Circle. It lets frequent flyers earn miles on Lufthansa flights in all travel classes. You can earn miles on Lufthansa's codeshare flights too. The miles can be redeemed for free cabin upgrades, free excess check-in baggage, discounts on flight tickets, and lucrative offers from Lufthansa's lifestyle partners, based on membership levels. Miles can be earned on and redeemed for Lufthansa's cheap flight tickets to India from USA.
Benefits and Privileges of Lufthansa's Miles & More based on Memberships :
Free travel class upgrade
One additional piece of check-in baggage
One golf bag within the permitted weight of additional bag
Limousine service for airport transfer
Personal assistance at airports and in flight
Access to Lufthansa lounges at select airports
Lufthansa has a growing fleet of top-class aircrafts including Airbus A380-800, Boeing 747-8, Boeing 747-400, Airbus A340-600, Airbus A340-300, Airbus A330-300, etc. The average fleet age of Lufthansa is 11.2 years. With a total of 270 planes in its fleet, Lufthansa is the second largest passenger airline in the world.
Airbus A380-800
The largest and heaviest Airbus A380-800 is the principal passenger aircraft in the fleet of Lufthansa Airlines. The aircraft is powered with quadruple Rolls Royce engines and flies up to an altitude of 13,100 meters. Airbus A380-800 accommodates 526 passengers at a time. There are 8 First Class, 78 Business Class, 52 Premium Economy Class and 371 Economy Class seats on board. Another interesting feature of Lufthansa's A380-800 is that it automatically applies brakes after landing. Temperature settings in the cabins can be changed.
Boeing 747-8
Boeing 747-8 is the latest version of B747 and also Lufthansa's longest passenger aircraft. The aircraft can fly at a maximum speed of 920 kmph. This new variant has four General Electric Engines and can fly at a height of 13,100 meters. Lufthansa's Boeing 747-8 has 362 seats, out of which 8 seats are in the First Class, 80 seats are in the Business Class, 32 seats are in the Premium Economy and the remaining 244 are Economy Class seats.
Boeing 747-400
Lufthansa's Boeing 747-400s are fuel-efficient aircrafts and deployed on intercontinental routes. It can attain a maximum speed of 920 kmph. Boeing 747-400 is powered by four General Electric CF6-80C2 and flies up to an altitude of 13,700 meters. 53 seats in the Business Class, 32 seats in the Premium Economy and 308 seats in the Economy cabin make total seating capacity for 393 passengers.
Airbus A330-300
There are 10 Airbus 330-300 in Lufthansa's fleet. The special feature of Airbus A330-300 is that it flies quietly due to the wider and efficient fan blades. Powered by twin Rolls-Royce Trent 700 engines, the aircraft can fly at a speed of 875 kmph and can go up to a maximum altitude of 12,500 meters. Out of 236 seats, eight seats are in the First Class, 30 seats in the Business Class, 21 seats in the Premium Economy and the remaining 177 in the Economy Class.