Air India's cheap flights to India from USA are available in three travel classes: Frist Class, Executive Class and Economy Class. If the First Class is all about luxury, the Executive Class is meant for leisure and the Economy Class offers budget travel with lots of comfort.
Air India First Class :
Air India flight in the First Class is synonymous with luxury and sophistication. Furnished with high-quality upholstery and plush carpet, the First Class is unique to the airline's promise of super luxury in the sky.
Air India First Class seats are highly comfortable beds with 180-degree recline
The First Class cabin accommodates only 12 passengers on board
Each First Class seat comes with aisle access and a window view
The ethnic interior décor is pleasing to the senses
The Air Show displays changing flight pattern, speed and aircraft altitude
A fine selection of succulent dishes, delicious soups and delectable starters
Stimulating cocktails, and vintage wines or premium champagnes
Air India's Sky Bazaar offers branded lifestyle products for duty-free shopping
Access to Air India's Maharaja Lounge points and partner lounges
Air India Executive Class :
Air India's Business Class flights from USA to India are known for unique inflight services. The Air India Executive Class cabin exudes exclusivity in everything from seating to décor to inflight dining to inflight entertainment. Indian Eagle books cheap Air India flights to India from USA in the Executive Class.
The Executive Class consists of spacious cabins with plush seats
The Business Class seats can roll out to full-flat beds
Complete inflight dining with exclusive wines
Access to Maharaja Lounge points and other lounges
Priority check-in and boarding facility
Aisle access or window seats for every passenger
Air India Economy Class :
Air India's Economy Class offers a unique budget travel experience even on cheap USA to India flights. The Economy seats are cozier than those of other airlines. Most of the aircrafts in Air India's fleet for international travel have the Economy cabin. Cheap Air India economy flights to India from USA come with the following facilities:
The Economy seats offer decent legroom, comfortable seating and adjustable headrest
Complimentary beverages and wines are available
Continental or Indian menu with veg and non-veg dishes for inflight dining
Well-positioned inflight entertainment screens offering cinematic viewing
Improved illumination and upgraded temperature control systems
Access to select lounge points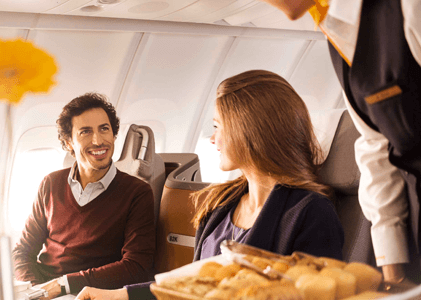 Air India offers entertainment-packed travel even on cheap flights to India from USA in all travel classes. The passenger cabins of the aircrafts deployed for international flights are equipped with advanced in-seat / back-seat entertainment systems. The Economy seats of Air India's flights to Mumbai and Delhi from New York are equipped with back-seat 10.6-inch LCD monitors for inflight entertainment. The Business Class features in-seat 15.4-inch LCD screens. There are 23-inch LCD screens on Air India's First Class flights. Air India's inflight entertainment systems offer nearly 400 hours of entertaining content including both visual and audio programs.
Every Air India flight from USA to India serves an exclusive menu of Indian dishes. Air India's inflight menus for flights to India feature chef's choices from some of the most popular dishes in various Indian cuisines. It reflects India's rich and varied food culture. The airline serves different religious, medical and dietary meals and special meals for infants as well as children on demand.
Air India's inflight shopping catalog "SkyBazar" and inflight magazine "Shubh Yatra" (Bon Voyage) keep travelers engaged during their flights. You can shop for various items at competitive prices and get attractive discounts, redeeming your "Flying Returns Mileage Points", in the air. Shubh Yatra, the monthly inflight magazine in English and Hindi, is available on Air India's flights and lounges. It covers travel, food, health, fashion, movie, music and technology stories.
As per the latest information, Air India's baggage allowance from USA to India is 2 pieces of check-in baggage on Economy flights. 23 kg is the weight limit for each bag. You can carry one cabin bag of maximum 23 kg on Air India's Economy flights to India.
As per Air India's baggage policy from USA to India, you can carry 2 pieces of checked baggage in the First Class and the Executive (Business) Class. Each checked bag must not exceed 32 kg or 70 pounds in weight.
Only one piece of checked baggage weighing not more than 10 kg is permitted to an infant traveler on Air India's all flights to India from USA. The weight and size limits of checked baggage may be different in case of Air India's codeshare flights.
Air India's web check-in facility lets travelers check in at airports in no time. You don't need to stand in long queues before traditional check-in desks at airports. With the web check-in facility available for travel from the United States, you can even get a copy of your boarding pass instantly. You can check in on Air India's website from 48 hours to 2 hours before your scheduled flight. Air India has advance check-in kiosks at designated airports.
Flying Returns is Air India?s frequent flyer program comprising three membership choices: Maharaja Club, Golden Edge Club and Silver Edge Club. One of the best frequent flyer programs for international travel, Flying Returns offers mileage points on every Air India flight with certain ticket types. You can earn bonus miles on Air India?s First Class, Business Class and full-fare Economy Class flights. Even flying on Air India?s codeshare partner airlines and selected non-airline partners fetches mileage points. Both bonus miles and mileage points can be redeemed for award tickets to destinations of your choice. Air India?s cheap flight tickets to India from USA also earn mileage points.
Benefits and Privileges of Air India's Flying Returns based on Memberships :
Members of Flying Returns can purchase bonus miles in case their mileage points fall short of redemption for award tickets
One extra check-in bag of 20kg for "Maharaja Club" members only on Air India flights
One extra check-in bag of 10kg for "Silver Edge Club" members only on Air India flights
Priority check-in and boarding, priority baggage delivery
Dedicated check-in counters at select airports
Mileage points can be redeemed to issue award tickets for the member or any other person
Tele check-in facility at Delhi, Mumbai, Hyderabad, Kolkata, Bengaluru and Chennai for Business and Economy Class travelers carrying only cabin bags
Mileage points on Air India's codeshare flights with partner airlines cannot be redeemed for award tickets
Lifestyle privileges with non-airline partners
Air India's fleet size is 111 as of now. Air India's average fleet age is 9.8 years. The airline has both wide-body and narrow-body aircrafts of different models including B787 Dreamliner, B777-300ER, A319, A320, A321, and B747-400 in the fleet.
B787 Dreamliner
Air India's fleet currently includes 21 Boeing 787 Dreamliner. The airline deploys the Dreamliner aircraft for flights to India from USA and international flights on other routes across its global network. Air India's B787 Dreamliner has a total of 256 seats including 18 in the Business Class and 238 in the Economy Class. The Business Class seats have a width of 22 inches between two armrests, and 17 inches is the width of Economy seats. B787 Dreamliner is a fuel-efficient, wide-body aircraft. It can fly high up to a maximum altitude of 43,100 ft. The Dreamliner offers comfortable, adjustable, generous seating.
B777-300ER
Boeing 777-300ER is another wide-body aircraft in Air India's fleet. There are total 12 B777-300ER aircrafts in the fleet; each has 342 seats in three travel classes: First, Business and Economy. Air India's Boeing 777-300ER has 4 First Class seats, 35 Business Class seats and 303 Economy seats. Both First and Business Class seats with 180-degree recline can roll out to full-flat beds. The B777-300ER aircrafts have wider Economy seats than the B787 Dreamliner. Powered by two engines, this aircraft with a capacity of flying up to the height of 43,100 ft. is used to operate international flights including US to India flights.