British Airways flights are available in different travel classes. Though each travel class is suitable for a particular budget, they are designed with great care and equipped with passenger-friendly amenities.
First Class :
British Airways First Class is an oasis of luxury and comfort with contemporary touches of sophistication. The interior of the First Class is complemented with world-class amenities to facilitate a high-level of flying experience. BA's First Class passengers are given a luxurious treatment from dining in the First travel class to the Concorde Lounges.
Club World (Business Class) :
British Airways Business Class flights from the US to India offer ultra-cozy travel as exclusive inflight services and amenities are available on board. The food and drink service is unique to BA's Club World. BA's Business Class travelers get dedicated check-in desks and access to Terrace Lounges, Galleries Lounges and Arrivals Lounges. British Airways Club World menu for business travelers offers a blend of different flavors to suit different taste buds.
Highly comfortable, spacious seats which roll out to fully-flat beds
Club World seats adjust to your person needs with great flexibility
Seats come with adjustable headrests and quilted blankets
Amenity kits with branded skincare products and accessories are provided
In-seat power supply for personal devices like laptops, tabs and cell phones
In-seat personal entertainment systems with 10.4-in flat screen and noise-canceling headphones
Hours of entertainment over films, TV shows, music, documentaries and games
Priority boarding and fast track security at London Heathrow and Gatwick airports
Three-course meals including delicious dishes to nutritious snacks
Varieties of spirits, soft drinks and wines curated by experts
World Traveller Plus (Premium Economy) :
World Traveller Plus or British Airways Premium Economy comes with a host of signature amenities and inflight services to offer flights with added comfort. Available for long-haul international flights, the Premium Economy Class is suitable for budget travel. BA's World Traveller Plus is available on A380s, Boeing 787s, Boeing 777-300ER and Boeing 777-200s in the fleet.
Wider seats with added legroom, spacious footrest, adjustable headrest and lumbar support
Seats with greater recline to help you stretch out, sit back, sleep or work
Seats are accessorized with fleece blankets and cozy cushions
Amenity kits with toothbrush, toothpaste, eye mask and a pair of flight socks
In-seat power supply for personal gadgets like laptops, tabs, cell phones, etc.
Personal inflight entertainment systems with 10-in touch screens
Hours of entertainment programs including games, movies, music shows, etc.
Three-course meals with a premium dining experience on board
A comprehensive list of special meal choices to suit different dietary needs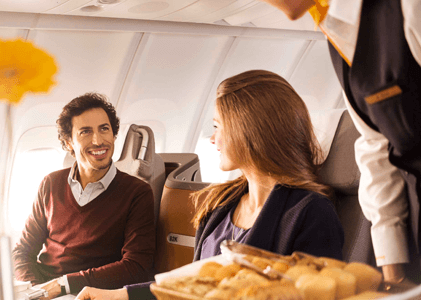 British Airways flights from USA to India are full of entertainment because of advanced inflight entertainment systems with a wide selection of various programs, and world-class reading materials including High Life, a lifestyle magazine, available in all travel classes. BA's inflight entertainment services including inflight dining make every flight a happy journey for all passengers irrespective of their travel classes.
British Airways inflight entertainment systems screen the best and latest Hollywood as well as Bollywood blockbusters from a curated list on flights to Delhi, Mumbai, Bengaluru, Hyderabad and Chennai from the USA. The airline provides a kids channel which airs popular cartoon shows.
You can spend time reading British Airways signature inflight magazine "High Life" or flipping the pages of "High Life Shop", an inflight shopping catalog, on your flights to India. Once you have selected your favorite picks from the catalogue, you can shop on Highlifeshop.com in the air. The magazine offers interesting reads from travel, food, culture, lifestyle, etc.
British Airways offers several options for baggage check-in. You can log on to BritishAirways.com and check in online or on your mobile before reaching the airport. With the online and mobile check-in facility in place, you don't need to stand in queues for traditional check-in desks or baggage check-in kiosks at airports. You can do web check-in at any time between 24 hours and one hour before your flight's scheduled departure. You need to reach the airport on time for traditional check-in. If you check in online, print your boarding pass and save it. If the boarding pass is lost or left somewhere, you can get it again at an airport check-in kiosk. You can check in for the connecting or return flight at the same time, if it is within 24 hours.
You need to check in at the airport: If you are about to fly in a group of more than 9 travelers or If your child travels alone or If your child travels with you but on a separate booking
Executive Club is British Airways frequent flyer program comprising four memberships: Blue, Bronze, Silver and Gold. The registered members of the Executive Club earn Avios or BA Miles for booking British Airways flights or flights with BA's partner airlines. You need to register online for a membership of the Executive Club.
The number of reward points or BA Miles you earn for buying British Airways check tickets to India depend on your Executive Club membership level and travel class. You can redeem your Avios or BA Miles for flight tickets, cabin upgrades, extra free check-in baggage, priority boarding, access to BA lounges, complimentary spa treatments and other privileges. BA Miles can be redeemed for the same rewards from BA's airline partners. If you travel with your family or in a group, you can use the collective Avios of up to 6 people who travel with you.
Airbus A380
British Airways is one of the few international airlines to own and operate a fleet of Airbus A380, which is the world's largest commercial passenger jet with double decks. BA's A380s are wide-body, four-engine aircraft with capacity for 469 passengers in four travel classes. It is one of the greenest planes with the lowest emission per passenger.
British Airways A380s have spacious and quiet cabins with the best of inflight services and amenities for passengers. The First Cabin is a private oasis of luxury, while the Club World is an executive Business Class with world-class amenities for business travelers. Both the upper deck and the main deck have the Club World. The World Traveller Plus on the upper deck of A380s is the Premium Economy Class offering wider seats with more legroom than the Economy seats. The World Traveller Cabins on the upper deck and the main deck are the Economy Classes with uncompromised service quality.
Airbus 380s are deployed to operate British Airways flights on a number of popular routes, including Washington, Los Angeles, Singapore, Hong Kong, Johannesburg and others.
Boeing 787-9
British Airways Boeing 787-9 is the most fuel-efficient aircraft of medium size and with 30% lager windows. The latest addition to BA's fleet, Boeing 787 saves on operating costs, fuel costs and maintenance costs by 10 to 30%. Its emission level and noise footprint are lower than those of other aircrafts by 20% and 60% respectively.
BA's Boeing 787 aircrafts are 20 feet longer and 4 inches taller than Boeing 787-8. The First Cabin on Boeing 787s has fully-flat bed seats for 8 passengers. Despite larger windows, brightness can be adjusted with a button. Boeing 787 aircraft consists of BA's signature travel classes: First, Club World, World Traveller Plus and World Traveller, with higher humidity and lower pressurization.
Boeing 787-9s are deployed to operate British Airways flights to Delhi, Austin, Abu Dhabi, San Jose, Muscat, Kuala Lumpur and others.
Boeing 787-8
Boeing 787-8 in British Airways fleet is akin to its latest version, Boeing 787-9, in terms of efficiency and cabin features. Manufactured by Boeing, the aircraft is a mid-size jet powered by a twin engine. BA's B787-8 is more fuel efficient by 20% than other passenger jets of the same size. This Boeing aircraft has windows as large as those of B787-9.
Unlike BA's Boeing 787-9 jets, B787-8 jets have three travel classes: Club World, World Traveller Plus and World Traveller. Boeing 787-8 jets are deployed to operate cheap British Airways flights to Hyderabad, Chennai, Austin, Toronto, New York, Philadelphia, Calgary and other destinations, ensuring safe, comfortable travel for passengers.