Like Kala Bagai, one of the first and oldest Indian immigrants in America, Sonal Bhuchar had been a community activist and trailblazer. An education leader in Fort Bend County, Texas, Sonal Bhuchar will posthumously have an elementary school named after her as a tribute to the various leadership roles that she played in actualizing several initiatives. Elementary School 53 is scheduled to open in 2023 in the Riverstone community.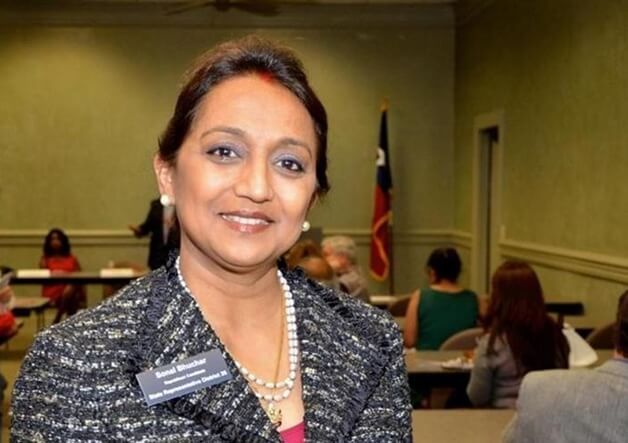 Sonal Bhuchar, who died of cancer when she was 58 in 2019, was a devoted volunteer and public servant. A professional physiotherapist from Mumbai, she made Houston her home after she moved with her husband in 1984. With the passing of time, she turned over a new leaf as a community activist. She was actively associated with several nonprofits, including Child Advocates of Fort Bend, the Literacy Council of Fort Bend, AccessHealth, Sugar Land Cultural Arts Foundation, and Texas Medical Association Alliance. Needless to say, she left behind a legacy of her impactful contribution to the fields of education and philanthropy in Fort Bend County.
A lady with multiple hats, Sonal Bhuchar received her first recognition in the community when she was elected to the board of trustees for the Fort Bend Independent School District (FBISD). She held on to this position for 6 years until she got promoted to a higher rank and became president of FBISD. She worked tirelessly as the board president for two years.
During her tenure on the FBISD Board of Trustees, Sonal was entrusted with several initiatives, including the Student Leadership Program, the Legislative Advocacy Program, the Fort Bend Education Foundation's Annual International Festival, and WATCH-a lifestyle education program. She also facilitated the passage for scholarship opportunities to the Fort Bend Independent School District.
Until her last breath, she was an active contributing member and volunteer on the board of the Child Advocates of Fort Bend. The goodwill that she had built for herself Fort Bend County played instrumental in building a unanimous decision on naming the upcoming school after her.
Sonal Bhuchar achieved another milestone in 2015 when Greg Abbot, the Governor of Texas, appointed her to the One Star National Service Commission Board. In her new role, she promoted volunteerism among Texans and supervised the administration of AmeriCorps programs in the state. It not only catapulted her fame to a new high, but also made way for her into the hearts of Texans.