Forbes' 2019 List of 400 Richest Americans features seven richest Indian American billionaires or wealthiest American billionaires of Indian origin. They have inspiring stories to tell about how they fulfilled their 'American Dreams' and embarked on a journey to success in the United States. With a net worth of $3.8 billion, IndiGo co-founder Rakesh Gangwal tops the list of Indian American billionaires, whereas Austin-based Brain Nirajan Sheth with a net worth of $2.2 billion is the youngest richest billionaire of Indian origin in USA. Cyber tycoon Jay Chaudhry from San Jose is a newcomer on the Forbes list of 400 richest Americans. The CEO of Arista Networks, Jayshree Ullal, the only Indian American woman in the global club of billionaires, has been dropped from Forbes' 2019 list.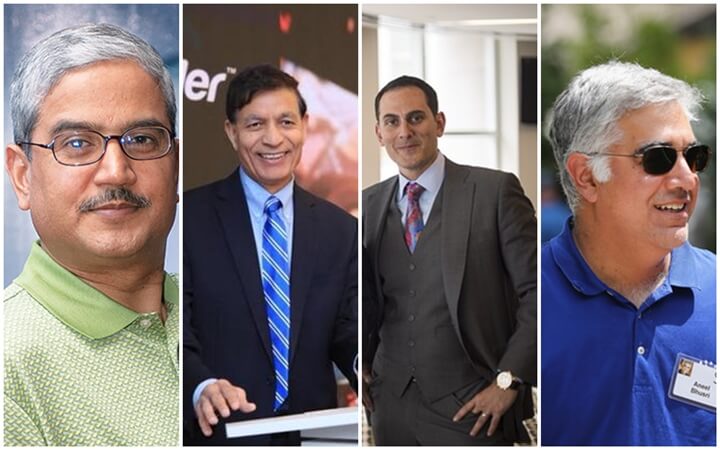 Rakesh Gangwal, Net Worth: $3.8 Billion
Miami-based Rakesh Gangwal, with a net worth of USD 3.8 billion, is the richest Indian American. Co-founder of IndiGo, a low-cost airline in India, Rakesh Gangwal made it to the Forbes 2018 list of billionaires as the richest of 10 Indian-origin billionaires in the United States. Kolkata-born Rakesh is an alumnus of IIM Lucknow in mechanical engineering. He studied MBA at Wharton School of Pennsylvania University and fulfilled his American Dreams when he became the Chairman of US Airways Group after a stint in strategic planning for United Airlines in 1984. The richest Indian American Rakesh Gangwal founded InterGlobe Aviation Ltd. in 2000 and co-founded IndiGo in 2006. Today, IndiGo is India's biggest low-cost carrier in terms of domestic market share.
Jay Chaudhry, Net Worth: 3.6 Billion
The new entrant on the Forbes 2019 list of 400 richest Americans, Jay Chaudhry is the second richest Indian-origin billionaire in USA. His journey from a small Himalayan village to Wall Street is an inspiring story of American Dreams. Born in Panoh, a remote village without running water in Himachal Pradesh, Jay Chaudhry is a leading cyber security business tycoon in San Francisco Bay Area. He co-founded Zscaler, as a virtual security checkpost for companies exposed to cyber threats, in San Jose after a short stint in sales and marketing positions at MNCs like IBM. He is an alumnus of Harvard University and the University of Cincinnati. Unlike other billionaires, he says "My success so far has mainly been because I have very little attachment for money. I definitely do not feel like a billionaire even with a billion-dollar fortune."
Romesh T. Wadhwani, Net Worth: $3.3 Billion  
Symphony Technology Group's founder and CEO, Romesh T. Wadhwani from California has moved to the third rank among the richest Indian American billionaires on the Forbes 2019 list, though his net worth has gone up to USD 3.3 billion from US$ 3.1 billion in 2018. Romesh Wadhwani is not just one of the wealthiest Indian American entrepreneurs but a compassionate philanthropist too. His family shifted from Pakistan to India during the Partition in 1947. He is an alumnus of IIT Bombay in electrical engineering and holds a PhD degree from Carnegie Mellon University. The richest Gujarati in America, Romesh T. Wadhwani is a self-made serial entrepreneur. One of the top 10 Gujarati Indian billionaires in USA, he set up the Wadhwani Foundation with several initiatives including the National Entrepreneurship Network to drive socio-economic development in countries like India. In 2012, he opened a research center at the National Center for Biological Sciences in Bengaluru.
Kavitark Ram Shriram, Net Worth: $2.2 Billion 
With a net worth of $ 2.2 billion, Kavitark Ram Shriram stands fourth on the list of richest Indian Americans and is one of the well-known Indian-origin investors in California. Among the early investors in Google, Kavitark was born in Chennai and graduated in mathematics at Chennai's Loyola College. He worked for Jeff Bezos, the founder and CEO of Amazon and the world's richest billionaire, before making headlines for his investment worth $250,000 in Google. A board member of Google's parent company, Alphabet, Kavitark Ram Shriram founded Sherpalo, a venture capital firm for technology startups in 2000. He joined the league of Indian American philanthropists by donating a whopping $61 million to Stanford University.
Brian Sheth, Net worth: $2.2 Billion 
With a net worth of $2.2 billion, Brian Sheth is the youngest Indian American billionaire on Forbes' 2019 list of 400 richest Americans. Brian Nirajan Sheth is the co-founder and president of Vista Equity Partners in Austin, Texas. An alumnus of Pennsylvania University's Wharton School, he is a wildlife enthusiast and conservationist too. Along with his wife, Brian Sheth chairs Global Wildlife Conservation in Austin, an international organization dedicated to wildlife and environment. Prior to plunging into entrepreneurship, Brian Sheth worked at Bain Capital, Deutsche Morgan Grenfell and Goldman Sachs.      
Aneel Bhusri, Net Worth: $2.2 Billion 
One of the seven richest Indian American billionaires and entrepreneurs, Aneel Bhusri is the cofounder and CEO of Workday Inc. Born in Pittsford, New York, Aneel Bhusri does also serve on the board of directors at Intel. Among the richest Indian-origin entrepreneurs in America, he is a partner at Greylock which has funded global companies such as Facebook, Airbnb, Tumblr, and Groupon. An alumnus of Stanford University in MBA, he began his career as a corporate finance analyst at Morgan Stanley. His fortunes has swelled from USD 1.85 billion in 2018 to US$ 2.2 billion in 2019. He currently resides in San Francisco, California. 
Vinod Khosla, Net Worth: $2.1 Billion
With a decline in his fortunes, Vinod Khosla's net worth has dropped from USD 2.3 billion to USD 2.1 billion in 2019. Sun Microsystems' ex-cofounder Vinod Khosla is now the seventh richest of all Indian American billionaires, according to Forbes. An alumnus of Mount St Mary's School in New Delhi, he studied at IIT Delhi, Carnegie Mellon University and Stanford Graduate School of Business. An article on the founding of Intel in print media piqued his interest in technology when he was a teenager. He established Khosla Ventures, a venture capital firm in Menlo Park, California and co-founded the Indus Entrepreneurs (NiE), a non-profit network of entrepreneurs.

The four Indian American billionaires below, who featured on Forbes' 2018 list of 10 richest Indian-origin entrepreneurs, have been dropped from the Forbes 2019 list of richest Americans.   
John Kapoor, Net Worth: $1.8 Billion
With a net worth of $1.8 billion, Amritsar-born John Kapoor is the fifth richest of Indian American billionaires in USA. A pharmaceutical entrepreneur in Phoenix, Arizona, John Kapoor founded Insys Therapeutics in 1990. Upon completion of his studies on pharmacy at the Institute of Chemical Technology in Mumbai, John Nath Kapoor earned a PhD degree in medicinal chemistry from the University of Buffalo and found ground to make his 'American Dreams' come true there. Apart from owning restaurants in San Francisco and Chicago, he heads the John and Editha Kapoor Charitable Foundation for victims of breast cancer.  
Niraj Shah, Net Worth: $1.6 Billion
The second youngest Indian American billionaire with a net worth of $ 1.6 billion, Niraj Shah is a newcomer on Forbes' list of billionaire worldwide. The CEO of Wayfair, an American e-commerce company dealing in home goods online, Niraj S. Shah is the eighth richest of all billionaires of Indian origin in the US. A resident of Boston, he cofounded Wayfair in 2002. Today, Wayfair with over 5200 employees generates annual revenue of more than USD 3 billion. He featured on the Fortune list of 40 under 40 in 2013 and was made a director of Federal Reserve Bank of Boston.
Jayshree Ullal, Net Worth: $1.43 Billion
The only woman of Indian origin from USA in the Forbes billionaire club, Jayshree Ullal is one of the richest, self-made business women in America. The President and CEO of Arista Networks, a computer networking firm, Jayshree Ullal featured on Forbes 2018 list of billionaires for her net worth $1.43 billion. Born in London and raised in Delhi, she traveled to the US at the age of 16 and graduated in electrical engineering from San Francisco State University. Featured in an article on Indian-origin women billionaires by Travel Beats, Jayshree Ullal got a big break in her career when Cisco Systems acquired Crescendo Communications and made her senior vice president of Data Center & Switching. A master's in engineering management from Santa Clara University, she was the first woman to receive the Entrepreneurial and Leadership award in Silicon Valley in 1999. Currently, she resides in Saratoga, California.
Bharat Desai, Net Worth: $1.27 Billion 
Co-founder of Syntel, Bharat Desai slipped from the Forbes 2016 list of five richest Indian American billionaires to the tenth richest American billionaire of Indian origin in 2018. Born in Kenya and raised in Ahmedabad, Bharat Desai founded Syntel with $2000 and operated it from his apartment in Michigan initially. An IIT Bombay graduate in electrical engineering, he studied MBA in finance at the University of Michigan's Stephen M. Ross School of Business. Currently a resident of Fisher Island in Florida, he serves on the board of several institutions including the John F. Kennedy School of Government at Harvard University. He is one of the richest businessmen in the Gujarati American community.
Travel Beats is an Indian American community portal owned by Indian Eagle, a trusted travel booking partner of Indians in USA. Subscribe to our free newsletter and stay tuned to latest news & stories about Indian Americans, Indian events in USA, US visa & immigration news and US to India travel updates.