Not many Indians in America know that the United States is home to the Mount Kailash of the West. Mount Soma in the Blue Ridge Mountains of North Carolina is known as the Mount Kailash of America, as it is a hilly abode of Lord Shiva amidst lush greenery. Named after the Sri Somesvara Temple located here, Mount Soma is a 448-acre Vedic community, educational hub, cultural haven, and spiritual retreat. The vision of Mount Soma is to be an enlightened city in compliance with the Vedic technology, the Vaastu science, and the principles of nature. Mount Soma is where science and spirituality complement each other to make a unifying divine force, while these two phenomena oppose each other in most parts of the world.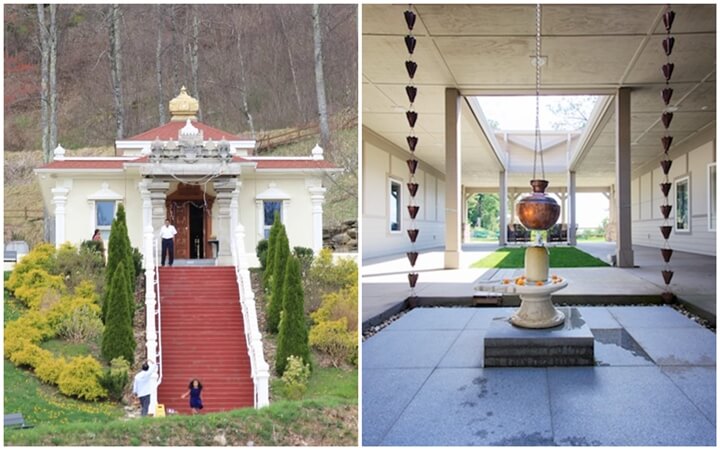 The magnet of Mouth Soma is Sri Somesvara Temple, one of the best and most beautiful Jyotirlinga shrines outside India. An ivory granite jyotirlinga is the presiding deity of the temple soaked in profound silence, cosmic vibrations and spiritual vibes. As many as 46 tons of granite imported from India were hand-carved to create the lingam and other deities, including a 20-ft tall statue of Lord Hanuman. The scenic hilly landscape, especially when it snows, likens North Carolina's Sri Somesvara Temple to Kedarnath Temple on the Garhwal Himalayan range in Uttarakhand.
Though Sri Somesvara Temple, the heart of Mount Soma, was founded in 2011, the idea of the temple had started taking shape in 2006. Lots of Vedic knowledge, Vaastu consultation, architectural prowess, funding and commitment went into the construction of the temple envisioned by Dr. Michael Mamas. Every minute detail of temple construction described in the ancient Hindu texts was followed in harmony with the American engineering and construction standards.
Guided by Dr. Vaidyanatha Ganapati Sthapati from Tamil Nadu, Santhana Krishnan Sthapati, Krithika Karuppiah, and Michael Borden – some of the best architects – collaboratively architected the design of Sri Somesvara Temple. Dr. V. Ganapati Sthapati served as the principal architect for several grand sculptures and architectures in India and abroad. The statue of Thiruvalluvar, a renowned Tamil poet and saint, at Kanyakumari; Valluvar Kottam, a landmark monument in Chennai; Sri Shiva Vishnu Temple of Maryland, and Sri Ganesh Shiva Durga Temple of Greater Chicago were designed by him. He was awarded the Padma Bhushan in 2009. He took his last breath three months after the Shiva temple on Mount Soma was inaugurated.
After the 46 tons of granite stones were shipped to North Carolina from Chennai following months of the careful selection, artisans from India worked hard even in atmospheric extremes such as snowfall and transformed the stones into a Vedic masterpiece. Indian American Professor Ganesh Rajagopalan from Iowa State University College of Engineering served as a Vaastu consultant for the temple construction.
Also Read: How America got the first Jyotirlingam Temple in California
The sanctity of Sri Somesvara Temple is maintained in close adherence to the Vedic traditions and rituals. Devotees, irrespective of color, caste and community, are advised to perform pradakshina clockwise outside the temple, touch the threshold of the entrance with the right hand, and step into the temple with the right foot, and wear decent clothes. Wearing shorts and leather items, walking between the lingam and Nandi in the temple, stepping into the sanctum sanctorum, touching the deities, and using cellphones inside the temple are prohibited for visitors.
There is provision for overnight accommodation and meals for devotees who travel great distances to visit Sri Somesvara Temple in North Carolina. Cottage suites and dorm rooms are available 365 days a year. The visitor center on Mount Soma has a cafeteria where an Indian buffet is served on weekends and holidays. Lunch is served on weekdays for $12 per adult and $6 per child. Devotees wishing to have lunch are advised to call 828-531-9925 one day prior to their visit. Vedic weddings, various community events and cultural activities are held at the Visitor Center on Mouth Soma.
Brought to you by Indian Eagle, a leading travel-booking partner of Indians in the US, this article is part of our continued series on the hidden gems of America for the Indian community. Travel Beats, a subsidiary of Indian Eagle, is a one-stop portal for US-India travel news, US visa and immigration updates, and community stories.