Not only worshipping deities, but also serving devotees or temple visitors is an act of virtue in Indian culture. This cultural value is the foundation of India's grand temple kitchens from Kashmir to Kanyakumari. The tradition of serving devotees has gone overseas, with the spiraling migration of Indians. Some of the Hindu Temples in the United States are coming up with a canteen or restaurant to feed devotees at very reasonable prices. The very first of them is the Ganesh Temple Canteen at Flushing in New York.
The United States' largest Shirdi Sai Temple in Groton, an hour drive from Boston inaugurated its canteen on December 22, 2018. The new Sai Temple Canteen is spread across an area of 6000 square feet on the 20,000-sq-ft first floor of the temple building. The canteen at the Sai Temple in Groton is spacious enough to accommodate around 500 people at a time. Initially, the canteen will be operating only on weekends, from 10 AM to 6 PM.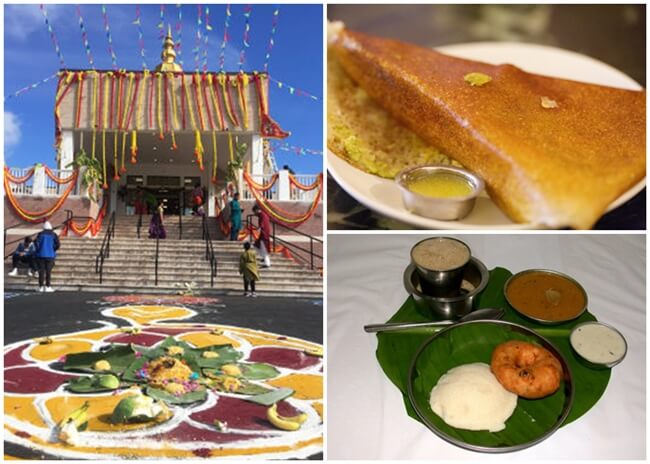 New England's Sai Temple Canteen serves traditional South Indian dishes including idli, dosa, vada, and poori bhaji at much lower prices, as Surya Kodukulla, who helms the temple's bhandara team of over 50 volunteers, told Travel Beats. In a month or so, the menu will be extended to include other popular Indian food such as chole batura, vegetable biryani and Mysore bonda, which devotees of various Indian communities are in love with.
Masala Chai and Madras Filter Coffee are the highlights of the Sai Temple canteen menu. While Madras Filter Coffee is a favorite of South Indians worldwide, Masala Chai is what Gujarati, Marwari, Bihari, Bengali and Punjabi Indians are fond of. You can have a plate of 3 idlis for $3 and a piece of dosa for $5. Both the dishes will be served with sambar and chutney at the temple canteen.
In fewer than 12 months of its inauguration in 2017, the New England Shirdi Sai Temple has become a popular hub of cultural and spiritual practices. In addition to classes on Vedam, yoga and chess, monthly free medical and dental checkups are held at the temple complex. Thousands of devotees from far and near visit the temple on weekends. The canteen was a much needed facility for their refreshment after a darshan of the deities, according to Srinivas Jidge, a leading member of the New England Shirdi Sai Parivaar.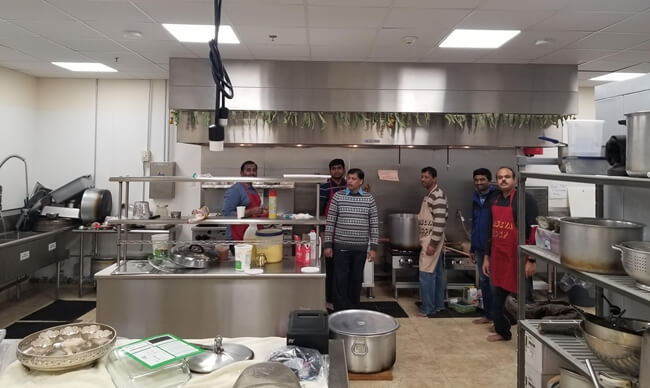 The New England Shirdi Sai Parivaar has been organizing bhandara (Annadaan) at the Groton Sai Temple every Thursday, out of the belief, "Physical body is the only important medium to perform Spiritual practice." Over 300 devotees are unconditionally served in the bhandara volunteered by a team of more than 50 members including 'ServSafe' certified chefs. The team cooks and serves food for free on all festive occasions other than the bhandara on Thursday evenings. They also clean the cooking utensils with unflinching devotion.
"A filling meal cooked and served on the Sai Temple premises is a divine blessing for both devotees and volunteers," said Mahender Singh, President of the New England Shirdi Sai Parivaar.
The Shirdi Sai Temple canteen in Groton, MA welcomes Indians and non-Indians, devotees and non-devotees with equal warmth. We at Travel Beats, an Indian American community portal by Indian Eagle Travel, wish all the best to the New England Shirdi Sai Parivaar.