Hindus make up half of the Indian American community in the United States, according to the 2023 Pew Research Center Survey. Their cultural identity and contribution to America's ethnic diversity is being acknowledged more than ever. The opening of America's largest Hindu temple in New Jersey and the celebration of Hindu heritage by more than 20 US states in the month of October are testimonies to their cultural influence on the American way of life.
Recently, the state of Michigan declared October as 'Hindu Heritage' month through an official proclamation. Celebrating this monumental achievement for Indians in Michigan, Travel Beats – Indian Eagle Travel's community portal for Indian Diaspora in America – takes you on a trail to five best temples in Farmington, Novi, Canton, Detroit, and Pontiac. These temples in Michigan are not just places of worship, but also hubs of community events.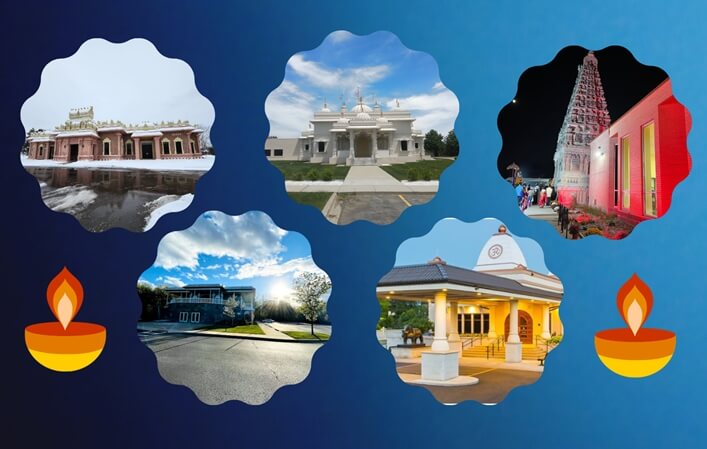 Sri Sharadamba Temple, Farmington Hills
Of the new temples in Michigan, Sri Sharadamba Temple is dedicated to Goddess Sharadamba, who is believed to be an incarnation of Goddess Saraswati. The second cultural establishment of Sringeri Vidya Bharati Foundation (SVBF) in the United States, the Sri Sharadamba Temple of Michigan is next to the first such temple located in Pennsylvania. The other two temples are coming up in Houston, Texas and San Diego, California.
The Sringeri Vidya Bharati Foundation is an extension of the ancient Sringeri Sharada Peetham in Karnataka, established by the 8th century Advaita Vedanta philosopher, Adi Shankara whose 108-ft statue of Oneness was unveiled for Rs 2141 crore in Madhya Pradesh on September 21. The new campus of Sri Sharadamba Temple in Farmington Hills spreads across 17,000 sq. ft and houses several shrines of Hindu gods and goddesses.
The main sanctum enshrines the Panchaloha (a mix of five alloys) murti of Sri Sharadamba, along with the idols of Adi Shankara and Chandramouleeswara (Lord Shiva). With intricate carvings and delicate sculptures, the temple features a spacious community hall and a temple kitchen. The other shrines on the temple premise are consecrated to Durga, Hanuman, Sri Rama, and Sri Krishna.
Sri Venkateshwara Balaji Temple, Novi
Among the Hindu temples in and around Detroit, Sri Venkateshwara Balaji Temple of Novi stands for the faith and harmony of the Telugu-speaking Indians in Michigan. Built by the Detroit Telugu Association, the two-storey temple is home to Lord Venkateshwara Swamy, the presiding deity of Tirumala Tirupati in India. Envisioned as a 'cultural and spiritual anchor' for the Hindu community in Oakland County, the temple caters to the spiritual appetite of and provides cultural enlightenment to devotees.
The temple has a modest canteen, though not as huge as New York's Ganesh Temple Canteen in size or menu. Known as Balaji Kitchen, the canteen serves authentic South Indian dishes such as idli, sambar, vada, upma, and pongal on Saturdays. The temple complex also houses a library, and an art and heritage section where one can learn deeper about Indian cultural heritage through events and programs held there. Sri Venkateshwara Temple of Novi also enshrines the idols of Sri Ganesha, Sri Hanuman, and Goddess Lakshmi.
The Hindu Temple of Canton
Established in 1990, the Hindu Temple of Canton is one of the most beautiful and serene temples in Michigan. Unlike most temples in America, this temple does not have any presiding deity. Landscaped with well-manicured gardens, the temple complex houses the shrines of Lord Krisha and Radha; Lord Shiva and Goddess Parvati; Lord Rama, Sita, Lakshmana, Lord Hanuman; Goddess Durga, Lord Ganesh; and Lord Balaji with Sridevi and Bhoodevi.
The Hindu Temple of Canton in Michigan is more than a mandir with a spacious multipurpose hall, a grand prayer hall, a kitchen, a guest room, a library, a dining area, and a gift shop. The multipurpose hall can accommodate over 600 devotees together, and the main prayer hall has the seating capacity for nearly 1000 devotees. There is prasad distribution area too. There is a parking lot with space for nearly 130 vehicles at a time.
Other than hosting religious and community events, the temple offers an educational scholarship program to three eligible graduating seniors among the registered members of the temple. The scholarship application form can be downloaded from the temple website. All Hindu festivals are celebrated with equal enthusiasm at the temple nourishing the cultural and spiritual heritage of Indian immigrants.
BAPS Shri Swaminarayan Mandir, Detroit
The grand Akshardham Mandirs in different parts of USA shine as icons of India's cultural and architectural heritage and Detroit's Swaminarayan Mandir is no different. It is among the most-visited temples in Michigan, with visitors from all far ends of the state. Inaugurated in 2015, the temple is more than just a place of worship for Hindus. It serves as a philosophical and spiritual learning center for anyone interested in Hindu way of life. The place is imbued with a divine aura that can mystify anyone. Apart from the cultural and spiritual programs, BAPS Swaminarayan temple also hosts a variety of charitable acts to bring various communities together to take part in the acts of seva (service).
Devi Parashakthi Temple, Pontiac 
Indian immigrants of Michigan visit Devi Parashakthi Temple in Pontiac to seek the blessings of Shiva Shakti. Built in 1999, the temple is dedicated to Parashakti Karumari Ambika and one of the Shanmatha tirthas (pilgrimage sites) in the West. Shanmatha refers to the Smart tradition aligned with Adi Shankara's Advaita Vedanta philosophy. The Smarta tradition is known for the worship of five shrines with five deities – Shiva, Shakti, Ganesha, Vishnu, and Surya.
Parashakti Karumari Amman, the presiding deity of Michigan's Devi Parashakti Temple, is commonly worshiped in Tamil Nadu villages around Chennai. The temple architecture is inspired by the Dravidian style of temple architecture prominent in South India. sprawling across 16 acres of forested land in the heart of Pontiac MI, the temple has a Navagraha mandapam where devotees offer prayers to the nine celestial planets in the solar system.
Annadanam is one of the humanitarian rituals practiced at the temple where a huge kitchen and a big multipurpose hall were recently built as part of the expansion plans. Devotees offer prayers to Lord Ayyappa, Lord Hanuman, Sri Bala Murugan, Sri Radha Krishna, Lord Jagannath, Lord Venkateshwara Swami, Shiva Lingam, Lord Kubera, and Sri Astha Lakshmi at the temple.
This article is part of the series, Indian Life in America, by Travel Beats, a leading community portal for Indian Diaspora. Travel Beats is a subsidiary of IndianEagle.com that thousands of Indians in USA have chosen as their reliable travel-booking partner for international trips. Subscribe to our newsletter for community stories, US-India travel news, visa and immigration updates.