Home to such ancient, religious tourist places as Haridwar, Varanasi, Rishikesh, Vrinadavan, Sarnath and Prayagraj, the Indian state of Uttar Pradesh needs another key mascot to woo (religious) tourists.
Dwarfing the world's tallest Statue of Unity in Gujarat is an upcoming statue of Lord Ram in Uttar Pradesh. Almost thrice the height of New York's Statue of Liberty (93m), the Lord Ram statue in Ayodhya is planned to be as high as 251m. Though conceptualized in 2017, the world's "tallest Ram statue" project will commence soon, at the cost of INR 2,500 crore.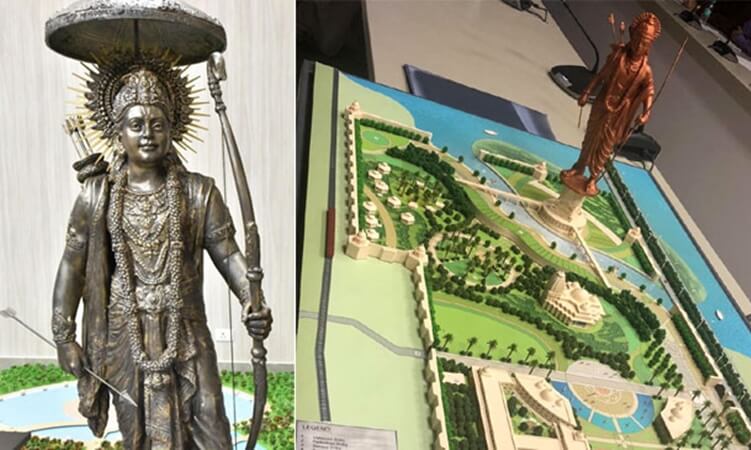 Once erected on the banks of the Saryu River in Ayodhya, Uttar Pradesh's statue of Lord Ram will surpass in height not only the Statue of Unity, but also the Lord Shiva Statue of Belief in Rajasthan and the proposed 212m Shivaji Statue near Mumbai. The Lord Shiva Statue of Belief, at a height of 351 feet, in the temple town of Nathdwara, Rajasthan is scheduled to be unveiled this August.
The world's "tallest Ram statue" project is part of a massive Ramayana-themed tourist complex in Ayodhya, Uttar Pradesh. The Ramayana-themed complex to be sprawling over 100 acres of land will include a digital museum, an auditorium, a library, a parking lot, restaurants, hotels, a gurukul and a hospital for monkeys. The land acquisition process has been initiated.
In some of the designs, the upcoming 251-m Lord Ram statue in Uttar Pradesh resembles the giant statue of Greek god Helios – Colossus – at the mouth of Rhodes Harbor Island. Part of the "Navya Ayodhya" project of the UP tourism department, the Ram statue will be accompanied by a statue of Nishadraj, a boatman who ferried Lord Rama across the River Ganga during the latter's exile.
The Chief Minister of Uttar Pradesh, Yogi Adityanath has reportedly pledged to allocate INR 34 crore for the construction of the Nishadraj statue.
The Indian Institute of Technology Kanpur, the National Environment Engineering Research Institute of Nagpur, and the government of Gujarat have been roped in to provide technical support for an environmental assessment and feasibility analysis of the world's "tallest Ram statue" project in Ayodhya. A fund of INR 200 crore was allocated, in March 2019, for a detailed project report.
How to Reach Ayodhya
Ayodhya, the birthplace of Lord Rama and one of the most important pilgrimage sites for Hindus, is a 2.5-hr road trip from Lucknow, which is a short flight away from New Delhi and Ahmedabad International Airport. Ayodhya finds mentions in India's history of the Gupta Period dating back to the 4th-5th century. Hanuman Garhi Fort, Ramkot, Ramkatha Museum, Laxman Qila, Balmiki Ramayan Bhawan and Janki Mahal are among the best places of tourist interest in Ayodhya, Uttar Pradesh.