Time, nature, humanity, divinity and spirituality are omnipresent forces of the universe. These five eternal phenomena neither obey barriers nor mind bounds. Rather they unify geographies and travel cosmic distances. Temple is one of the abodes of these indestructible forces on earth. It is true about Sri Maha Kaleshwar Temple, which has made Santa Clara a home for Indians in California away from home.
Sri Maha Kaleshwar Mandir in Santa Clara is the first Jyotirlingam Shiva Temple in the US. One of the best places to visit in California, the temple is consecrated to the fierce incarnation of Lord Shiva. The presiding deity of the temple is worshipped in form of a Shivalingam made of two ton solid granite. The Shivalingam with 1008 individual shivalingams engraved upon it is called Sahasralingam. It multiplies divine power of the deity by 1000 times.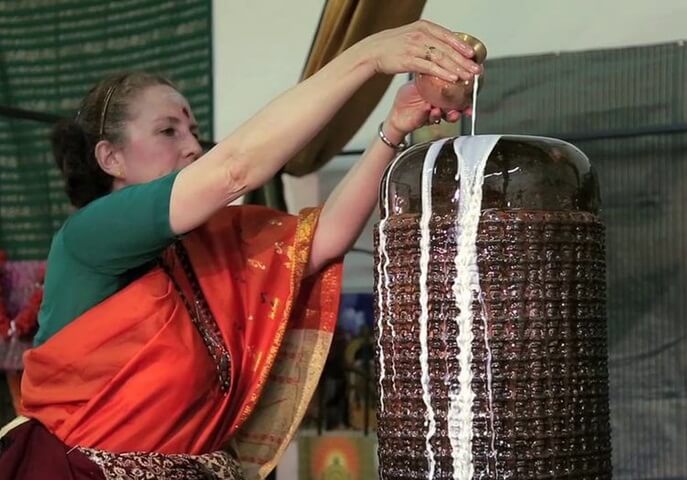 Santa Clara's Sri Maha Kaleshwar Temple has strong connection with India not only in religion but also in origin. The main temple of Lord Maha Kaleshwar is in Ujjain, a historical temple town in Madhya Pradesh. It houses one of the twelve Jyotirlingams in India. Unlike other manifestations of Lord Shiva, Sri Maha Kaleshwar faces south both in India and USA. South is the direction to death and doom, according to Hindu scriptures.
Time is an all-conquering, indestructible force with an eternal flow. All mortal beings and things in the world are obliged to defy the whims of Time. The overwhelming blows of Time are inevitable and inescapable. Being Maha Kaleshwar, Lord Shiva is the god of Time. Being the god of Time, only He can conquer suffering and death. So it is widely believed that prayers to Him at Sri Maha Kaleshwar temples are answered with divine blessings such as wisdom, peace, wellbeing and fortune to empower mortal beings against odd circumstances.
Book Your Travel on Air India Flights for Lowest Fares Guaranteed
Swami Sathasivom founded Sri Maha Kaleshwar Mandir in Santa Clara based on this eternal belief as its foundation. The temple was ceremoniously inaugurated in 2010. He is the elder son of Sambamurthy Sivachariar, an eminent Hindu priest and preceptor from Chennai. His father was the principal priest of Chennai's Kalikambal Temple. Swami Sathasivom's spiritual journey began when he was only 9 years old. He alone set out on a spiritual pilgrimage across India at the age of 12. He traveled to Kolkata to visit temples of Goddess Kali and to Varanasi.
He got in touch with many saints as well as monks during his lone voyage and delved deeper into realm of spirituality. He spreads his spiritual knowledge and divine experiences with whoever he comes across, irrespective of their caste, religion, gender and social status. He remains free from all sorts of materialism and bondages of everyday life by means of his spiritual tentacles with the universe and the Supreme.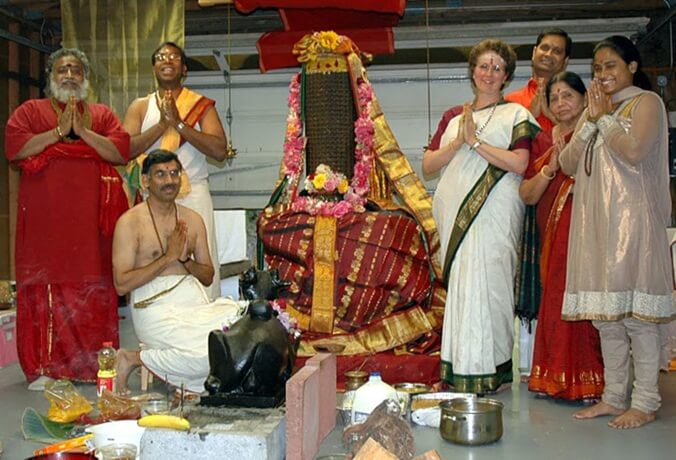 In 1989, Swami Sathasivom intuitively felt the need of bringing 12 sacred Jyotirlingams to USA and consecrating temples in honor of Lord Shiva's holy manifestations for the Indian American community. In 2010, he performed 1008 Chandi yagnas seeking divine blessings to accomplish the mission. It resulted in the arrival of Sri Maha Kaleshwar Jyotirlingam at La Honda in the Santa Cruz Mountains between the Pacific coast of California and the Santa Clara Valley.
Thus Santa Clara's Sri Maha Kaleshwar Temple, the first of his envisioned twelve Jyotirlingam shrines, was established for Indians in America. Also read how California became home to Goddess Kali from India.
Two of the remaining eleven Jyotirlingam temples are to come up in Texas and Boston. The upcoming Lord Shiva temple in Boston will be consecrated to Sri Aumkareshwar Jyotirlingam.