Neither of the rigorous immigration norms, strict border restrictions and extreme vetting policy in the current political regime of the United States can be a barricade for talent from any part of the world. The inflow of talent from India to the US, which has been continuing for decades, bears testimony. In 2018, Jaykumar Vaidya from a slum in Mumbai made it to the University of Virginia as a research scientist.
A tea seller's daughter from India is all set to leave for a 9-day visit to NASA in the US. 15-year-old J. Dhaanya Thasnem, the winner of the National Space Science Contest 2019, has made it to the global selection of students for the most coveted educational NASA tour in the US state of Florida. She is a native of Madurai, a temple town in Tamil Nadu.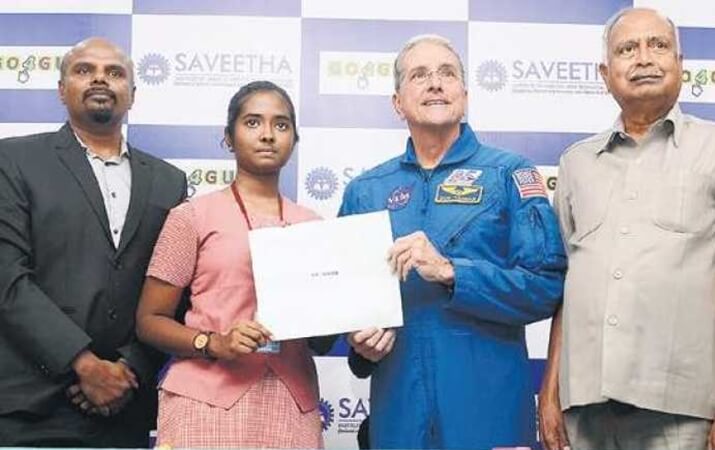 J. Dhaanya Thasnem is one of the three Indian winners of the National Space Science Contest 2019. Sai Pujitha from Andhra Pradesh and Abhishek Sharma from Maharashtra are the other two who have been selected for the tour of Kennedy Space Center near Miami, Florida. They have already got their flight tickets to USA from India.
An exclusive opportunity to meet and interact with NASA scientists and astronauts at Kennedy Space Center is what makes the US trip interesting to Dhaanya Thasnem and others. During the 9-day tour, the National Space Science Contest 2019 winners from across the globe will write an exam. Only five students will be selected. They will be awarded a $10,000 scholarship each and an opportunity to study at the Florida Institute of Technology.
The essay titled "Dr. APJ Abdul Kalam – My Hero", which J. Dhaanya Thasnem had written in the National Space Science Contest 2019, got her selected for the NASA tour. A 10th standard student, Dhaanya has always aspired to make it big in space sciences. Though her school life has been full of hardship, she has not yet found her unprivileged, humble background a threat to her dreams. Rather, she is proud of her parents.
An admirer of Kalpana Chawla and a believer of Dr. Kalam, J. Dhaanya Thasnem is all thanks to Go4Guru, an online tutoring and educational tour services company operating from the US. In 2017, Go4Guru launched the National Space Science Contest to facilitate Indian students' exposure to NASA and other international space science organizations, regardless of the students' socio-economic backgrounds.
Dr. Don Thomas, a former NASA astronaut and an associate of Go4Guru, is currently on a tour across India delivering motivational talks at colleges and institutes in Hyderabad, Bengaluru and Chennai.