More and more Indian American teenagers are coming up to support noble causes with their respective talent. 17-year-old Indian American singer Aditi Srinivasan is all set to join the club of teens on a mission, with her selection for an upcoming nationwide campaign on anti-bullying. California-based Aditi Sri is the only Indian American who has been selected to perform during the 48-state tour in April 2019.
Singer Aditi Srinivasan, who is currently pursuing management studies in Fremont, exclaims being part of the nationwide anti-bullying campaign and describes it as a unique opportunity to advocate for high school students who fall prey to physical violence or mental abuse due to bullying.
We at Travel Beats, an Indian American Community portal by Indian Eagle Travel, laud the selection of singer Aditi Sri for a nationwide performance with a noble aim to promote anti-bullying awareness. In the USA alone, 28% of the students in grades 6-12 are victims of bullying, and about 49% of the students in grades 4-12 experience bullying at school, according to the US government's statistics 70% of the school staff have seen bullying, as per the same reports.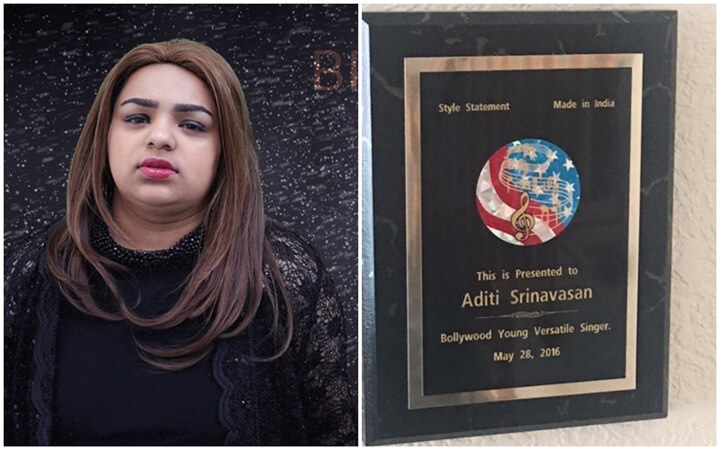 Indian American Aditi Sri has been singing since her age of five. Equally trained in both Indian classical music and Western vocals, she gives her best in contemporary Hollywood pop and Bollywood numbers. Aditi recollects that she started performing live at Indian temples in the United States, how she made her presence felt in some star-studded Bollywood events, and how she turned over a new leaf as a girl next door in the American world of music.
Inspired by Asha Bhosle and Sunidhi Chauhan, singer Aditi Srinivasan has been winning hearts at concerts since her age of 12. When she was 13, her performance stole the show at an illustrious event headlined by actress Preity Zinta. She shared the stage with such noted Indian singers as Kailash Kher, Lucky Ali and Arvinder Singh. It was in 2016 that she hit headlines for her first solo concert.
The San Francisco Bay Area based singer Aditi Sri has performed in more than 100 fundraising concerts, tuning to a rare mélange of her passion for music and her zest for nonprofit objectives.
Aditi who balances her music and academic careers with an unmatched finesse has made a foray into Hollywood with two singles: On Your Own and Shine. A new single from her music repertoire, Like You Do will soon see the daylight. "Aditi never lets either music or studies fall by the wayside," said her father, Srini Veeraraghavan. Her mother herself is a Carnatic singer. "Aditi's determination, dedication, persistence and hard work got her selected for concerts and helped her sail through the competition," said her mother.
Also Check: This Indian American Boy Gifts Vision to the Blind in Rural India
Indian American Aditi Srinivasan learned Western vocals and contemporary Hollywood pop in Los Angeles from Clare Hosterman, an eminent singer and coach. She took lessons on Hindustani classical music from Alka Bhatnagar, a noted singer in the Bay Area. In no time, she became a favorite of Alka Bhatnagar, and accompanied her to several concerts across California.
Singer Aditi Sri was the lead vocal in the Vietnamese Tet Festival 2019 in California. She is seeking opportunities to get a foothold in Bollywood. "I would love to be a playback singer for Bollywood films," said Aditi ebulliently. A follower of Mahatma Gandhi and Rosa Parks, she told the Times of India in an interview that the Gandhian values and philosophy taught her "If you fight for what's right and never give up, you will definitely achieve anything you want one day."
Indian American singer Aditi Sri has won many awards and accolades though her music career is yet to reach its zenith. She has been awarded by the State of California, and honored by the mayors of Fremont, Milpitas and Newark. She has also earned the title 'IFAB USA Best Female Singer.'
Brought to you by Indian Eagle, a leading travel booking partner of Indians in USA for making them fly with cheap air tickets to India from USA, this story is part of our continued series of inspiring stories about young Indians in North America.