Indian American kids rock! Since the onset of 2019, they have been sweeping awards at leading international talent competitions in STEM and social studies. Our "Young Indians" series of stories about their inventions, innovations and achievements, from Kavya Kopparapu who won the National STEM Award for her brain cancer treatment to Eshika Saxena who won a Junior Nobel Prize for her AI system that helps detect blood-related diseases accurately, will give you unforgettable moments of pride.
Adding a new feather to the cap of global Indian community are two Indian American teenagers who bagged top prizes in the Intel International Science and Engineering Fair 2019 for their humankind-friendly inventions.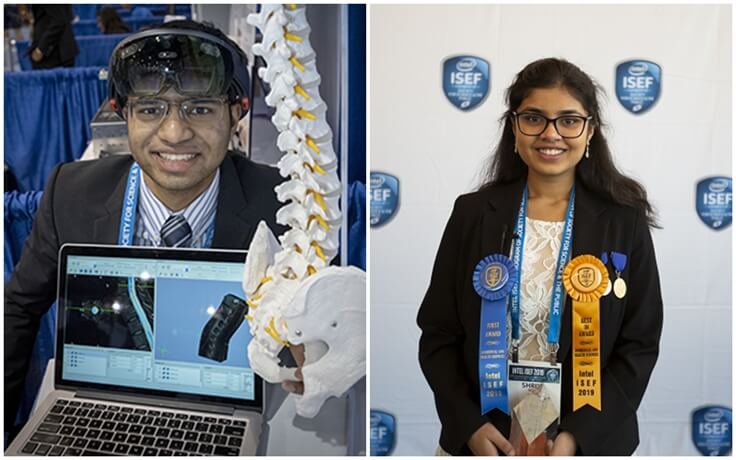 16-year-old Krithik Ramesh became the Intel International Science and Engineering Fair 2019 winner. A resident of Denver in the US state of Colorado, Krithik stood first for developing a cost-effective, portable machine learning device for orthopedic surgeons worldwide. He bagged $75,000 as part of the coveted Gordon E. Moore Award named after the Intel cofounder.
The ISEF 2019 winner, Krithik Ramesh designed and developed a high-tech device that uses machine learning to make orthopedic surgeries easier with virtual reality. Usually, an orthopedic surgeon performs a spinal surgery on a patient the way he/she decides on by following X-ray reports and other scans. Krithik Ramesh's system is comprised of a visor-like headset and a see-through screen. The screen projects a computerized image of the possible post-surgery look of the patient's operated spine.
Colorado-based Krithik Ramesh's system maps a patient's spine or keen joint to be operated and suggests the more accurate surgical procedure accordingly by pinpointing the exact placement of plates, rods or screws within 1.33 millimeters of the to-be-operated part of the patient's body. His machine learning system convincingly outdates the current method of navigating the to-be-operated part of the body during a surgery, as per a report of the data analysis of 34 surgeries.
Currently, orthopedic surgeons use fluoroscope, a kind of surgical equipment that exposes not only the patient's body but also the surgical team to harmful radiation through nonstop X-rays in real time. Indian American Krithik Ramesh's device makes fluoroscope replaceable, as it lessens the use of any such equipment that exposes a patient to constant radiation, by identifying the exact spot where a plate, a rod or screws are to be inserted in a pre-surgical procedure.
The portability of the system makes it possible to use the high-tech device at rural healthcare centers and in far-flung war zones. Krithik Ramesh's system also earned him the first place in the biomedical engineering category, besides having won the Intel International Science and Engineering Fair 2019.
Shriya Reddy who Invents Noninvasive Alternative to Biopsy
15-year-old Shriya Reddy from Michigan won the Craig R. Barrett Award for Innovation at the Intel International Science and Engineering Fair 2019 for her innovative, noninvasive approach for diagnosis of melanoma lesions. A most fatal type of skin cancer, melanoma claims more than 9,000 lives in the United States alone. 90% of melanoma cancer cases can be cured if diagnosed early.
Currently, biopsy is the only best method of diagnosing melanoma. It is an expensive, time-consuming and painful way to diagnose the terminal disease. Her noninvasive approach, which can best be thought of as a dye agent, is an absolute contrast to biopsy. Her innovation is the use of a substance-like material to help doctors with visual discrimination between the affected tissue and the unaffected one.
The antibodies in her substance get glued to melanoma-affected cells. Tiny nanospheres of gold are attached to the antibodies to make them illuminate near the cancerous cells. Going by Shriya Reddy's approach, doctors can smear a bit of cream or oil containing gold-attached antibodies on a patient's skin. Cancerous cells will shine glowingly, while noncancerous cells will not glow in the near-infrared light.
A 10th grader at Northville High School in Michigan, Indian American Shriya Reddy remarked, "Such a noninvasive test would not only be painless but give immediate results with greater accuracy." She received USD 10,000 as part of the Craig R. Barrett Award for Innovation.
1.5 million biopsies are conducted for melanoma every year. Shriya is confident that her test is the best cost-effective alternative to 60% of biopsies for melanoma and that it can save hundreds of millions of dollars in developing countries' annual healthcare costs.
Travel Beats, a subsidiary of Indian Eagle, publishes latest visa, immigration, passport, aviation and Indian community news stories. A leading travel booking partner of Indians in USA, Indian Eagle has a proven track record of booking cheap last minute flights tickets from USA to India throughout the year.