My last trip to India is a memorable one. I went to Hyderabad in July 2016 and stayed there until the end of August. The trip was entertaining and enlightening. My trip educated me so much about Indian traditions, family values, relationships, and the different lifestyles which were unknown to me until the trip happened. I must not say it was entirely enjoyable though. At times, the trip was a bit dull, but the memorable activities and enjoyable things I did in my home city overshadowed the few boring moments. My visit to India was a roller coaster ride, definitely with its ups and downs, and twists and turns.
When my mom and I landed in Rajiv Gandhi International airport on July 20, 2016, I was getting flashes of remembrance of the airport from five years ago. Sadly, my recent airport experience was rough. First, the officials made us wait an hour for some silly, fictional reason. Then, we struggled to find our bags because the bags from two other airplanes got mixed up. To make matters even worse, we paid a guy to put our bags on a cart, but he did a really bad job and all of our bags capsized. My mom and I ended up picking up all of the bags and placing them on the cart ourselves. Neither of us was left with muscular strength after a long journey. Needless to say, we struggled to place our bags in an orderly manner.
When we finally got all sorted, we headed towards the welcoming area. It was very early in the morning, yet everyone seemed to be wide awake and excited to see their loved ones. We tried to push through the endless mob of people crowding around their friends and dear ones while looking for my uncle. I found him coolly talking on his phone. Although it had been five years since I had seen him last, I quickly recognized him to my utter surprise. I ran to him and abruptly interrupted his phone call. We greeted each other with hugs and hellos. We got carried away with some talk of the old times; something about India and something about the US. By the time we came out of the initial reverie, the thick crowd became a thin stream. We called the driver and left for home. All the way to home from the airport, I was sinking in a pool of reminiscences from the good times we had in Hyderabad five years ago.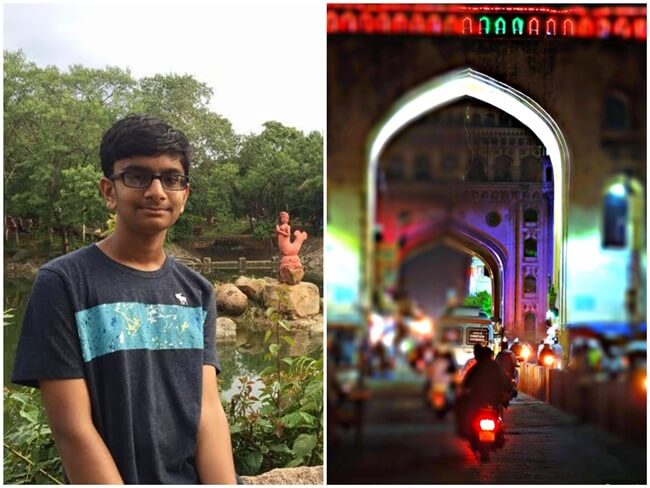 When I stepped on the entrance, I received a warm welcome from my uncle's dog, Rooney. Rooney is a golden retriever and has been living with my uncle for the past five years. He is INCREDIBLY well trained, and he has the most lovable and loyal personality. Sadly, that lovable dog has an extremely convincing stare, and I have to say, one half of my dinner usually went to him.
All of that excitement bubbled on the second day. My uncle was always at work and my cousin was busy studying for her final exams. My mom and I had almost nothing to do until late in the evening, and we went on a shopping spree to relieve the boredom, which I disliked because we only shopped for traditional wear. We did explore Hyderabad on weekends, but the real fun started once my dad joined us on the trip three weeks after we came to India.
The night before my dad arrived in India, we decided to head out to the Charminar, a heritage monument representing the long history of Hyderabad. I can vividly remember taking selfies with the monument in my background. How great the fun was! The monument is so gigantically huge that we had to move extremely far away from it so that the entire monument could be accommodated in the frame of my smart phone. It completely ruined our positioning for the picture. On return from the Old City, we drove to the airport to pick up my dad. His arrival put an end to our monotony and boredom.
The day my dad arrived in Hyderabad was full of buzz. The house was full of commotion all the day. We improvised our schedule to stay a little longer in the city. The next day we went on an exploration drive across the city. We visited the Salar Jung Museum at Tank Bund and Shilparamam in Cyberabad. These places are not mere tourist attractions. It was there where I got into a tryst with the history and tradition of my home city. On my entire trip I enjoyed the Salar Jung Museum the most because I was mesmerized by a collection of artifacts from the early 1500s, which is very admirable.
Once we finished sightseeing in and around Hyderabad, it was time to visit my grandparents. I love my grandma and grandpa. They all have a funny personality. Talking with them in person made me feel warm and fuzzy like a bunny because I didn't talk to them so engagingly before while living on the other side of the planet. Now away from grandfather, I miss and remember him for one of the conversations I had with him during my last trip, "Hey Sonny! When are you gonna get married?"
With a confused expression I say, "Um…I'm only 13 years old. You know that right?" "Why does your age matter? I am going to get you married by the end of your visit," said Grandfather.
That was a funny episode from my trip because the thought of marriage never came to my mind. I mean, I'm still a kid! My grandfather is 80 years old and has poor vision, so naturally he couldn't make out my age. Even after I told him my age, I had a feeling that he ignored it just to make me laugh, and I must say, I got a good laugh out of it.
Another episode I recall from my last trip to India was that of my grandmother. She had undergone a knee surgery, and she needed to use a special machine to act as chiropractor to ease the pain. She was advised to use the machine three times a day, except she would use it a whole lot more because she didn't want to waste money. Eventually, my mom got tired of setting up the machine for grandmother more than three times, so I was the only person left in the house to do so. It was funny because I would be doing something else and my grandmother would be shouting my name to come over. I would freak out every time thinking that she hurt her leg or feel down, but it was always about that machine. After sometime, I started to get annoyed, but I would do anything for my grandmother.
Among the memories of the trip, I have one of my visit to a chicken farm with my grandparents. The chicken farm is owned by one of my relatives, and I got to help out by placing eggs in cartons. I even got to hold one of the chickens, which eventually ended up being my lunch.
I had a great time with my family over the celebration of Rakhi festival in India. Rakhi is the occasion when a sister ties a thread around her brother's wrist, symbolizing the bond between siblings. I don't have a sister of my own. So this festival had just been a formality for me until my visit to India. In India, I got Rakhis from my cousins and aunts. I learned the true meaning of the colorful, beautiful threads.
The trip came to an end with my visit to a typical Indian marriage. It was a lovely experience since I attended such a flamboyant event for the first time in India. I was overwhelmed to see the rituals and ceremonies. I initially thought that the thread tied around the girl's neck was a kind of lock confirming the marriage, but I was wrong. It was something entirely different having a lot more significance to it than what I had assumed first. After the marriage, we went to the neighboring district and spent some time with my cool cousins, who were extremely fun people to be with.
All in all, my last trip to India is a happy album to treasure and cherish. I spent quality time with my family, cousins and relatives. I explored the cityscape of Hyderabad. It could have not been a roller-coaster ride without my relatives in India who I miss in USA. I can't wait to visit India again. India will always remain my primary destination.
It is one of the winning stories from the Travel Beats Story Writing Contest 2016 which Ritvik Reddy Annadi won in the Group 1. Ritvik is an 8th grader of Luther Jackson Middle School in Fairfax, Virginia. Reading, drawing and playing football are his hobbies. His favorite Indian dish is onion kulcha with butter chicken. Like other first-generation Indian Americans of his age group in Falls Church, Ritvik misses his extended family and typical Indian traditions in the United States. He aspires to be a biologist. Abraham Lincoln, the 16th President of USA, is his idol.