Another Indian American is nominated for a key administration post in the US State Department! She is Manisha Singh, an eminent lawyer. President Donald Trump has nominated her for a critical role in the country's economic diplomacy. If approved by the Senate, Indian American Manisha Singh will be appointed Assistant Secretary of State for Economic Affairs.
45-year-old lawyer Manisha Singh from Florida is currently serving as chief policy advisor to Senator Dan Sullivan. Being a former Deputy Assistant Secretary for Trade Policy in the Bureau of Economic, Energy and Business Affairs, she is a competent nominee for the post of Assistant Secretary of State for economic diplomacy. She does also treasure experience as a senior counsel to the Senate Foreign Relations Committee.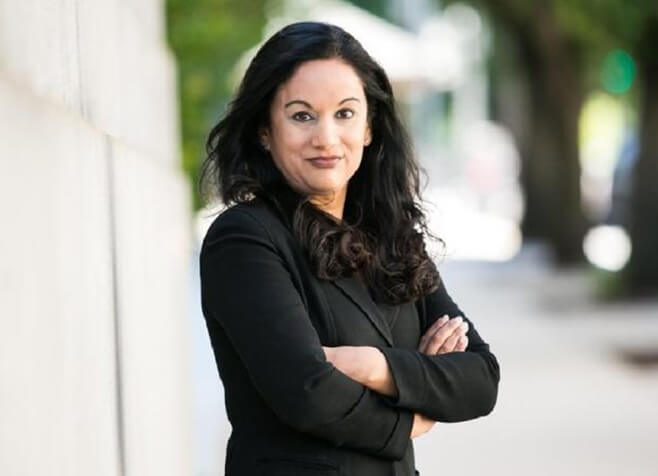 Indian American Manisha Singh comes with a diverse work portfolio comprising valued experience of developing and promoting foreign trade policies for the US government during her service as Deputy Assistant Secretary for Trade Policy. She troubleshot various issues pertaining USA's foreign trade missions in Paris, Rome, Vienna and Geneva.
Why President Trump nominated Florida-based lawyer Manisha Singh for a pivotal position in his administration, is because of her unmatched diplomatic skills, insights into global economy, and experience in foreign trade. She helmed international trade development matters including agreements and treaties during her tenure as Deputy Chief Advisor to Senator Richard Lugar in the Senate Foreign Relations Committee.
Florida Indian Manisha Singh holds a Master of Laws (LLM) in international legal studies, with specialization in foreign trade, from the American University Washington College of Law. She interned at the US International Trade Commission's General Counsel Office while pursuing the LLM degree. On completion, she was appointed as a judicial clerk at the Second District Court of Appeal in Florida.
Interesting Stories of Indian Americans
Her academic profile is as diverse as her professional career. After having studied Bachelor of Arts (BA) at the University of Miami at the age of 19, Manisha Singh pursued the degree of Juris Doctor at the University Of Florida College Of Law. She also earned a certificate from the University of Leiden in the Netherlands.
Indian American Lawyer Manisha Singh has the license to practice law in Florida, Pennsylvania, and Columbia District. She is one of the members of the South Asian Bar Association. Born in Uttar Pradesh, India, she came to USA along with her parents when she was a child.
If things go as expected, Manisha Singh would replace Charles Rivkin who resigned from the duties of Assistant Secretary of State for Economic Affairs after the Trump administration came to power.
Travel Beats is a leading Indian American portal by Indian Eagle, a trusted travel booking partner of Indians in USA. Travel Beats publishes the latest immigration, visa, air travel and Indian community news. Subscribe to our free newsletter for the latest news and stories.