Indian American professor Akhil Sharma's autobiography 'Family Life' has fetched him the 2016 International Dublin Literary Award worth Euros 100,000. The autobiographical novel is a heart-touching story of Akhil Sharma's immigration from India to America in the late 1970s when he was only eight years old, with focus on how his family faced a tragedy and survived its trauma.
The story of Family Life by Akhil Sharma is dated to 1978 when Mr Mishra (the character representing his father) sent flight tickets to his wife in Delhi after having settled as a government clerk in New York. As the youngest son (Akhil Sharma himself) publicized it in the neighborhood, Mrs Mishra (his mother) was pricked with jealously by her neighbors. Finally, Mrs Mishra along with two sons joined Mr Mishra in New York, without knowing that a tragedy was impending behind bubble-like glamor of the American Dream.
Brought up in Edison in the state of New Jersey, Akhil Sharma is an assistant professor of English at Rutgers University. His first novel 'An Obedient Father' won the Hemingway Award for debut fiction. It was also the Notable Book of the Year on New York Times' list of bestsellers.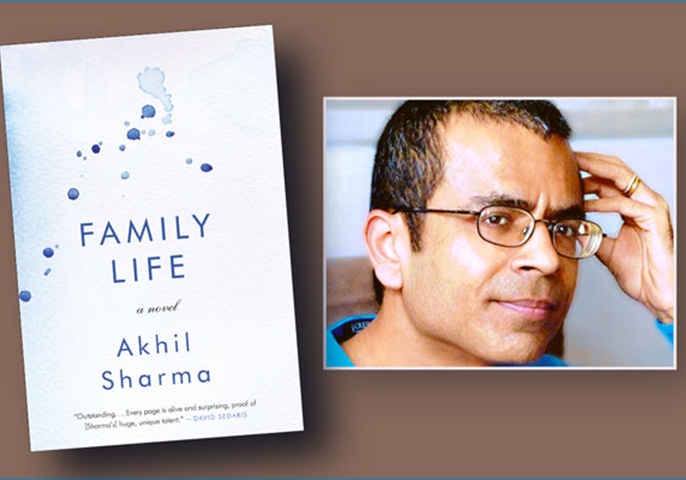 Akhil Sharma's autobiography 'Family Life' also won the prestigious Folio Prize sponsored by the Folio Society, a leading London-based publisher. He took 13 years to write 'Family Life' which the New York Times described as 'deeply unnerving and gorgeously tender at its core.' The Jacksonville library in the US called the autobiographical novel 'beautifully hypnotic'.
The Jacksonville library in the US and the India International Centre Library in New Delhi put 'Family Life' forward for the International Dublin Literary Award 2016. It was one of the 160 titles nominated for the Prize from 118 cities across 43 countries. And the award went to Akhil Sharma's Family Life from the shortlist of 10 titles.
Indian American writer Akhil Sharma is a known face in the print media of the United States. Some of his short stories, including 'Mother and Son' and 'Cosmopolitan' made the way to the Best American Short Stories anthology and the anthology of O. Henry Award Winners. Leading publications such as The New Yorker, The Atlantic Monthly and The Quarterly have published his stories and articles.
On being asked what he would do with the prize money €100,000 during an interview with the Guardian, Akhil said, "I'd like to start a scholarship in India in my brother's name, to help young women go to school. I would have done that anyway, without this prize, but it makes it easier."
New Jersey based Akhil Sharma is the third American to have won the International IMPAC Dublin Literary Award.
Also Check New Jersey Schools Add 19 Indian Festivals to Holiday List