The Indian American community will be having a gala time in August and September as the calendar of Indian events in USA is full of cultural programs for them. We have listed the best of upcoming events in California, Seattle, New Jersey, Houston, Dallas, Cleveland and Nashville for Indians in USA. It will make your search for Indian events in August and September easier.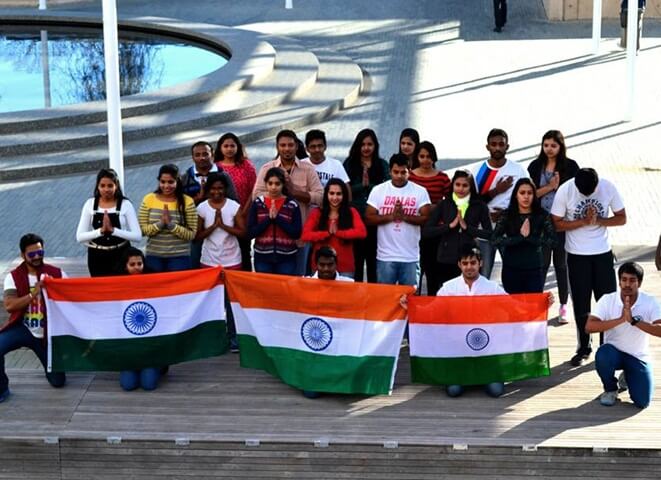 Jai Ho! Independence Dance Party in Seattle, Washington
The 6th annual Independence dance party on August 6 is one of the most awaited Indian events in Seattle. This event triggers the festive season for Indians in Seattle. Celebrate the 70th Indian Independence Day by dancing all night to the best Bollywood beats. Do get dressed in orange or white or green as there is a dress code.
Date: August 6
Venue: NECTAR LOUNGE,412 North, 36th St, Seattle, WA
Organizer's Phone: 503-810-2510
20th Festival of India in Duluth, Georgia
Initiated in 1997 to celebrate the 50th Independence Day of India, the Festival of India is one of the popular Indian events in Georgia. Now Indians in Georgia will celebrate the 20th edition of the event as the 70th Indian Independence Day on August 6 in Duluth.
Date: August 6
Venue: Infinite Energy Center, 6400 Sugarloaf Parkway, Duluth, GA 30097
Organizer's Phone: 404-915-0497

Kailash Kher's Live Concert in Cleveland, Ohio
One of the most loved Indian singers, Kailash Kher will be performing live in Cleveland on August 13. The musical event is expected to be one of the most exciting Indian events in Ohio as Kailash Kher will be performing for the Indian community in Cleveland for the first time ever.
Date: August 13
Venue: Playhouse Square, 1501 Euclid Avenue, Cleveland, OH 44115
70th Independence Day Celebration in Nashville, Tennessee
Indians in Nashville don't lag behind when it comes to celebrating the Independence Day of India in USA. Said to be the biggest of all upcoming Indian events in Tennessee, the 70th Independence Day will be celebrated on August 16 in Nashville. Nashville's Indian community is gearing up with cultural performances.
Date: August 21
Venue: Vanderbilt University, Langford Auditorium, Garland Ave, Nashville, TN 37212
Organizer's Phone: 615-430-1762

Shreya Ghoshal Live Concert in Houston, Texas
Among the Houston events in September, Shreya Ghoshal's live concert has already sent waves of excitement across the Indian community in Texas. Hold on to your breath until Shreya Ghoshal spellbinds you with her melodious voice on September 2.
Date: September 2
Venue: Arena Theatre, 7326 Southwest Fwy, Houston, TX 77074
Organizer's Phone: 713-545-4115
Sonu Nigam & Atif Aslam Live Concert in Houston, Texas
A musical extravaganza by such popular singers as Sonu Nigam and Atif Aslam awaits the Indian community in Houston this September. They will entertain Indians in Houston with electrifying numbers from Bollywood films on September 23.
Date: September 23
Venue: NRG Arena, 1 NRG Parkway, Houston, TX 77054
Radio Zindagi Ganesh Utsav in Milpitas, California
Indians in Milpitas in California celebrate Ganesh Utsav like Ganesh Puja in Mumbai, Hyderabad and other Indian cities. For the popularity of its maiden edition in 2015, Radio Zindgi Ganesh Utsav in Milpitas has become one of the best Indian events in USA. The Milpitas Ganesh Utsav 2016 is a 4-day cultural extravaganza starting on September 8. A 15-feet tall Ganesh statue will be worshipped this year.
Dates: September 8, 9, 10, 11
Venue: Milpitas Sports Center, 1325 E Calaveras Blvd, Milpitas, CA 95035
Organizer's Phone: 510-387-5381
Ilayaraja Telugu Live Music Concert in San Jose, California
Good news for Telugu music lovers in San Jose Indian community! Music maestro Ilayaraja will take you on a musical ride with his popular songs on September 10. Acclaimed singers Hariharan and Chitra will sing alongside Ilayaraja at this Telugu Live Music Concern among the upcoming events in San Jose.
Date: September 10
Venue: San Jose Event Center, 290 South 7th Street, San Jose, CA 95192
Organizer's Phone: 408-785-2282

Gulzar in New Jersey
Indians in New Jersey are eagerly waiting to catch up with eminent Indian celeb Gulzar in Rahway on September 17. Gulzar will sing some of the best songs from his collection in a live concert among the upcoming Indian events in New Jersey.
Date: September 17
Venue: Union County Arts Center, 1601 Irving Street, Rahway, NJ 07095
Organizer's Phone: 973-652-6607
Onam Celebrations in Pleasanton, California
The Indian community in California is all set to celebrate Kerala's biggest festival Onam on September 18 in Pleasanton. This upcoming festivity is an opportunity for California Indians to get together. With a grand Onam feast and traditional revelries like Pookkalam, Maveli along with Thiruvathira dance, this upcoming India event in California is second to none.
Date: September 18
Venue: Senior Center, Pleasanton, 5353 Sunol Boulevard, Pleasanton, CA 94566
Organizer's Phone: 309-310-1539
Dream Team USA Concert Tour 2016
Bollywood stars including Varun Dhawan, Katrina Kaif, Alia Bhatt, Sidharth Malhotra and Karan Johar are all set to enthrall Indians in USA with the 'Dream Team' musical concert. One of the most awaited Indian events in USA, the six-city musical tour kicks off on August 12 in Houston and will travel to San Jose on August 13, Atlanta on August 14, Chicago on August 19, Los Angeles on August 20 and New Jersey on August 21.
Dates: August 12, August 13, August 14, August 19, August 20, August 21
Venues: Houston, San Jose, Atlanta, Chicago, Los Angeles, New Jersey
Travel Beats by IndianEagle, a leading travel organization, is an Indian American community portal sharing latest news, stories and events for Indians in USA. Subscribe to Travel Beats' free newsletter for the latest and interesting updates.