After having witnessed the Ram Temple's groundbreaking ceremony on giant billboards, the iconic Times Square is all set to celebrate moments of New York Indians' pride and patriotism this August 15. In a first, a leading diaspora group will celebrate the Indian Independence Day 2020 in New York by unfurling the Tricolor in all its glory at Times Square. Randhir Jaiswal, the Consul General of India in New York, will be presiding over the ceremony as the guest of honor.
"The first-ever Indian flag hoisting ceremony at the Times Square will create history thousands of miles away from India this August 15, and it's a fitting tribute to the country where we are deeply rooted in," said the Federation of Indian Associations (FIA), a tri-state diaspora group of New York, New Jersey and Connecticut.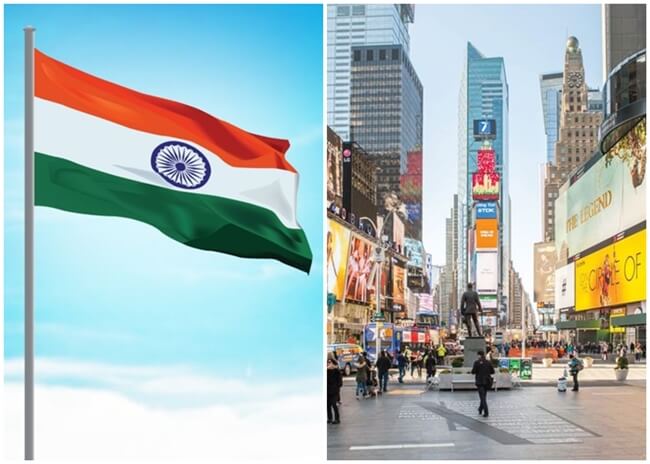 The illumination of the Empire State Building in saffron, white, green – the symbolic hues of the Tricolor – is an annual tradition in New York. This tradition will be observed this year too, on the eve of the first-ever Tricolor hoisting ceremony at the Times Square, the FIA spokesperson confirmed in a media statement. Notably, the Empire State lighting ceremony is too spectacular to be missed.
The Times Square is very much a part of Indian life in New York City. It is not just a favorite haunt of New York Indians, but also a throbbing haven of Indian festivities. Be it Diwali, Holi, or international yoga day, the Times Square gets soaked in unparalleled festive fervor. Diwali at the Times Square is one of the most popular Indian events in New York. Indians of different age groups having thronged the Times Square and defied the pandemic to mark the Ram Temple's foundation-laying ceremony, is the latest testimony to the historic landmark being unique to the ways of Indian life.
However, New York's India Day Parade, one of the best Indian Independence Day celebrations in the USA, is cancelled this year due to restrictions in view of the COVID19 pandemic. The India Day Parade in New York is a flagship event organized by the Federation of Indian Associations every year.
Besides the Indian Flag hoisting event at the Times Square, New York's Consulate General of India is scheduled to host an Independence Day celebration through a virtual medium this August 15. The virtual event will be live-streamed and attended by leading Indian American community members.