Another new feather to the cap of Indians in America! 19-year-old Indian American Chhavi Verg has become the Miss New Jersey USA 2017 giving Indian Americans one more reason for a full-on celebration this Diwali.
When Maanasa Mendu from Ohio was celebrating her success as America's Top Young Scientist of 2016 and when Sadhana Anantha from North Carolina was being talked about as America's National young Women of Distinction, Chhavi Verg was wearing the crown of Miss New Jersey USA 2017. She is the first New Jersey Indian to have earned this honor for her community and the state. Notably, her achievement is New Jersey's first success in a Miss USA pageant.
A second-year student of Rutgers University's business school, Chhavi Verg has proved that perseverance and determination are the keys to success. The Miss New Jersey USA title had been her dream since she was a junior in high school. She embarked on her journey to beauty pageants when she was a high school senior. It took her three pageants to achieve this milestone in her journey to success.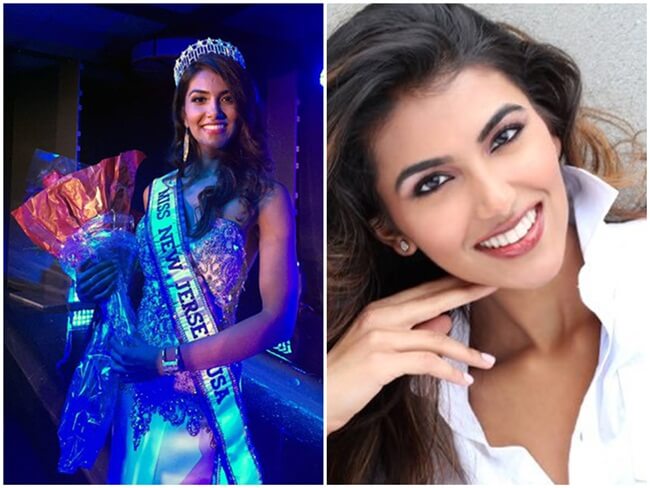 The most sought after title of Miss New Jersey USA 2017 is a big leap for Chhavi Verg from modeling to a new world of fame, empowerment and emancipation. She had also competed in the Miss New Jersey Teen USA 2015. She found it a way to inspire and motivate many girls like her to realize their potential and discover their hidden talent. Apart from dieting and physical workout, she spent a long time with herself exploring her strengths and shortcomings. Knowing yourself is a steppingstone to success, according to Chhavi Verg.
"I believe in the power of five P's – Proper Planning Prevents Poor Performance – which I learned at Rutgers Business School. Winning on such a platform as Miss USA pageant not only earns fame and recognition but also a voice to speak about the causes that I believe in and the things that I want to do in my life. That's why I was determined to win the Miss New Jersey USA 2017 title in order to make a difference in the world," Chhavi Verg ebulliently.
Besides her plans to work towards promoting women's education and preventing child abuse, she wants to own a business in the health & fitness or beauty industry. This Indian American Miss New Jersey 2017 will represent her state in the upcoming grand finale of Miss USA 2017.