The celebration of International Day of the Girl has been continuing since October 12, with remarkable achievements of girls in education, extracurricular activities, and contribution to society worldwide. More and more Indian American girls are bringing honor to the global Indian community.
We are not yet done with the celebration of Ohio's 13-year-old Indian American girl winning the crown of America's Top Young Scientist 2016. Sadhana Anantha, a high school girl from the North Carolina Indian community, became the 2016 National Young Woman of Distinction in USA for introducing kids to the wide application of science to everything from everyday life to global issues such as the Ebola outbreak in 2014. She is in the first year of Bachelor of Science at the University of Miami.
The Girl Scout of the United States recognized 10 extraordinary girls from across the country as the National Young Women of Distinction for the year 2016 for their outstanding leadership in different niches. These young leaders have converted their individual ideas and visions into concrete plans with measurable and sustainable impact on life at local, national and international levels.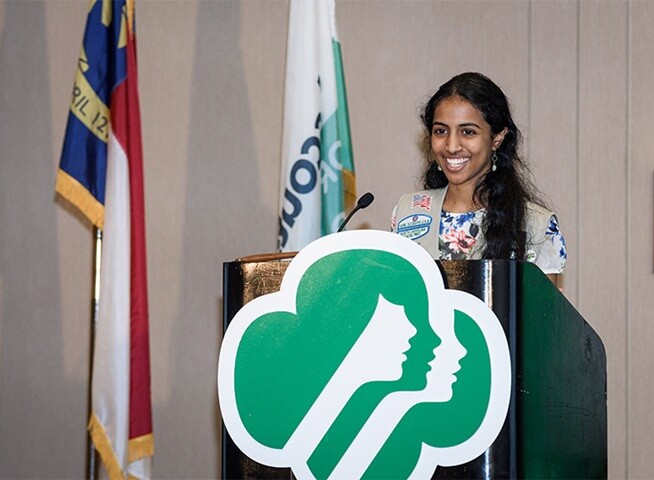 One of the National Young Women of Distinction 2016, Sadhana Anantha from North Carolina won the Girl Scouts' award for her 'Ebola Awareness' project for school children in age group of 11-13. When Ebola broke out in West Africa in 2014, Sadhana Anantha found that school students were unaware of such global issues as the spread of Zika virus and why they were the topics of science outside school classrooms.
She approached the North Carolina Museum of Natural Sciences and approached the museum authority to create a mock Ebola testing lab simulation for school goers. This Indian American girl tried her best to give students a picture of science's role in exploring the things related to the Ebola breakout and addressing such serious global issues, which are not taught at school. The students were introduced to clinical science in the mock Ebola testing lab.
Sadhana Anantha tasted the fruit of her initiative when one of the middle school students stood second in the North Carolina Science and Engineering Fair for demonstrating what he learned about clinical science and its application to the real world, at the simulation lab. This North Carolina Girl Scout's project is now a recurring exhibit on display in the lab of the museum.
The 2016 National Young Women of Distinction, including Sadhana Anantha, will be felicitated at a ceremonious event to be organized by the Girl Scouts of the USA in Philadelphia and awarded a combined scholarship worth $50,000 by the Kappa Delta Foundation this fall.