Saying that 2018 is the year of Indian American women in news won't be wrong. Since the onset of 2018, most of the NRI news space has been teeming with headlines about the achievements of Indian American women and teen girls.
From 'Girls Who Code' founder Reshma Saujani who Forbes named among 5 fearless females to follow in 2018 to 14-year-old Shreya Ramachandran who has been named one of 'Young Heroes' for the 2018 Gloria Barron Prize to 13-year-old Divya Katyal who won the Congressional App Challenge for her app to help the homeless population of America to Sunita Williams who has been selected for NASA's first human spaceflight mission on a commercial crew spacecraft, Indian American women are riding the waves of success and fame towards infinity.
The latest Indian American female figure in the spotlight of global media is Harvard Professor Gita Gopinath, a most outstanding economist. She has been appointed the first woman Chief Economist of the Washington-based International Monetary Fund (IMF). She has also been designated as director of IMF's research department. Notably, she is the second Indian to have been named IMF's Chief Economist, after former RBI governor Raghuram Rajan.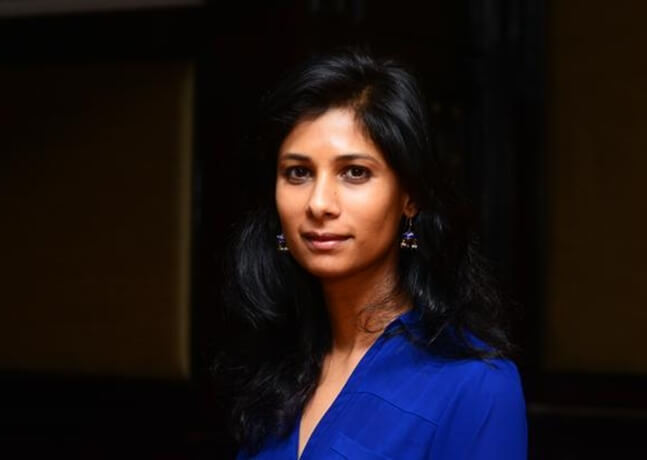 It was Indian American Gita Gopinath who said in an interview with The Print Editor-in-Chief that macro economists like her would not suggest demonetization to any developing nation. She was a vocal critic of Prime Minister Narendra Modi's demonetization move in 2016, but found implementation of the Goods and Services Tax (GST) a 'real reform' for Indian economy.
Currently serving as the Economic Advisor to the Chief Minister of Kerala and the Professor of Economics at Harvard University, the new IMF Chief Economist Gita Gopinath belongs to Mysore in Karnataka by birth and ancestrally hails from Kannur in Kerala.
The 1991 economic crisis in India piqued her interest in studying economics and international finance. She studied BA in economics at Lady Shri Ram College for Women in Delhi and pursued MA in the same discipline at Delhi School of Economics among the most prestigious institutions in India. Then, she did masters in economics at the University of Washington in 1996 and received doctorate (PhD) from Princeton University in 2001.
On completion of PhD, IMF Chief Economist Gita Gopinath took up teaching as an assistant professor at the University of Chicago's Graduate School of Business. In 2005, she moved on to Harvard University as a professor of economics. In 2015, she became the John Zwaanstra Professor of International Studies at Harvard University; a prestigious designation which is awarded to brilliant scholars in pedagogy.
Named one of the 'Top 25 Economists under 45' in 2014 by the International Monetary Fund, Gita Gopinath holds several editorial positions at an international level. She is co-editor of the American Economic Review, co-editor of the current Handbook of International Economics and managing editor of the Review of Economic Studies. Gita is a published author on such topics as monetary policy, debt, exchange rates, global trade and investment, international financial crisis, and emerging markets.
Named 'Young Global Leader' by the World Economic Forum in 2011, IMF Chief Economist Gita Gopinath was in the Eminent Persons Advisory Group on G20 Matters for Indian Government's ministry of finance. She also serves as a member on the economic advisory board of the Federal Reserve Bank of New York and a visiting scholar at the Federal Reserve Bank of Boston. She is also co-director of the International Finance and Macroeconomics program at the National Bureau of Economic Research.
A fellow of the American Academy of Arts and Sciences, Gita Gopinath is being looked upon as a harbinger of greater reforms in global economy for her unmatched expertise in macroeconomics and extensive experience in international finance.