Giving sight to the blind is the best act of leading them towards light, vision and knowledge. Restoring the lost eyesight of the visually impaired is the best humanitarian deed one could do to others. This is what keeps Indian American Sai Hitesh Vavilapalli motivated for and dedicated to his mission of helping the blind in India and other developing countries.
The founder of 'The I Mission' initiative for the welfare of blind children, Sai Hitesh Vavilapalli from Oregon finds vision the most important of all human senses. A sophomore at Westview High School in Portland, he founded The I Mission in 2016, aiming to help the blind cope with learning difficulties and get them blessed with sight.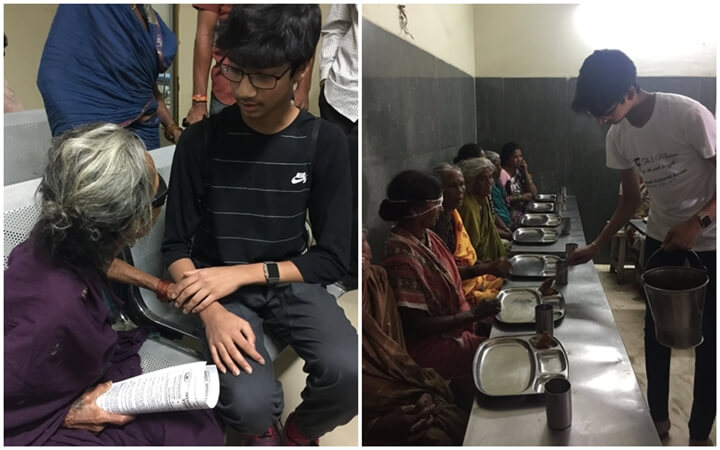 Since the inception of The I Mission in Oregon, Sai Hitesh Vavilapalli has organized several eye-health screening camps in the rural backwaters of India. He has collaborated with two ophthalmological organizations in India to reach out to the visually challenged people from underprivileged backgrounds.
India is the first place of his choice to work the welfare of the visually impaired there. In October 2017, the Times of India reported, "India is now home to the world's largest number of blind people." A whopping 15 million out of the 37 million visually challenged people all over the world are in India. 75% of India's total blind populace can be cured, but the dire shortage of eye donations and the acute dearth of optometrists are some of the critical hindrances to the cure.
Indian American teen Sai Hitesh Vavilapalli takes flights to India for an annual service trip every year. On his first trip to India in 2016, The I Mission conducted cataract surgeries to eight elderly patients with a critical vision problem. Postsurgical support was given to the patients so that they did not complain of any discomfort after the surgery. Sai Hitesh Vavilapalli's The I Mission also donated two Perkins mechanical braillers to a rural south Indian school in a bid to help the school's visually impaired girl students with reading.
Oregon-based Sai Hitesh Vavilapalli's efforts towards restoring the lost vision of the blind in India were amplified during his second trip. On his next trip to India, The I Mission arranged for 48 cataract surgeries to the poor, one retinal surgery, and adopted three blind schools there. At first, those who require a cataract or retina surgery are identified through a screening test at the eye-checking camps.
Also Check: Indian Student's Solution for Parking Problems in USA
Apart from arranging for eye-health checkups and surgical treatment for the blind in rural India, The I Mission conducts academic workshops to help students prepare for competitive platforms including MathCounts by developing their cognition in math, public speaking and comprehension. The workshops comprise of fun and engaging activities for students with different receptivity levels.
At The I Mission, Sai Hitesh Vavilapalli organizes cultural events for both young students and adults to express themselves and thereby overcoming their inhibitions. Several conglomerates, including Nike and Intel have joined The I Mission and contributed to the cause that Indian American Sai Hitesh Vavilapalli espouses wholeheartedly.
Sai Hitesh Vavilapalli is also the Vice President of leadership at HOSA in Oregon, a professional student organization offering a unique leadership development and motivation program to students in health care. Oregon HOSA is endorsed by the US Department of Education.
This story is part of our continued series of inspiring stories about young Indians in USA, at Travel Beats, an Indian American community portal by Indian Eagle Travel. Indian Eagle is a leading air-ticketing partner of Indian Americans, booking their cheap flights to India from USA throughout the year.