Indian American entrepreneurs are on a roll whether it is PepsiCo CEO Indra Nooyi who hit headlines as biggest alumni donor for Yale School of Management or it is India-born businessman Hanu Karlapalem in the race for the hot seat of Madison City's mayor in Alabama.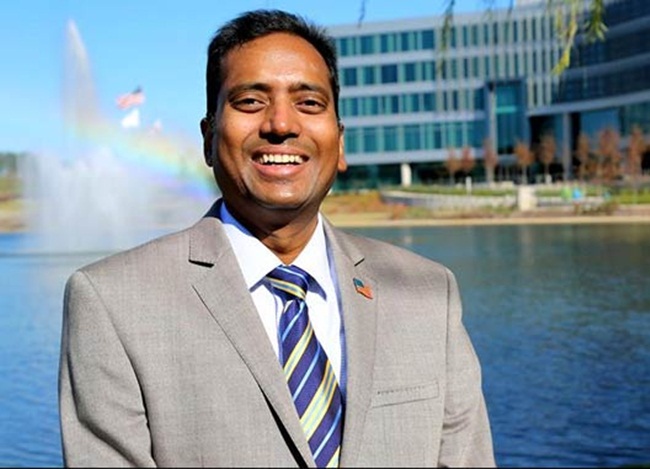 Born in the Indian state of Andhra Pradesh, tech entrepreneur Hanu Karlapalem is contesting for the post of mayor of Madison City in Alabama, the United States. He is the founder and CEO of Vinhamz, a business network solutions, in the city.
51-year old India-born businessman is planning to announce his candidature for the election of mayor of Madison City at an upcoming event. He is confident that he would prove to be a visionary as mayor of Madison City.
He says that Madison lags behind top cities in the US by 15 to 20 years though it is one of the fast-growing cities in the state of Alabama in south. He believes that he is the right candidate with a vision and mission to drive the growth of Madison City in all fields so that it can compete with major cities in the United States.
"There is no other Indian American as capable as I in the entire state of Alabama. If I win in the election for the mayor of Madison City, it would be a historic event," says Indian American tech entrepreneur Vanu Karlapalem from India.
"Madison is one of the most educated cities yet it is not among the top 10 in the United States," adds Mr. Karlapalem while commenting on the sorry status of Madison City where building better roads, increasing employment opportunities and improving internal communication are the needs of the hour.
"Today I stand in the election for mayor of Madison in Alabama because of the city's diverse culture and tolerant community. Madison is one of the most cosmopolitan cities in the US," says Mr. Karlapalem cheerfully.
Indian American entrepreneur Hanu Karlapalem has served as a board member of the University of Alabama in Huntsville. He has also been a member of the International Services Council of Alabama. Moreover, he used to be the president of the local Indian association for Madison and Huntsville.
Since he has been on the board of several institutions, he comes with a lot of leadership and decision-making experience for the development of Madison City in Alabama. He says that he will better be collaborating and communicating with the city council in various campaigns as well as projects to "promote a culture of development and diplomacy".
Mr. Karlapalem has already shared a few ideas such as an incubator for small businesses, a board for supporting veterans, a citizen advisory council and a youth council to work with city leaders for the future betterment of Madison City.
Tech entrepreneur Hanu Karlapalem shifted to Alabama in the US when his spouse took a software development job in Huntsville 16 years back. After he relocated in Alabama, he pursued a master degree in information systems management at the University of Alabama in Huntsville.
Madison was the site of a battle during the American Civil War in 1864. Today it is a thriving suburb of Huntsville and a short drive from Huntsville International Airport. Intergraph, a conglomerate in software development, is Madison's largest employer. – IndianEagle