India is home to many grand temple kitchens preparing and serving pure vegetarian meals to tens of thousands of devotees every day. Visitors are served food as holy Prasad at the mega temple kitchens in India. But, temple canteen or temple restaurant is a rare concept in India though the sprawling complex of ISKCON Temple in Bengaluru houses The Higher Taste restaurant which serves sattvic vegetarian breakfast, lunch and dinner in a luxurious setting. Both the buffet menu and the a la carte menu at Bangalore ISKCON Temple's restaurant are as pricey as that at a semi-luxury restaurant.
Indians in America got the first Hindu temple restaurant in 1993. Located at Flushing in the New York City borough of Queens on Long Island across the East River from Manhattan, the Ganesh Temple Canteen is a most popular South Indian food hub for devotees and foodies alike. The cavernous basement of Ganesh Temple in Queens, NYC houses the self-service canteen which serves simple, delicious, authentic South Indian vegetarian dishes, as many as over hundred, at very reasonable rates. The canteen operates from 8.30 AM to 9 PM on all days.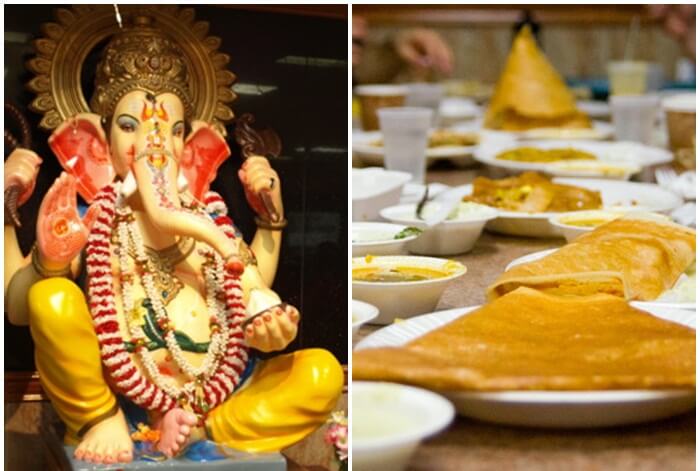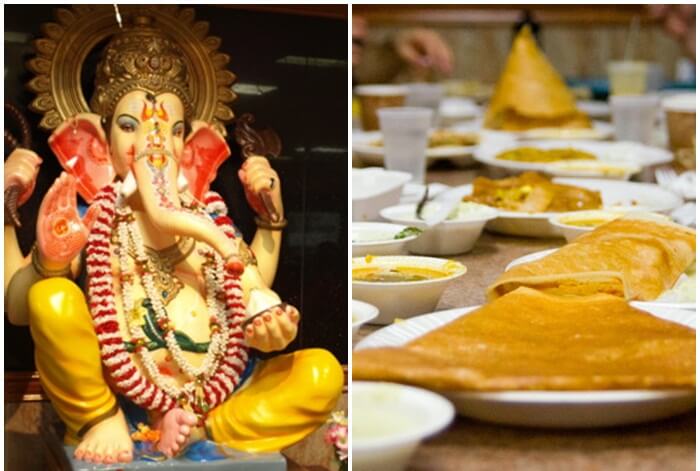 From Temple Kitchen to Temple Canteen
In contrast to the intricately sculpted pillars and the delicately ornate facade upstairs, the Ganesh Temple Canteen offers a no-frills space where a filling meal is felt like a divine blessing and lavished with attention. What started as a kitchen to prepare naivedyam or sacred culinary offering for the presiding deities of Ganesh Temple in Flushing, NYC has evolved into a family restaurant for both the temple visitors and passersby.
No Food Item Exceeds $7
Most of the items on the menu of Ganesh Temple Canteen in Flushing are priced within $1 to $7 except a few dishes including Onion Masala Dosa for $7.5 each, Saturday Special Mini Tiffin for $10.50 each, and Sunday Special Thali Lunch for $11 each. Idli, Vada, Upma, Uttapam, Dosa, Puri Aloo, and Aloo Bonda are some of the most popular South Indian tiffin items on the menu of New York's Ganesh Temple Canteen, Flushing. Most of the South Indian food items are served with delicious sambar and coconut chutney.
Umpteen Varieties of Dosa
One of the best places to eat dosas in New York City, the Ganesh Temple Canteen in Flushing serves as many varieties of dosa as in South Indian cities like Hyderabad, Chennai, Madurai, Kochi and Bengaluru. Crispy, delicious dosa is what most people go gaga over here. The temple canteen cooks nail all of the dosa varieties including masala dosa, rava dosa, onion dosa, Mysore dosa, set dosa, Pondicherry dosa and Hyderabadi masala dosa.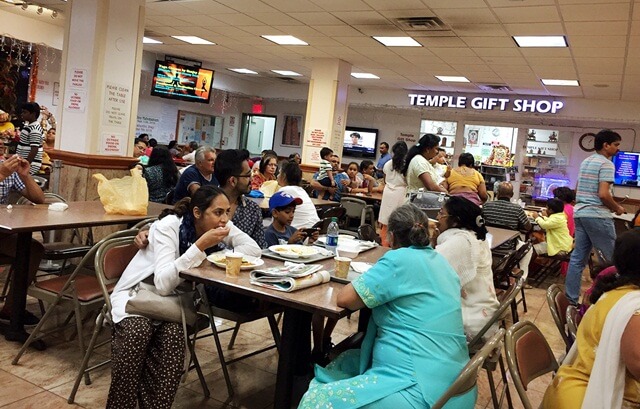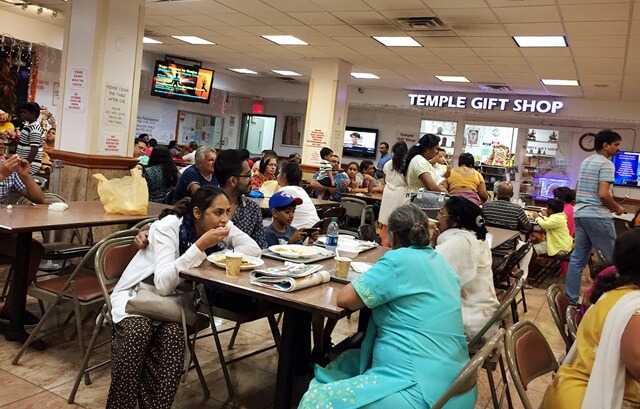 Saturday and Sunday Specials
Idiappam, Dahi Vada and Chole Puri are among the Saturday Specials. The Sunday Specials include Onion Pakoda and Mirchi Bajji. Available only on Sundays, three varieties of Thali Lunch – Andhra, Madras and Kerala – are favorites of visitors. Special red onion sambar vada is a Saturday staple here. Masala Tea, Madras Coffee and Mango Lassi are some of the popular Indian beverages on the menu at Flushing Ganesh Temple Canteen, New York.
Also Check: How to Save Big on Flights to India from New York and Other US Cities
Reviewed by eminent food critics, featured on several food channels, written about in leading publications and applauded by the US media, the Ganesh Temple Canteen in Flushing, Queens is one of the best Indian restaurants in New York City for South Indian food lovers. Since its opening in 1993, the canteen has grown rapidly with the support of temple visitors. Besides serving over hundred dishes and snacks round the year, the canteen also caters to Indian community events and festivities in and around New York City.
All thanks to Dr. Uma Mysorekar, President of the Hindu Temple Society of North America, New York. Her dream of a temple canteen for devotees and visitors came true with the hiring of a special cook in 1993. Today, the Ganesh Temple in Flushing, Queens is known not only as a place of worship but for its decades-old canteen, one the few best places for authentic Indian food in New York.