Diwali is back to Times Square in New York City. It is one of the most awaited New York events for Indian Americans. This is the third edition of Diwali at Times Square. Though India will celebrate the festival of lights on November 11 according to the celestial calendar, New York is all set to celebrate Diwali as a cultural extravaganza at different locations on different dates in October and November 2015.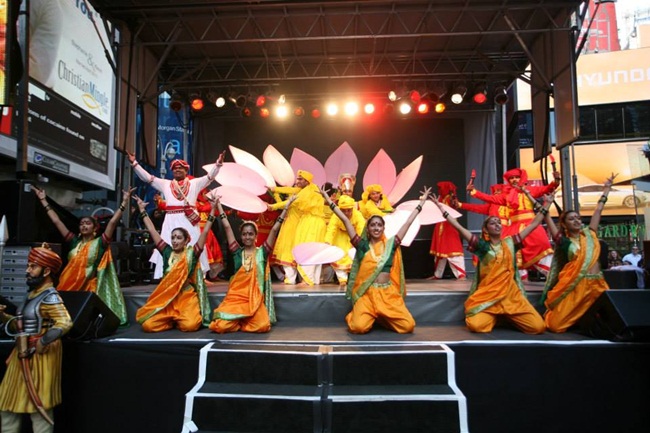 Of the most popular New York City events, Times Square Diwali 2015 is a day-long cultural celebration on October 17. Like the last two years, it will see dazzles of fireworks in the skyline of Times Square. The events of the day include several entertainment programs like dance performance, photography exhibition, Indian fashion show, rangoli painting, etc. There is a culinary show among the programs, too.
The Indian American women organize workshops on various creative activities like Mehendi design, handcrafted art, Indian cooking, sari draping, etc. as part of the Diwali events in New York City. A stage performance by Bollywood actors including Ranbir Kapoor and his father Rishi Kapoor was the main attraction of Diwali at Times Square in 2014.
This year too, a group of artists will entertain the audience at Times Square on October 17. The names of the artists are to be announced.
Venue: Times Square
Location: 42-44th Street and Broadway, New York
Date: October 17, 2015
New York University is gearing up to host a Diwali party on November 21 this year. The NYU Global Student Dental Association is the organizer of the Diwali party. The location details are NYU Kimmel Center, Rosenthal Pavilion, 60 Washington Square South, 10th Floor, NY 10012.
Of the New York events in November 2015, Sur Sangam is a musical Diwali event in Garden City. Scheduled at 6:30 pm on November 15 (Sunday), the Diwali celebration will be accompanied by a gala dinner amidst melodious notes of Hindi songs at Akbar Restaurant, 2 South Street, NY 11520.
The Hindu Temple at Manhattan and the Jumeriah Essex House at Manhattan are other two venues of Diwali 2015 in New York. The Loomba Foundation will host the Diwali celebration at the Jumeriah Essex House, and the date is to be announced. The Hindu Temple is located at 96 Avenue B, Manhattan, New York 10009.
Travel Beats, a cultural wing of Indian Eagle, shares details of Indian cultural events in the USA. Indian Eagle is a leading travel organization booking best flights to India from New York and other cities in the US.