If LaGuardia Airport is all set to turn over a new leaf, JFK International Airport is adding to its hospitality on ground. It may make you think of a new construction to accommodate more waiting passengers before departure, after arrival and during layover at the airport. Surprisingly, no new construction is on the agenda of JFK Airport!
JetBlue Airways' historic terminal TWA Flight Center at John F. Kennedy Airport will reopen its doors to let passengers in for relaxation and refreshment, not for checking in or boarding. Architected by Finnish artist Eero Saarinen in 1955, JetBlue's TWA Flight Center will be free from hustles & bustles and noisy announcements once it is converted into a hotel.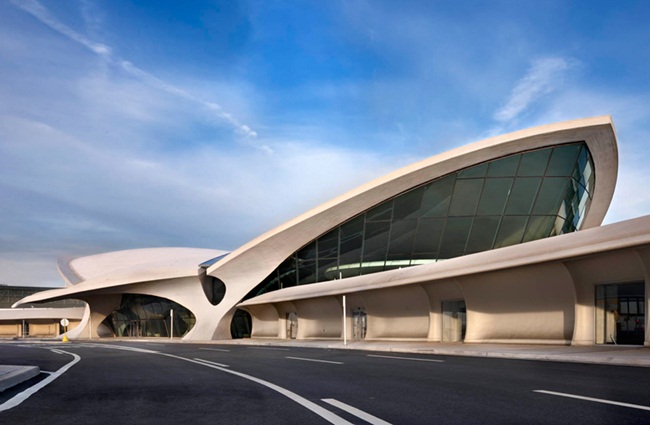 Yes, the old TWA Terminal at JFK Airport will be renovated as a luxury hotel. JetBlue Airways, JFK Airport, New Jersey and the Port Authority of New York will collaboratively fund renovation of the Saarinen building which is famous for its neo-futuristic architecture. What is the most interesting about the TWA Flight Center architecture is that it doesn't look archaic even in 2015. So futuristic are the interior and the symmetry that the Saarinen building seems to cease ageing or Time seems to stand still.
Following architect Eero Saarinen's death in 1961, Trans World Flight Center (TWF) was inaugurated as terminal for Trans World Airlines at the then New York International Airport in 1962. A portion of the original Saarinen building was demolished and then reconstructed. In 2008, a new terminal was built adjacent to the reconstructed portion. JetBlue Airways' operations at JFK Airport are housed under the roof of the old and new constructions, which are together known as T5 or Terminal 5.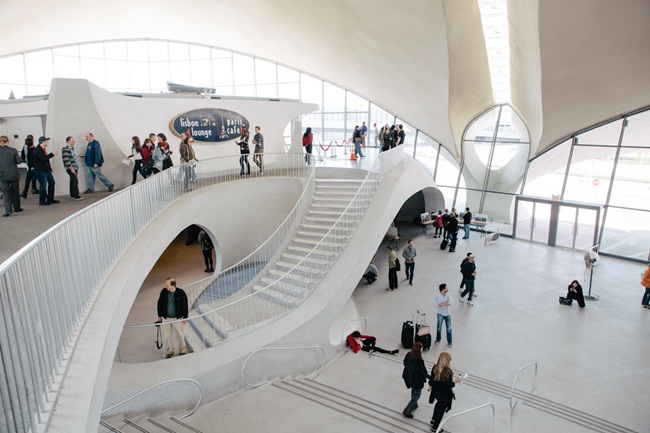 The main Saarinen Building at TWA Flight Center Terminal will comprise a sumptuous dining space with food outlets, a world-class conference room and luxurious guest rooms. An area of 40,000 square feet will be dedicated only to conference and convention business. What today's architects are concerned about is if the neo-futuristic style of the Saarinen building will be preserved during the renovation. It is reported that Eero Saarinen's architecture will be preserved and celebrated as a marvel of the Jet Age.
The TWA Terminal at JFK Airport will reopen as a landmark hotel with a new museum. The museum will enlighten aviation fans and aspiring architects about Eero Saarinen's unique style, the history of Trans World Airlines and the role of New York in the beginning of the Jet Age. It is expected to make the audience live the lost glamor of air travel in the heydays of JetBlue Airways' TWA Terminal at JFK Airport.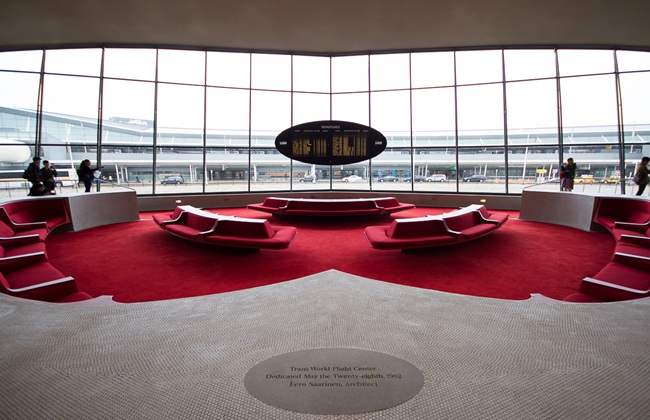 Recently, Max Touhey, an eminent architectural photographer, captured the unique interior and exterior of the Saarinen Building in photographs to celebrate the neo-futuristic beauty of the architecture through edification. He described it as "a true architectural masterpiece of the Jet Age."
Get online cheap flights to India from JFK Airport. Indian Eagle has a proven track record of booking cheap flight tickets for New York to Mumbai, New York to Delhi, New York to Hyderabad, New York to Bangalore, and New York to Chennai flights.