Aicon Gallery in New York will host an exhibition titled 'Husain at Hundred' in honor of eminent artist M. F. Husain's 100th birthday on September 17 this year. One of the upcoming New York City events, particularly for art aspirants and culture enthusiasts, the exhibition will showcase some of the most iconic paintings from the late artist's repertoire. Aicon Gallery will be holding the event 'Husain at Hundred' from September 17 till October 24, to commemorate India's legendary modern painter M. F. Husain's contributions to visual arts, on the occasion of his 100th birth anniversary.
The exhibition tracing Husain's journey from a billboard painter to a pioneer of modern Indian art, seems to be a gala for his admirers and followers worldwide. The New York City based Aicon Gallery has been gearing up for months to showcase how the Picasso of India (as M. F. Husain is often referred to by art critics) blended modernist techniques of his contemporaries in the West with themes from Indian mythology, epics, history and culture in the post-colonial era.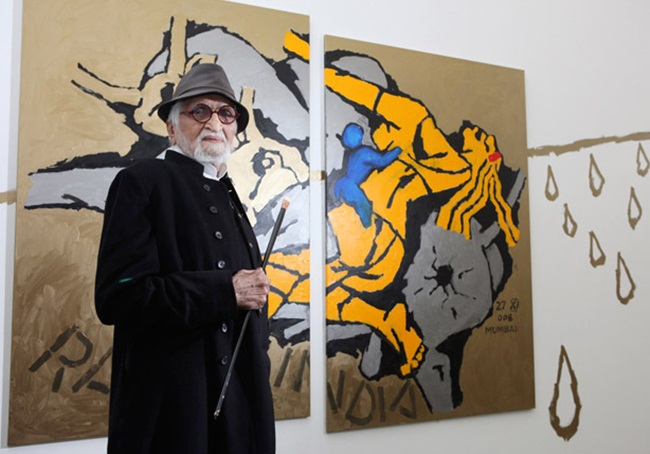 The 'Husain at Hundred' exhibition in New York will highlight some of the most critical moments in Husain's epical life alongside a spectacular display of his artworks; the moments when he formed the Progressive Artist's Group in the then Bombay in 1947, when he was invited to showcase his paintings alongside Pablo Picasso's for the Sao Paulo Biennial in 1971, when he was awarded the Padma Shri in 1966, the Padma Bhushan in 1973 and the Padma Vibhushan in 1991; when he held his first exhibition in the USA in 1964, when his directorial debut Through the Eyes of a Painter won the National Film Award for Best Experimental Film in 1967, when his another cinematic creation Meenaxi: A Tale of Three Cities was screened at the Cannes Film Festival in 2004, when his visual depictions of Hindu gods and goddesses in the buff stirred controversy, and when he was exiled to Doha in 2006.
Located at 35 Great Jones Street in New York City, Aicon Gallery will also host an enlightening discussion with Sumathi Ramaswamy, Professor of History & International Comparative Studies at Duke University, on the influence of colonialism and independence on Husain's art, on the first day of the 'Husain at Hudred' exhibition.
Jaipur Literature Festival of India is all set to make its American debut in Colorado this September 18. Check the details of the JLF Boulder and the list of guest speakers. – Indian Eagle
About Indian Eagle
Indian Eagle, a Texas based international travel organization, celebrates the culture of India and books cheap flights to India from New York online. The lowest airfare to India guaranteed!