Indian food is one of the many things in common between India and the United States. Since the inauguration of Taj Mahal Hindu Restaurant in New York, the first Indian restaurant in America according to some sources including the 1918 issue of the New York Times, Indian food in the US has come a long way. Out of 80,000 Indian restaurants across America, some of the best are thriving in New York. We at IndianEagle handpicked 10 best Indian restaurants in New York City based on feedbacks and reviews about the Indian restaurants NYC.  
Junoon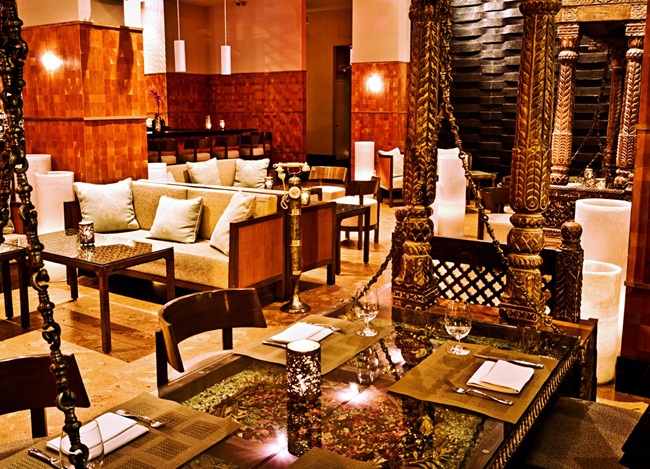 Celebrity Chef Vikas Khanna's Junoon is one of the best Indian restaurants in NYC. The mainstay of the menu at Junoon in New York is traditional Indian food from different regions of India alongside modern Indian fusion dishes curated by Vikas Khanna himself. The culinary team claims to stand out from other restaurants for Indian food in New York by using only seasonal organic produce from local farms. The dining space of Junoon comprises pools with lotus flowers and dimly lit banquettes with massive limestone statues. Junoon, which means 'passion', embodies centuries-old culinary history of India.
Address:  27 W 24th St, New York, NY 10010
Phone: 212-490-2100
 Utsav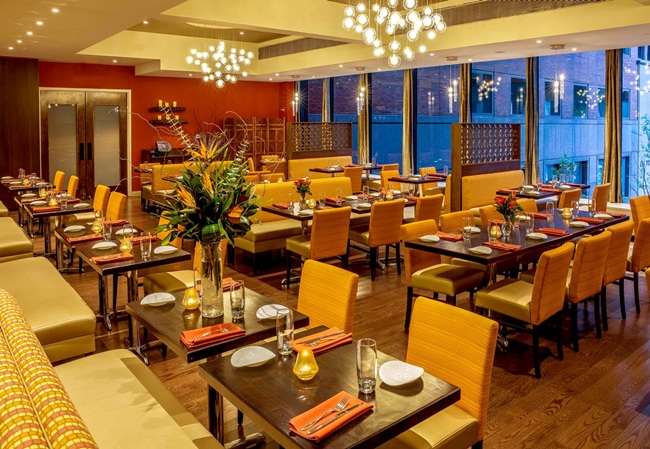 Utsav is one of the few Indian restaurants that give a run to Junoon in New York City. Opened in 2000 and managed by Nandita Khanna, Utsav brought the multi-cuisine food culture of India to New York. The menu of Utsav Restaurant in New York is inspired by culinary tidbits of Indian festivals. Dining at Utsav is an opportunity to be entertained with great Indian food designed by Hari Nayak, one of the popular Indian American chefs in New York. He has authored widely acclaimed culinary books: "Modern Indian Cooking," and "My Indian Kitchen." Indian restaurant Utsav serves some of the dishes from Chef Hari Nayak's cookbooks, which are a mélange of traditional Indian flavors and modern American twist. Utsav boasts elegant interiors with crystal chandeliers and fabrics of golden hues.
Address: 1185 Ave of the Americas, New York, NY 10036
Phone: 212-575-2525 
Indian Accent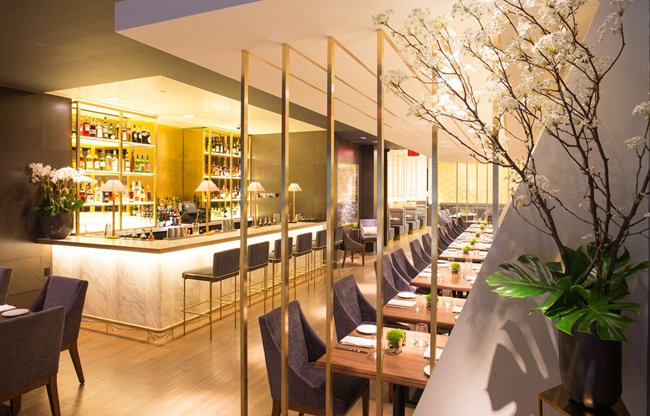 Indian Accent Restaurant in New York City is one of the most happening places where the age-old flavors of India are served in modern fashions. The youngest of all Indian restaurants NYC, Indian Accent has brought its master chef Manish Mehrotra's culinary inventions to New York from New Delhi. This Indian restaurant in Le Parker Meriden Hotel, New York, specializes in the innovation of serving North Indian curries not traditionally with a bowl of rice but with its signature breads invented by Chef Manish Mehrotra. The taste of food at Indian Accent is much familiar to those from India, but the service has got a great New York touch.
Address:  123 West 56th Street, New York, NY 10019
Phone:  212-842-8070
Dawat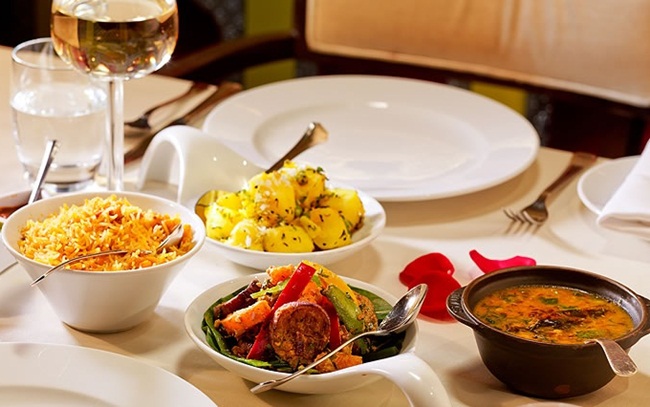 One of the 10 best Indian restaurants in New York City, Dawat treats foodies to a great menu of Indian dishes curated by Madhur Jaffrey, one of the popular Indian American cookbook writers. One of the finalists for the James Beard Awards 2016 (the Oscars of Food in America), Madhur Jaffrey is an acclaimed TV personality and travel writer. She is very famous for her maiden cookbook "An Invitation to Indian Cooking" in 1973. Several food review portals in the United States describe Dawat as a most innovative place for Indian food in New York. Dawat has bagged several awards for excellence in serving classic Indian dishes with contemporary tastes.
 Address:  210 E 58th St, New York, NY 10022
Phone:  212-355-7555
Benares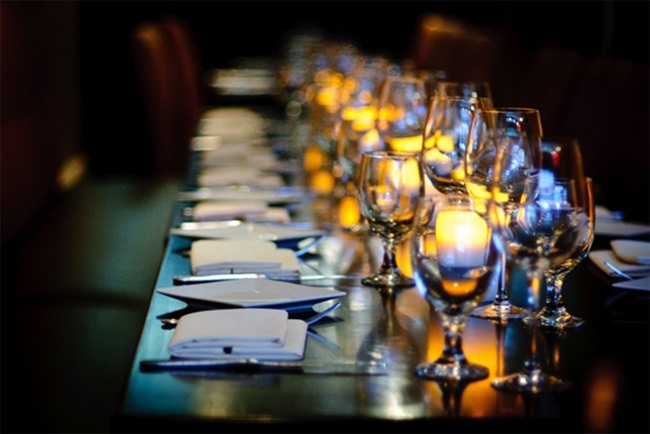 Benares restaurant in New York has an emotional overtone about its name after the holy city of Varanasi in India. Unlike the veggie-based cuisine of Varanasi, the menu of Benares includes both veg and non-veg dishes from Kashmir to Kanyakumari. The interior décor of this Tribeca restaurant is themed with banarasi saris of golden and silver hues. Tibet's spicy lamb soup, Kashmir's lamb rogan josh and Varanasi's lauki ka kofta and South India's chicken curry with coconut milk are some of the must-have dishes at this best Indian restaurant NYC.
Address:  240 West Broadway, 56th St, New York, NY 10019
Phone:  212-397-0707
Address: Tribeca, 45 Murray Street, New York, NY 10007
Phone: 212-766-4900
Awadh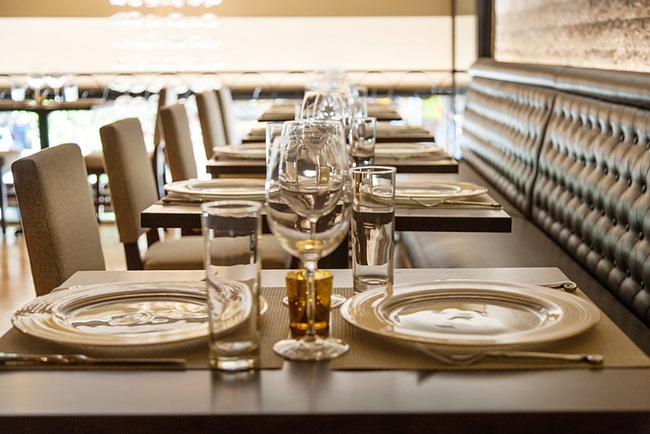 Gaurav Anand, an Indian chef cum entrepreneur, brought the Awadhi cuisine of India from the city of Lucknow to New York. His flagship Indian restaurant Awadh in New York City serves the best Awadhi food including Lucknowi kebab and biryani, with attention to culinary details. At Awadh, most of the dishes are cooked in 'Dum Pukht', the art of cooking over slow flames, which Gaurav Anand mastered under supervision of culinary experts in India. Apart from biryani, galouti kebab and spice wrapped whole fish are must haves at Awadh. Gaurav runs two more Indian restaurants NYC: Bhatti Indian Grill and Moti Mahal Delux.
Address:  2588 Broadway, 97/98 St, New York, NY 10025
Phone:  646.861.3241, 646.861.3604
Indus Valley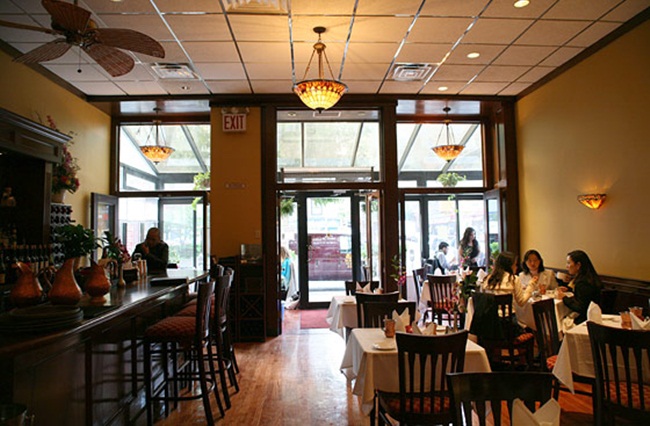 One of the budget restaurants for Indian food in New York City, Indus Valley serves an amazing range of classic Indian dishes in homely atmosphere. Named after the Indus Valley Civilization, this Indian restaurant on Broadway offers both buffet and a la carte. The menu of Indus Valley restaurant NYC includes different varieties of kebab, biryani and curry cooked in aromatic spices. Of the best Indian restaurants in New York, it is known for unusual dishes like chicken samosa and chicken chat. Malai kofta and Mango kulfi are must have at Indus Valley.
Address:  2636 Broadway, New York, NY 10025
Phone:  +1 212-222-9222
Chote Nawab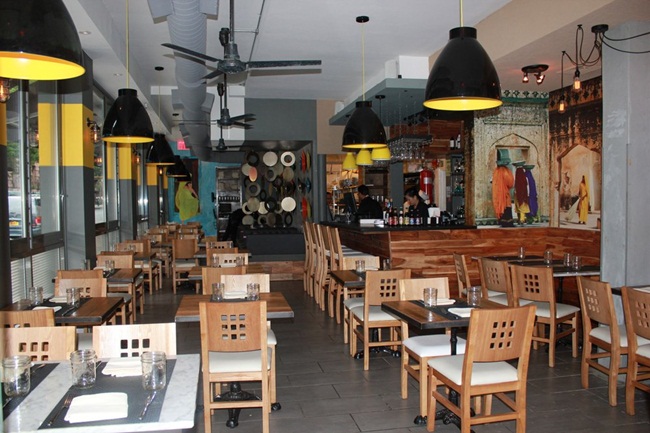 One of the must-visit eateries for the best Indian food NYC, Chote Nawab, as the name suggests, serves delicacies from the kitchens of Nawabs in Hyderabad and Lucknow. Chote Nawab is one of the six Indian restaurants in New York including Chola, Kokum, Dhaba, Haldi and Malai Marke where you get eclectic traditional Indian food menus curated by Michelin-star Chef Hemant Mathur. Among the favorites of the Nawabs of India, succulent kebab and aromatic dum biryani are must haves in the bright and cozy interiors of Chote Nawab.
Address: 115 Lexington Avenue, New York, NY 10016
Phone:  +1 212-679-4713
Tamarind Tribeca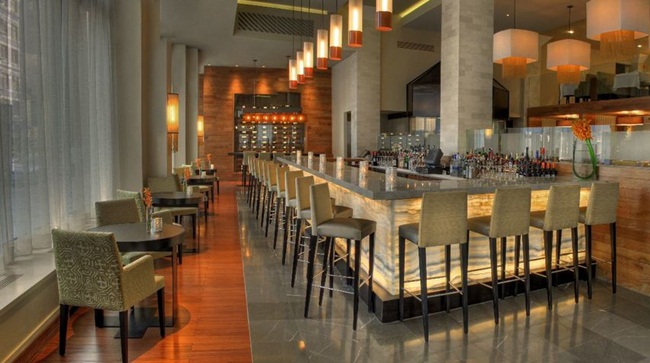 Set in an art deco building on Hudson Street, Tamarind Tribeca is an upscale fine-dining Indian restaurant with spacious seating for 175 people on two levels sprawling over 11,000 square feet. The restaurant consists of a main dining room, a cocktail lounge, a windowed bar and a mezzanine. Run by Avtar Walia from Punjab, Tamarind Tribeca has a highly competent team of chefs from different culinary regions of India. With dining chairs upholstered in high-quality fabrics of elegant shades, the banquettes offer beautiful views through dramatic ceiling-high windows. Nizami keema, chicken tikka masala, pillowy naan and Punjabi mutton are some of the best Indian dishes to have at Tamarind Tribeca NYC.
Address:  99 Hudson St, New York, NY 10013
Phone:  +1 212-775-9000
Saravanaa Bhavan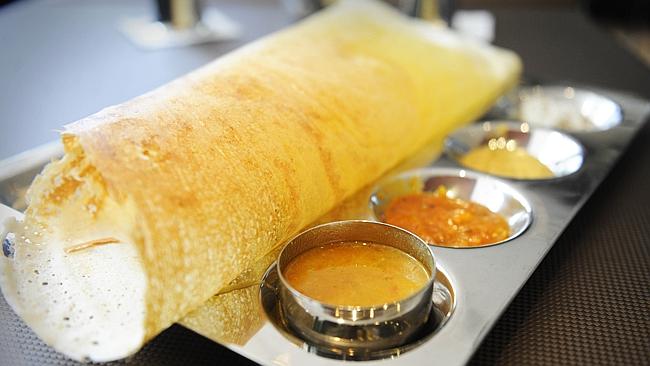 Saravanaa Bhavan is one of the best Indian restaurants NYC for South Indian food though its interior décor lacks urbane feel. A chain of South Indian restaurants from India to Hong Kong to Kenya to Germany, including one in New York City, Saravanaa Bhavan different types of dosa and uthappam. Don't be surprised when a table-long dosa or a basketball-size poori (puffed bread) hits your table here. Saravanaa Bhavan NYC serves as many as 25 varieties of dosa which are also available in Hyderabad, India.
Address:  81 Lexington Avenue, 26 St, Manhattan, NY 10016
Phone:  +1 212-679-0204, 212-684-7755
Which of these Indian restaurants served you the best? Share your experience of Indian food in New York with us through comments.   
Travel Beats is a digital portal for Indians and NRIs by IndianEagle, a leading international travel organization. It publishes the latest news, interesting features, inspirational stories and useful tips about travel, tourism, culture, entertainment, food and philanthropy.