Of Etihad Airways' worldwide lounges, the Premium Lounge at Abu Dhabi Airport's Terminal 1 opened its door to the First and Business Class passengers after a period of refurbishment, today. Apart from Etihad's First and Business Class travelers, the Platinum Etihad Guest members and Etihad Partner airlines' Platinum tier loyalty program members taking flights from Abu Dhabi Airport will be treated to the luxuries of the renovated Premium Lounge.
Renovated to be one of the best airport lounges in Etihad Airways' global network, the Premium Lounge at Abu Dhabi Airport's Terminal 1 can accommodate 134 guests at a time and will be operating round the clock. The interior décor of the lounge is styling and sophisticated in keeping with the airline's new brand image. The upgraded facility measures 1,044 square meters in size.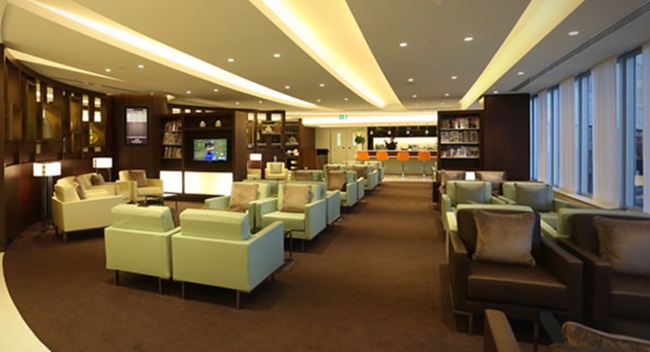 The Premium Etihad Lounge offers an array of world-class facilities in service to business and leisure travelers flying to and from Abu Dhabi Airport. It is furnished with plush armchairs offering comfortable seating, equipped with high-end business amenities and accessorized with USB power outlets. The interior comprises a dedicated dining space, a playroom for children, and modern bathrooms with shower facility. Complimentary Wi-Fi connectivity is one of the bells and whistles adding to the customer-centric service value of the lounge.
READ MORE Review: Etihad Airways' Economy Class
This Abu Dhabi Airport lounge will treat guests to Etihad Airways' signature hospitality that consists of the best food and beverage service on ground. Of the lounge services, the most prominent are restaurant-style dining and lavish buffet complemented by an impressive choice of beverages. The Premium Lounge services can best be compared with Etihad Airways' inflight services on long-haul flights.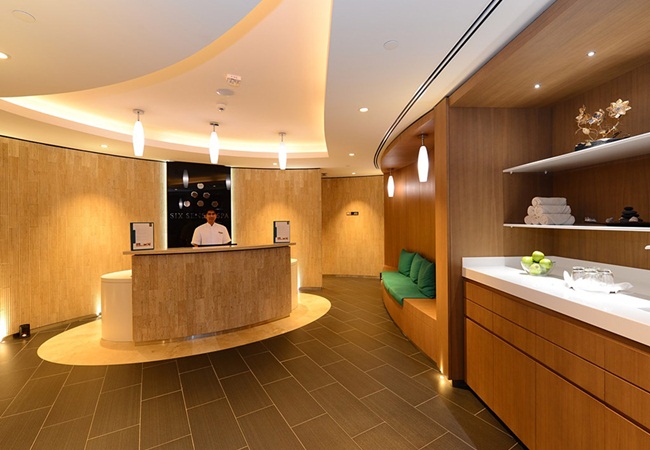 The Six Senses Spa at Etihad Airways' Premium Lounge in Abu Dhabi has got a new touch of refurbishment. The spa offers a range of massage services and therapeutic treatments on the basis of appointments. The guests at the lounge are given complimentary spa refreshment for 15 minutes in a bid to promote health and wellness during travel.
The Terminal 1 Premium Lounge is not just an addition but a complement to Etihad Airways' lounges at Abu Dhabi International Airport. It is the latest addition to Etihad's lounge network in Abu Dhabi, including the US Premium Lounge and the Terminal 3 Premium Lounge, available for premium guests flying to and from the airline's US destinations. With a dedicated First Class Lounge at Abu Dhabi Airport, and a few international lounges in the USA under development, Etihad Airways is all set to achieve a significant milestone in on-ground hospitality.
Indian Eagle books cheap flights on Etihad Airways from USA to India with layovers at Abu Dhabi International Airport. Do contact us at 1800-615-3969 for more information.