Japan Airlines joined the league of British Airways, Etihad Airways, Qatar Airways, and Singapore Airlines which constantly seek innovation in the cabin interior of aircraft in their fleet. Japan Airlines has lifted the screen from the interior of the new cabin to be installed on its B787-8 Dreamliner.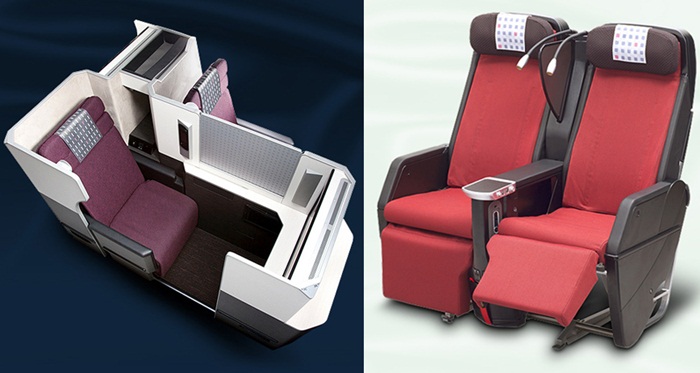 The new cabin for premium travelers to be flying on the airline's B787-8 and B787-9 aircraft is named JAL Sky Suite. Japan Airlines' Tokyo Narita to Frankfurt is the first route that the cabin will be rolled out on in December 2014. Tokyo Narita to New York is the next route that the Dreamliner aircraft with the new cabin will fly on. Then, the new cabin will gradually be available on flights on the rest of the routes in Japan Airlines' global network.
JAL will be reducing the number of seats in each of the travel classes to offer spacious seating with more comfort in the new cabin. The total number of seats in the B787-8 Dreamliner will be reduced from 186 to 161. Premium Economy seats will number only 35. The number of Business Class seats will fall from 42 to 38. In order to flights more comfortable for the Economy Class travelers, Japan Airlines has proposed to cut the number of seats from 144 to 88.
Fully flat beds with direct aisle access will be installed in the Business Class cabin. The Business Class seats will be configured in a 2-2-2 layout. Each bed cum seat will come with ample space for storage of cabin bags, a large swivel tables for dining and a 23-in TV for personal entertainment in the Business Class cabin.
Seats will be arranged in a 2-3-2 layout in the Premium Economy cabin. The seat design will remain the same as on Japan Airlines' B777 aircraft. The fixed back of Premium Economy seats will recline without causing inconvenience to the passenger behind. Each seat will come with a center divider for additional privacy and a 12.1 inch touchscreen monitor.
Japan Airlines' Economy Class passengers will benefit from the new cabin design than other passengers as the reduction in the number of Economy seats will allow more legroom.
Indian Eagle books the cheapest flights to India from the US with Japan Airlines. The lowest airfare to India is guaranteed at Indian Eagle.