Etihad Airways' Economy Class challenges the norms of the aviation industry and defies the usual conception that economy flights have little to do with comfort and sophistication. To say in Etihad's words, the Economy Class is "simply smarter." Let's justify it.
Economy Class seats on Etihad Airways' long-haul flights let you sit back and relax on adjustable headrests. The cradle seats are wide and accessorized with comfy pillows. The reclining feature of the seats facilitates the natural posture that your back rests in. Even very small things from blankets to amenity kits are meticulously taken care of to offer high-level inflight comfort that the airline promises.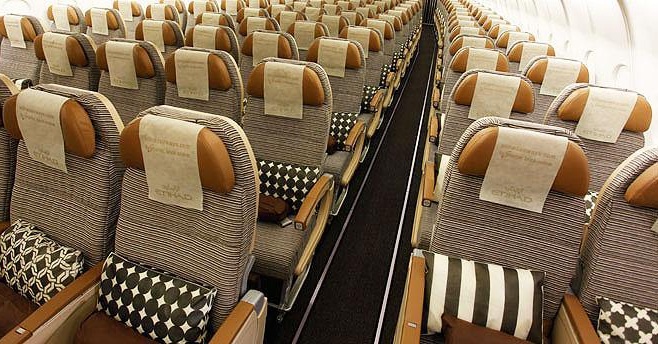 On longer Economic flights by Etihad Airways, passengers are provided full-sized fleece blankets and unique pillows which can be converted into neck pillows. Passengers are also given blanket bags which can double up in size to let them store their personal belongings. Adding oodles of warm hospitality to the Economy Class experience is provision of amenity kits containing a pair of socks, toothbrush, a pair of earplugs, a cotton drawstring bag, and a reversible "Do not disturb/Wake me for meals" eye mask.
Onboard hospitality is extended to Etihad Airways' Economy Class food served in a more personal style. Passengers are served hot meals of their choice from three main courses. Onboard café serving light snacks, coffee, tea and hot chocolates is an add-on to long-haul travel experience in the Economy cabin of the airline's select aircraft. Etihad is one of the few airlines that treat Economy passengers as premium customers by offering complimentary bar service to them on select long-haul routes.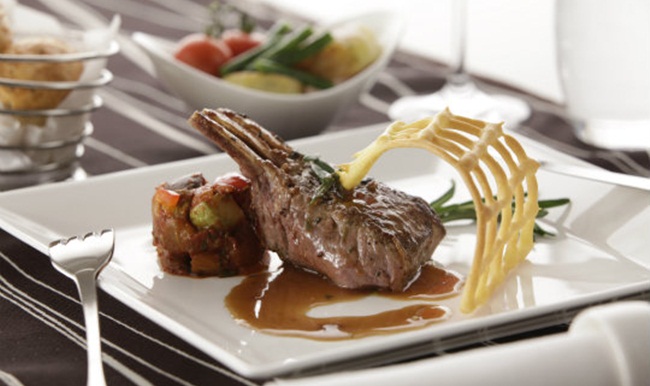 Etihad Airways' Economy Class food menu is designed by the airline's award-winning chefs from world-class restaurants. They are extensively trained to blend different flavors to create fulfilling meals in keeping with the airline's brand hospitality. – Indian Eagle
Etihad Airways' Economy Class offers signature inflight entertainment that consists of 750 hours of on-demand content on long-haul international flights. The Economy seats are equipped with 10.6-inch touch-screen TV monitors which passengers can tune to their personal entertainment needs. 11-inch touch-screen TV monitors are installed on Economy Smart seats. Etihad's inflight entertainment programs include over 100 movies, 300 popular TV shows and 60 interactive games.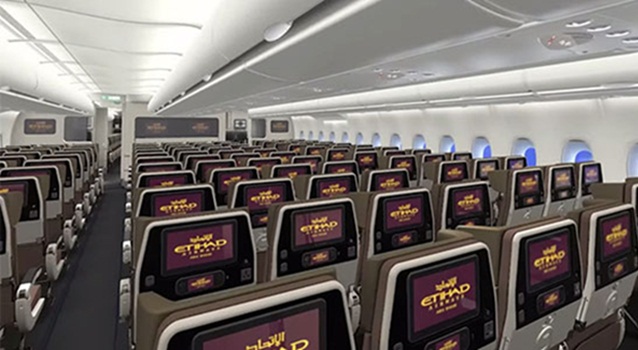 The inflight entertainment system on Economy flights comprises 7 live news and sports channels, and 16 radio channels. Passengers are provided noise-canceling headsets to enjoy their preferred programs contentedly. On Etihad's Economy flights, inflight entertainment programs include both timeless classics and latest blockbusters from Hollywood, Bollywood, European, Arabic and Asian cinemas.
Travelers with kids can get access to Etihad's special Kids Club movies and cool cartoons. Etihad's inflight entertainment systems integrate a parental lock feature that lets travelers block unsuitable content to their kids. – Indian Eagle
Etihad Airways' Flying Nanny is one of the best inflight services, which no other airline has yet come up with. Introduced by the end of 2013 and unique to Etihad's onboard hospitality, Flying Nannies help travelers with children on long-haul flights so that travelers can have some "me time" with books or movies of their choice or the inflight magazine.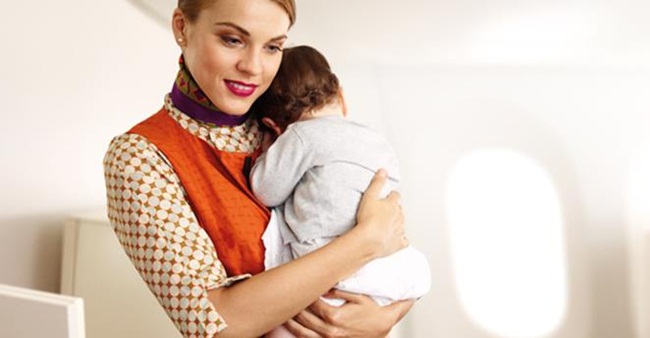 One of our customers had a pleasant experience of Etihad's Flying Nanny service while flying from Chicago to Delhi with the cheapest economy flight ticket from us in June 2015. She traveled with two kids including one 2-year old infant. The Flying Nanny was a great support to her. – Indian Eagle
To conclude, Etihad Airways' Economy Class is synonymous with comfort that ensues from the airline's best inflight services on Economy flights, surpassing passengers' expectations and giving them a memorable travel experience at the lowest airfare from Indian Eagle.
Indian Eagle books the cheapest Economy flights to India from USA with Etihad Airways. Buy your tickets for the best flight on Chicago to Delhi, New York to Mumbai, New York to Hyderabad, and other routes on IndianEagle.com.