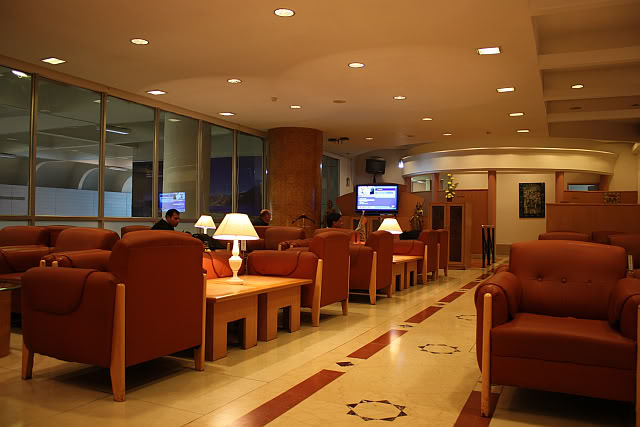 Air India lounge service at some of the destination airports where the airline flies to, entails an array of facilities to ensure comfort for the waiting passengers on ground. The service to Air India passengers at select airport lounges bears testimony to the signature hospitality of the airline.
Maharaja Lounge is Air India's signature hospitality hub on ground for First and Business class travelers. The Maharaja Lounge points of Air India in India are Bengaluru International Airport in Karnataka, Indira Gandhi International Airport in Delhi, Rajiv Gandhi International Airport in Hyderabad, and Chhatrapati Shivaji International Airport in Maharashtra. Heathrow Airport in London and John F. Kennedy International Airport in New York City are two international points of Air India Maharaja Lounge.
Maharaja Lounge at Mumbai Airport is available for First and Business class passengers as well as VIP passengers. The available facilities are LCD TV, FAX, charging point, printer, international calling, magazine, newspapers, coffee, tea, soft drinks, and WIFI.
Maharaja Lounge at Indira Gandhi International Airport in New Delhi has two units: one for domestic travelers, and the other for international passengers. First class passengers, Business class passengers, VIPs, GOI passengers with full fare economy class tickets, and the Maharaja Club members are given access to the lounge at Delhi airport. Internet, printer, magazine, newspaper, and LCD TV are some of the facilities available there.
Maharaja Lounge at London Heathrow International Airport is accessible to the First and Business class passengers, and premium travelers at Air India flights only. LCD TV, Internet, charging points, magazines, food & beverages, flight information display screens, and toilet facility are some of the services available at the lounge.
Air India Maharaja Lounge at John F. Kennedy International Airport in New York City is accessible to VIP travelers, and the First and Business class travelers. The facilities available for the passengers include Internet, newspapers, magazines, TVs, charging points, etc.
Besides Maharaja Lounge points at the above-mentioned locations, Air India has associations with airport lounges in Bahrain, Bangkok, Dubai, Chicago, Gwalior, Newark, Hong Kong, Kolkata, Osaka, Seoul, Shanghai, Singapore, Tokyo, and Riyadh. The facilities available at the lounges may vary from airport to airport.
Air India launched lounge service with a number of travelers-friendly facilities at Terminal 3 of Indira Gandhi International Airport New Delhi, this October 11. The new lounge at Terminal 3 is accessible to Economy class travelers as well. The facilities include shower too.
Note: Air India may make changes to the available Maharaja Lounge services at any time, without notification.
IndianEagle books cheap flights on Air India. A good range of Air India flights at low airfare is guaranteed.