Actor Anupam Kher will be seen in a Hollywood film, The Headhunter's Calling, to be directed by Mark Williams, who is an actor, comedian and screenwriter. Mark Williams is best known for playing Arthur Weasley in Harry Potter films. Anupam Kher, a maverick Indian actor who made his acting debut in Bollywood in 1982, will play an Indian-American oncologist in the upcoming Hollywood film.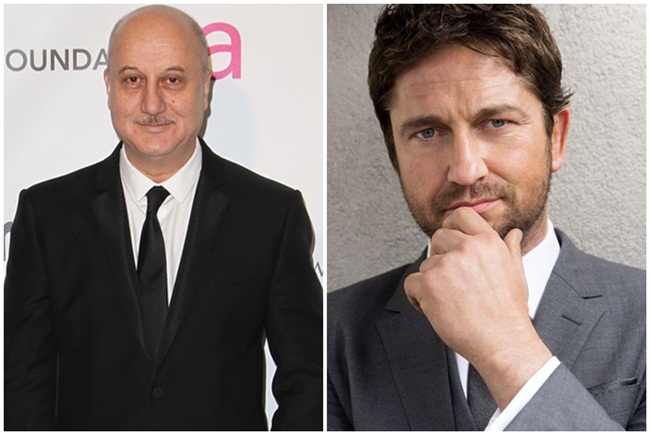 Anupam Kher will share space with actor Gerard Butler on the screen. Gerard Butler is also co-producer of the movie. Kher is quoted saying, "Gerard Butler is a great actor. It's nice to work with him." Willem Dafoe, Alison Brie and Alfred Molina are other actors in the cast. Bill Dubuque, an eminent screenplay writer, penned the script. The shooting has already begun in Toronto.
Anupam Kher is not a new face in Hollywood. Besides several hundred Indian films, he has a few Hollywood movies to his fame. He acted in in award-winning Hollywood films like Silver Linings Playbook, Bend It Like Behckham, Lust, and Caution. Lust directed by Ang Lee won the Golden Lion award in 2007. David O. Russell's Silver Linings Playbook won the Academy Awards in 2013.
Kher played Dr. Chris Patel in Silver Linings Playbook. His immaculate portrayal of the character earned him critical acclaims in Hollywood. He shared space with Robert De Niro, an Academy Award winning actor and producer. Anupam Kher has such a good rapport with Robert De Niro that the latter visited his acting school, "An Actor Prepares," in Mumbai.
Born in Shimla in the Himalayan region of India, actor Kher has donned different hats and added multiple feathers to his cap. He earned India's National Film Award for Maine Gandhi Nahin Mara (2005), which he produced and acted in. He has acted with superstar Shah Rukh Khan in several Bollywood films, including Dilwale Dulhaniya Le Jayenge, Kuch Kuch Hota Hai, and Veer-Zara. He was also cast in Bride and Prejudice in 2004 and The Mistress of Spices in 2006.
Anupam Kher is the only Indian actor to have received honorary citizenship of Texas as a tribute to his play Mera Who Matlab Nahi Tha, which he staged across the USA and Canada in August this year. The American audience liked his performance and the play so much that the Mayor of Houston declared August 7 as Anupam Kher Day. The Mayor of Las Vegas did the same on September 10, 2015.
Travel Beats is a Cultural publication by Indian Eagle, a Texas based international travel organization. Travel Beats publishes news about the latest and upcoming events in the US, Canada and India. Indian Eagle books travel to India from USA and Canada.