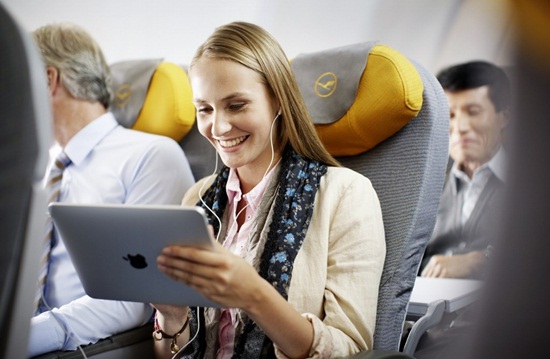 Lufthansa Airlines is one of the most renowned, award-winning international carriers in the world. Its inflight entertainment system is part of the high-tech infrastructure for onboard passenger service. Lufthansa has equipped the aircraft in its fleet with multi-level entertainment systems to keep flyers engaged during long-haul flights. The airline empowers passengers with freedom to decide on which channel to turn on, which programs to see, which movies to watch, which music to hear, and likes. There is a huge selection of entertainment options for travelers in Lufthansa's economy class too.
The in-seat entertainment system comes with user-friendly touchscreen navigation technology ensuring smooth browsing of channels and programs. The airline changes the inflight entertainment programs on a monthly basis for refreshment. The mainstay of Lufthansa's unique inflight entertainment system is the multilingual user interface which is accessible to flyers in ten different languages: English, German, Spanish, French, Italian, Korean, Chinese, Portuguese, Korean and Japanese. You can choose to tune up your favorite program, be it movie or music.
Lufthansa is generous enough to offer inflight entertainment programs in different categories – comedy, romance, action, thriller, and melodrama. You can take the best pick from the selection of movies and music in each category. You can take your pick from the list of 50 movies in any of the eight different languages. If you are fond of TV programs, there are many options including documentaries, sitcoms, chat shows, international hit series, music concerts, celebrity interviews, sports and likes. "WatchEnjoy" is a special section for the discerning travelers.
There is no reason for the music-loving passengers to be disappointed on Lufthansa flights. The inflight entertainment system has a dedicated section ListenRelax which comprises as many as 30 international radio channels. With more than 200 CDs of music in several different categories, Lufthansa Airlines ensures every possible means to engage hardcore music buffs among the travelers with long-haul flights. Lufthansa flights are full of entertainment for the admirers of Jazz, Opera, Classical, Rock, Pop, Country, Folk, Electronica, Metallica, etc.
Lufthansa offers inflight entertainment for kids too. The entertainment system exclusively meant for the youngest travelers is KidsFun which offers a number of movie and music CDs for fun. The StudyPlay section offers business books and language courses to teenage flyers.
Lufthansa Airlines may modify or upgrade the inflight entertainment system at any time and without notification. Get in touch with our travel specialists for any queries at 1-800-615-3969 / travel@blogbox.indianeagle.com.
IndianEagle.com books international flights from most of the USA cities to the capital cities of India with Lufthansa Airlines at the lowest airfare.