Since the Trump administration started making US work visa reforms to make America great again, Indian IT companies have been looked down upon as agents of monopoly on H1B visa. With the back-to-back release of US visa and immigration reform policies, the IT sector of India has been in doldrums, thereby axing their employee strength at senior levels on grounds of unsatisfactory performance. In 2017, Indian media reported that Infosys, a global core banking market leader would cut its employee headcounts in India and go on a hiring spree in the US over the next two years. In addition to H1B visa issues, process automation and digitation added to the force behind this move.
What Indian media reported about IT giant Infosys' strategy for the future has become a reality for techies in the United States, including Indian Americans. Recently, Infosys announced to set up a $21 million regional center in the US state of Connecticut and employ more than 1,000 people over the next four years.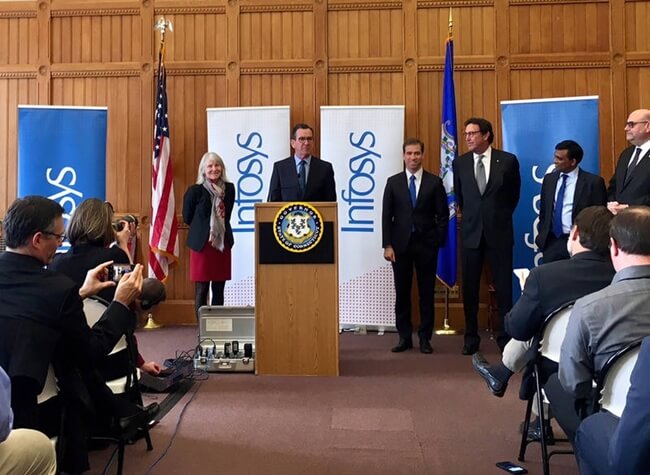 Infosys' Connecticut Technology and Innovation Hub in Hartford will focus on and generate employment in three sectors: insurance, healthcare and manufacturing, according to an official press release. It will not only cater to Infosys' clients in Connecticut but also serve as a global hub for Infosys' InsurTech and HealthTech products. The upcoming Infosys technology and innovation hub in Hartford is part of the Indian tech giant's commitment to scale up innovation for the enterprise in Connecticut by amplifying the American talent in sync with the global workforce and filling up the IT skills gap in the US marketplace.
Also Check: Ten Richest Indian American Billionaires in 2018
Infosys' Connecticut Technology and Innovation Hub in Hartford will house dedicated insurance and healthcare labs where innovative data security and fool-proof data-sharing features will be implemented to focus on smart underwriting, claims fraud and Cloud in order to help the insurance and healthcare enterprise clients with applicable privacy laws in Connecticut. The upcoming Infosys hub will be leveraged to train American employees in cloud and information security project development operations with futuristic techniques.
Infosys set up its first American technology and innovation hub in Indianapolis, Indiana. In continuation of its expansion in the US, the Indian IT conglomerate has also selected Providence in Rhode Island for a design and innovation hub, and Raleigh in North Carolina for a technology and innovation center.
Also Check: USA to Reject H1B Visa Applications without Employment Date 
Ravi Kumar, President of Infosys eloquently announced the plan to open the Connecticut Technology and Innovation Hub in Hartford and generate 1000 jobs for techies in the New England region. Hartford being the Insurance Capital of the world, the upcoming Infosys hub in Connecticut will help Infosys' clients stand out in the digitally changing landscape of insurance, healthcare and manufacturing. It will also facilitate recruitment of highly skilled local professionals to serve the clients across the New England region.
Connecticut's Governor Dannel Patrick Malloy has welcomed Infosys's plan to open a technology and innovation hub in Hartford as a landmark in the history of Connecticut's economic development. He is eagerly looking forward to Infosys leveraging the state's talent pool and infrastructural potential for the sake of the local community.

Part of Infosys' corporate social responsibility, Infosys Foundation USA has a strong presence in Connecticut and the rest of New England. It has provided funds to equip schools with classroom technology and train over 3500 students and 35 teachers in computer science across Connecticut in order to escalate American innovation with the tech-smart workforce of the future. Till date, 21000 schools across America have benefited from Infosys Foundation USA's classroom technology and computer science training programs.