It has been a month (today, September 25) since Hurricane Harvey hit the Gulf Coast of USA on August 25, 2017 and left South Texas with a massive burden of devastation worth over $180 billion. The damage to public and private properties caused by #HurricaneHarvey2017 in and around South Texas includes the destruction of 200,000 homes (50,000 in Houston only), which may take five years to be rebuilt, according to the Governor of Texas.
However, every dark cloud has a silver lining. An Indian American couple donated USD 250,000 to Houston Mayor's  Hurricane Harvey Relief Fund at a private event yesterday.
Houston Indian American Amit Bhandari and his wife Arpita Brahmbhatt Bhandari contributed the donation to the Harvey relief fund set up by Houston's Mayor Sylvester Turner, on behalf of the Greater Houston Community Foundation of which he is a premium member.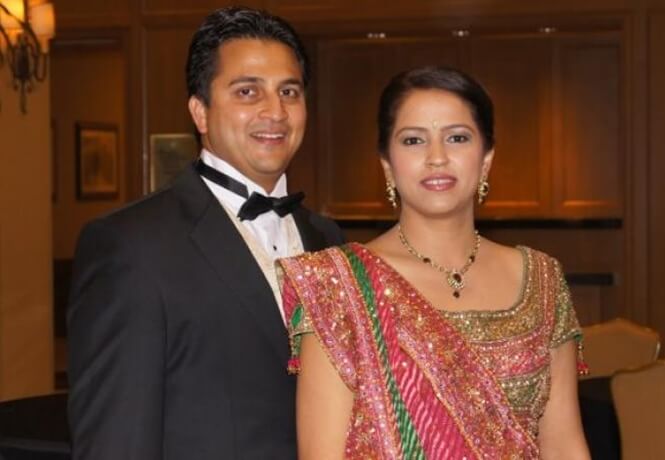 Amit Bhandari is a Houston-based entrepreneur. He is the CEO and Chairman of BioUrja Group which trades in energy and agricultural commodities across the globe. His wife, Arpita Bhandari is the Vice President of Human Resources in the company.
The leading members of the Houston Indian community joined Mayor Sylvester Turner to thank the Indian American couple for having donated a lump sum to the Hurricane Harvey relief fund, and pledged more contributions to financially ease the relief work. Notably, Greater Houston Indian Americans have been trying all possible means to raise USD 1 million for the relief and rehabilitation fund.
Acknowledging the generosity of Indian Americans in general, Houston Mayor Sylvester Turner said, "Indian Americans have golden hearts. They always come up with voluntary aid during hard times like Hurricane Harvey. Their contributions are not limited to the Harvey relief and rehabilitation fund. They have been making great efforts for the welfare of Houston for a long time. The Indian community is vital to Houston and will help make the city what it was before prior to Hurricane Harvey 2017."
The BioUrja founder and CEO Amit Bhandari said that volunteers of the Greater Houston Community Foundation helped rescue 700 victims of Hurricane Harvey in Houston. The community has also donated $1.5 million to several charitable organizations involved in Hurricane Harvey relief and rehabilitation.
The Consul General of India in Houston, Dr. Anupam Ray lauded the Indian American community for their humanitarian efforts and generous contributions while thanking Amit Bhandari and Arpita Bhandari for donating $250,000 to the relief fund. He added, "Your generosity makes India proud. A community is great if it rises above its suffering. You have demonstrated that by contributing toward Hurricane Harvey relief."
Role of Sewa International in Hurricane Harvey Relief 
Sewa International is another non-profit organization that deserves a special mention for its pivotal role in evacuating and rescuing people, including 247 Indian students at the University of Houston, from the floods caused by Hurricane Harvey, which is described as the costliest natural calamity in the US history.
Founded in 2003 and headquartered in Houston, Sewa International actively works for development and disaster relief in 20 countries including India. A team of over 800 volunteers from Sewa International, with the 'can do' spirit, jumped into the evacuation and rescue drive across Houston. Gitesh Desai, the President of the Houston Chapter of Sewa International, continued to supervise the volunteers and motivate them for better efforts from a hotel room though his own house was partly submerged in five feet of flood waters.
Sewa International raised a fund of $250,000 in ten days to provide relief to the victims of Hurricane Harvey. The volunteers tirelessly organized health camps, arranged temporary shelters, provided medical supplies and served hot meals. Several local organizations and Houston restaurants including Dinesh Purohit's Cafe India contributed to the relief work by providing and distributing 30,000 meals a day across Greater Houston.
Indeed! Every single effort and every individual contribution towards service to humanity counts for achieving noble goals. We at Indian Eagle, a trusted travel booking partner of Indians in USA, did our bit by tweeting travel alerts and posting airlines' travel waiver announcements on Facebook at regular intervals during and after Hurricane Harvey.
Inspiring Stories of Indian Americans in Philanthropy