Airline food is one of the enigmatic phenomena in the world. In current times of economic liberty, airplane food is a luxury rather than a need. All thanks to the culinary glamour that 'Flying Chefs', 'Celebrity Chefs,' 'Sky Chef,' 'Sky Restaurant' and likes bring to inflight dining! There are many old myths and secret facts of airplane food behind this glittering picture at 30,000 to 40,000 feet in the sky. Some airline food facts and myths have become popular jokes in aviation.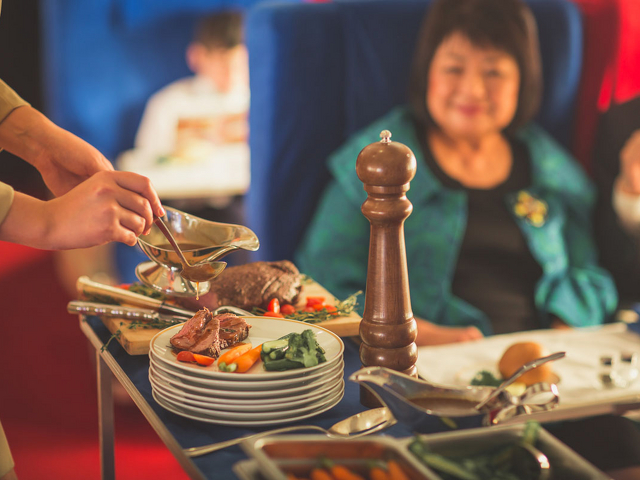 Why does Airplane Food Taste Different?
One of the surprising airplane food facts is that inflight food tastes different from food on ground. If an airline's inflight meal tastes a little bland at 30,000 feet in the air, don't blame the airline or its chef. It's your taste buds that can's pick sweet and salty flavors of food on planes affected by low cabin air pressure, engine noise and lack of humidity. That's why Paneer Kofta or Paneer Korma on Indian thalis (meals) served during Air India flights from San Francisco to New Delhi may not taste up to your palate. But the taste of spicy and sour foods like Arabic Lamb Chop on Etihad Airways' New York to Mumbai flights remains mostly the same at the same height in the sky.
Most airlines provide sound-cancelling headphones on board. Using those headphones during inflight dining can minimize the taste-spoiling effect of engine noise on your food to some extent.
How does Champagne Taste High in the Sky?  
The same is the reason why travelers' excitement about exclusive champagne in Singapore Airlines' Premium Economy Class or free beer on United Airlines' flights drops a little. By the laws of nature, liquids expand and contract due to changing atmospheric pressures at different altitudes. Because of this, airlines spend huge bucks on testing of wine, beer and other alcoholic beverages both on board and on ground by professional testers.
What Food is Served on Delayed Flights?
One of the mythical airline food facts is that airlines serve the food cooked several hours before on flights delayed by 6 to 8 hours. Airlines unload the food from planes and refill planes with fresh food in most cases of long-hour flight delays. Though it is a huge loss, the aviation industry has taken this drastic measure to ensure passengers' good health and safety, especially after the mishap of Aerolineas Argentinas's Valentines-Day flight from Buenos Aires to Los Angeles in 1992. 76 out of 336 passengers fell ill and one died due to the contaminated food served during the flight.
That's why airlines serve special meals to their pilots and co-pilots leaving no possibility of getting them sick during flights. Obviously, it is because of passengers' safety.    
Are Inflight Meals "Made Fresh"?  
All that glitters is not gold! Likewise, "Made Fresh" stickers on inflight food are nothing but tricks on you. As a rule of thumb, airplane food is prepared 10 hours before it is served in the cabin. That's why meats are often half cooked when loaded on to the plane and prepared for serving in convention ovens on board. Laughing these airline food facts away, Heather Poole, a flight attendant and author of Cruising Attitude, says that salads and sandwiches are served fresh during flights.
Do Flying Chefs Cook on the Plane?
In contrary to these surprising facts about airline food is the "Flying Chef" service on long-haul US to India flights by major international airlines like Etihad Airways and Turkish Airways. However, the "Flying Chef" service is a premium facility for premium class flyers. Inflight chefs can prepare few selected ready-to-eat dishes due to small galley kitchens and lack of cooking appliances like flying pans, stoves, etc. on the plane.
According to culinary experts in aviation, travelers are served better food on long flights than on short flights within a range of 3 hours. That's why airlines are more careful about food on international flights than on domestic ones.    
Why is Tomato Juice Popular on the Plane?
Do you ever wonder why most travelers drink tomato juice on planes, one of the secret airplane food facts? According to a clinical study by Lufthansa Airlines, fluctuating air pressure of aircraft cabins makes passengers crave acidity and saltiness, which tomato juice satisfies. Even those who are fond of tomato juice feel like having it because of its sweet and salty content while flying.
Is Luxury Inflight Dining Restricted to Economy Flyers?   
No doubt, there is good food in the skies. Major international airlines offer five-star restaurant-like service and chef-special meals in first and business class travel cabins. By 2015 end, Lufthansa Airlines introduced exclusive meals with restaurant makeover for business class flyers. Though not available on cheap economy flights to India from USA or other routes, travelers can avail the luxury of business class dining by upgrading standard economy-class meals for an additional feel. Airlines such as British Airways, Air France and KLM offer this service. It is one of the secret airline food facts that many economy class travelers are not familiar with.
Inflight meals are designed and cooked in such a way so as to make passengers feel relaxed and fall asleep on long-haul flights. Flight attendant Heather Poole, who has spent two decades in the skies, discards it as one of the old myths of airline food.
Check our FAQs section to know about USA-India international airlines' inflight facilities, baggage allowances and lounge services.