Get ready for a whole new dining experience on Qantas' international Economy flights later this month. Qantas, in a bid to redefine the joy of inflight dining for its Economy Class customers on long-haul routes, will serve a new menu with 50 percent larger servings. Besides, the new menu will have a huge choice of dishes, and the onboard catering service will be more efficient than before. Qantas, the national career of Australia, will first introduce the menu on the Melbourne-Dubai-London route this November 25.
Qantas' new Economy Class menu for international passengers is designed by a team of culinary experts. The team researched on multiple different cuisines and tastes based on different aspects of human psychology for a year. Qantas has already put the menu to a test on a number of international flights. The menu has delivered on promises regarding customer satisfaction on those flights.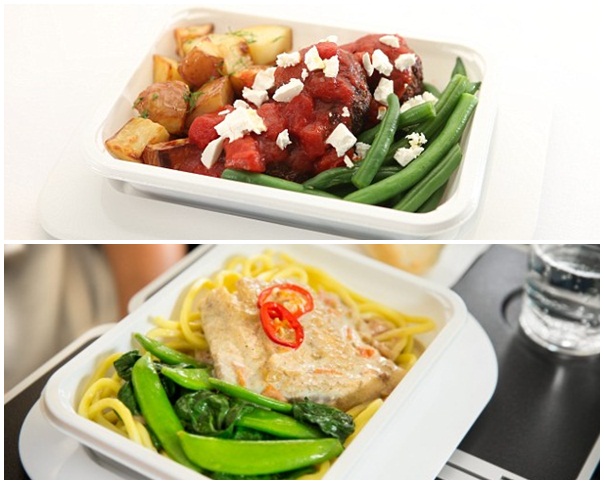 Smoky barbeque beef with roasted sweet potato; scrambled eggs with chicken sausage, tomato, and backed beans; honey roasted chicken farro salad with seasonal vegetables; Ruby & Roy's traditional Greek yogurt with granola, and Weis ice cream are some of the dishes on the menu, which Qantas' Economy Class passengers have thumbed up.
A refreshing drink of Bickford's signature range will be served as a warm gesture of welcome to the passengers on board. The lemon, elderflower and pink grapefruit flavors of the drink are unique to Qantas' inflight treatment. The airline also offers the pre-order meal facility to the Business Class passengers. This service is available in the Premium Economy Class too. Passengers can avail of the facility online within 7 days prior to their scheduled departure with Qantas.
The new menu is lighter on the stomach, delicious for the tongues and generous in meal size. We will also introduce such meal categories as 'healthy food', 'comfort food', and 'food' inspired by itineraries. The smoky barbecue beef is a dish from the third category. The meals will be served on new plates, not trays. It will make the inflight dining service faster than before by 30 minutes," said Alan Joyce, CEO of Qantas Airlines. The new menu will be rolled out on the following routes on different dates:    
Melbourne-Dubai-London: November 25
Sydney-Dubai-London: November 26
Tasman: November 28
Perth-Auckland: December 5
Flights to Los Angeles, New York & Dallas/Fort Worth: December 9
Flights to Vancouver: January 3
Singapore: January 13
Hong Kong: February 10
Flights to Bangkok, Shanghai, Manila, & Honolulu: March 1
Santiago, Johannesburg, Narita, Jakarta & Noumea – March 1
In September this year, Qantas began to operate Airbus A380 on the world's longest route between Sydney and Dallas /Fort Worth.
IndianEagle.com is the only trusted portal for online booking of cheap flights with Qantas Airlines from major USA airport.