International airlines are trying every possible means to woo their customers on board. An exclusive selection of wine and champagne is the latest add-on to their inflight services for fliers in the First Class and the Business Class. With wine or champagne being a new luxury of flying in premium classes, British Airways, Emirates Airlines and Qantas Airways have already come up with innovative plans to quench the thirst of their premium customers with world-class alcoholic beverages.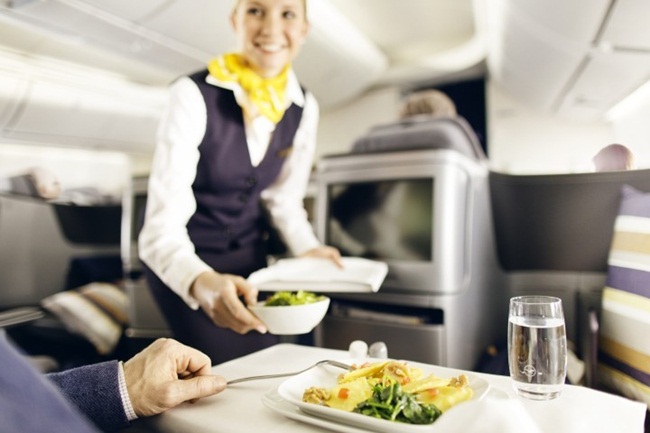 However, Lufthansa Airlines is a few steps ahead of other international airlines including the three above. With the latest news of its inflight meals service making rounds in the world of aviation, Lufthansa seems to have proven a dark horse in the race. The German airline has taken an initiative to offer 'restaurant service' in the Business Travel Class. Evidently, Lufthansa has a bigger fish to fry than other airlines.
You did not surely get an impression that Lufthansa is to convert the Business Travel Cabin into an inflight restaurant. What the airline is all set to do is revamp the way it serves meals to Business Class passengers during long-haul flights. Lufthansa's inflight menu for Business Class flights on long-haul routes is given a makeover to give passengers an overwhelming feel of restaurant-like service.
According to the plan, Lufthansa's flight attendants will adapt their ways of service towards catering to the Business Class fliers' needs on board with more attention and efficiency as it is in world-class restaurants. The inflight meals service enhancement that Lufthansa refers to as 'restaurant service' is focused on giving welcome to passengers by their names, taking individual orders for the meals of their choice, setting tables with ceramic crockery and  serving them directly from the galley. Also, flight trolleys and trays will be replaced with service plates.
Lufthansa rolled out the restaurant-like meal service on A380 flights to New York in June and to Miami in July this year. It will soon be launched on Lufthansa's A380 flights to Delhi, Houston, Miami, New York, Beijing, Los Angeles, San Francisco, Seoul, Singapore, Shanghai and Johannesburg. Business Class travelers on B747-400, B747-8 and A340 flights from Frankfurt and Munich to Asia and the Middle East will be treated to the same restaurant-like inflight dining experience from October 2015.
Around 4,500 flight attendants have been meticulously trained to deliver Lufthansa's inflight meal services with restaurant-like attributes. According to aviation critics, it is Lufthansa's "another important step towards becoming the first five-star airline in the Western hemisphere."
The new restaurant service is another customer-friendly medium of inflight entertainment on Lufthansa flights. – Indian Eagle  
Indian Eagle books the cheapest Lufthansa flights to India from USA. Cheap air tickets are available from Houston, Austin, New York and Orlando to Delhi, Mumbai and Hyderabad on IndianEagle.com.