Over 1.2 million high school students drop out in the United States every year, despite a 3% decrease in the dropout rate from 1990 to 2010. High school dropouts are behind almost 75% of crimes in the US. 17.21% is India's average dropout rate, according to the 2014-15 statistics. A high school dropout earns over $200,000 less than a high school graduate through his lifetime in the US. Whether India or the US – either country is grappling with the disturbing school dropout rates for several reasons, of which the biggest is socio-economically disadvantaged family background.
16-year-old Indian American Sanjay Rajasekharan is doing his best to uproot one of the reasons – lack of shoes – for dropout of primary level schoolgoers in the rural backwaters and the urban poor areas of India. Even some of the families affected in the recent California wildfires were helped by his nonprofit organization, Running4Shoes in Cupertino, with shoes for their school-going children.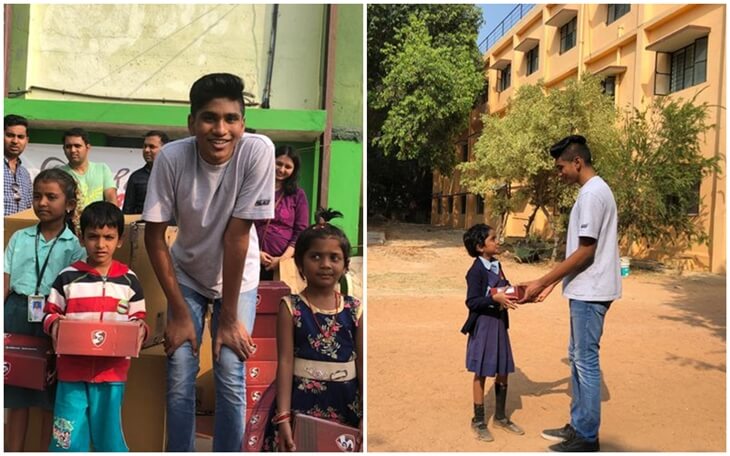 In 2016, California-based Sanjay Rajasekharan founded Running4Shoes in Cupertino, with the vision of maximum school attendance by children from underprivileged families. He is on the mission to provide every poor child with a pair of shoes to help him / her walk comfortably to school every day. He conducts shoe donation drives across the state of California.
A resident of San Jose, Sanjay was taken aback by the depressing facts and figures of school dropouts in India and the United States, including the truth – families in half the nation can't afford basic needs of their school-going children. He hit upon the idea of launching Running4Shoes for the sake of those children when he learned from his research that if needy children are given shoes to wear to school, their physical health would improve, thereby increasing their school attendance by 62%.
In India, upper primary schools are 3 km away on an average in underdeveloped areas, according to Sanjay Rajasekharan's nonprofit Running4Shoes. Children from underprivileged households in those areas walk barefoot to school, which afflicts them with serious health implications due to their constant exposure to heat, dust and parasitic germs in the soil. Some of them fall prey to soil-transmitted diseases, which can cause even death if left untreated.
In India, Bengaluru is the epicenter of Indian American Sanjay Rajasekharan and his nonprofit Running4Shoes' philanthropic movement. The Indian team of the Running4Shoes volunteers collects shoes and distributes to underprivileged school children in and around Bengaluru, Karnataka. In December 2018, Running4Shoes donated 500 pairs of shoes to the needy children of schools in and round Bengaluru.
Also Check: This Indian American Teen Gifts Vision to the Blind in India
A software engineering intern at Cleo Software, Sanjay Rajasekharan receives support and donations from employees of Cleo Software at its base in India. Cleo India's employees in Bengaluru, including HR manager Akshatha Mayya help Sanjay coordinate with local schools and their needy students from poor families. They also help raise funds, source quality shoes at discounted prices, manage logistics, and deliver them to the selected schoolgoers.
Sanjay has received accolades from many high-profile people, in response to his humanitarian pursuit. Rachel Cowan, the director of Disaster Relief at the Oroville Hope Center in Oroville, California, said, "It is heart-warming to see Sanjay at such a young age dedicate himself to the noble cause of providing shoes to needy school children and positively impact underprivileged communities."
A student of The Harker School in San Jose, Sanjay Rajasekharan is the vice president of the robotics team at his school, and makes the most of his coding expertise to innovate technology. Of late, he developed a diabetes simulator. Sanjay Rajasekharan's Running4Shoes has extended its work to different parts of California, including Fremont where Arnav, another Indian American student, is the chapter head. He tutors elementary school students for free and volunteers at the American Cancer Society in his spare time.
This story is part of our continued series of inspiring stories about young Indians in USA, at Travel Beats, an Indian American community portal by Indian Eagle Travel. Indian Eagle is a leading air travel booking partner of Indian Americans, making them travel on cheap economy flights to India from USA throughout the year.