Atlanta-based Patti Tripathi is up with the Saris to Suits Calendar 2017 edition, which features 13 powerful women activists, humanitarians, entrepreneurs and professionals from different communities. A tribute to women power and an initiative for women empowerment, the Saris to Suits Calendar seeks to raise funds to drive campaigns against domestic violence and gender inequality. Proceeds from sales of the calendar go to support a number of women-aiding activities by several non-profit organizations in USA.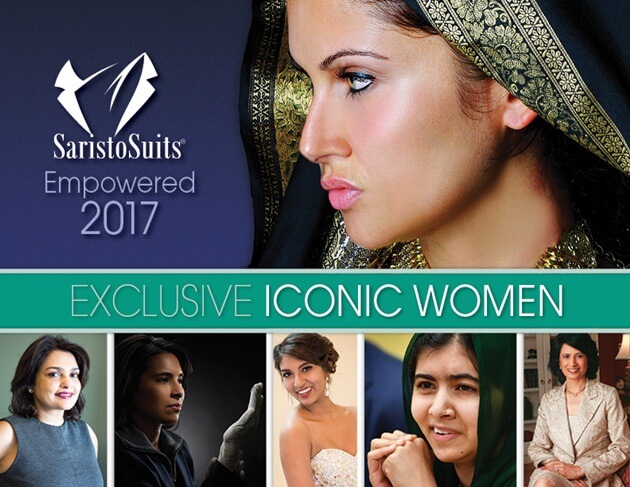 Former CNN news anchor and TriPath Media founder, Patti Tripathi unveils who and what the role models are in the 2017 edition of her calendar which does not objectify women unlike fashion calendars of skimpily clad models. We are honored to profile the inspiring women leaders, who have graced the calendar and supported the move by featuring in the latest edition, at Travel Beats, an Indian American Community portal by IndianEagle. (Know more about Patti Tripathi) 
Hardeep Melamed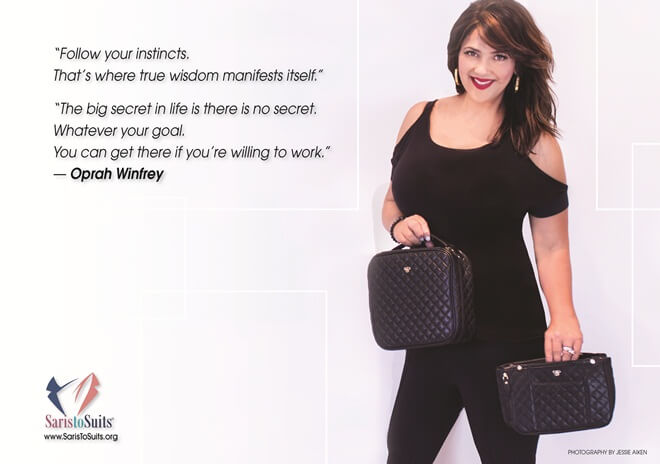 Hardeep Melamed, a Punjabi American entrepreneur, is one of the faces in the 2017 edition of Saris to Suits Calendar. The CEO of PurseN, she has been in the fashion industry for the past 20 years. Her career in the fashion retail niche started at an early age. After a stint in managing fashion retail stores in Houston, Atlanta and Los Angeles, Hardeep opened her own store, Mint Beverly Hills, in Houston and Atlanta. A mother of two children, she has launched her own clothing line, Forte.
Kiran Chetry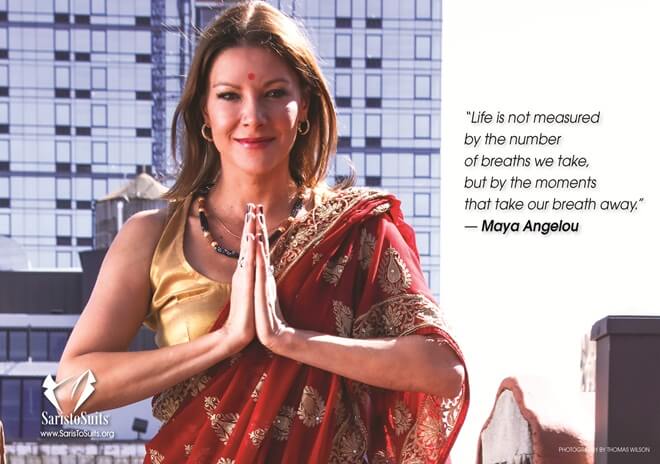 A Nepali American, Kiran Chetry is an award-winning journalist and the Editor in Chief of the first bimonthly magazine, "The Nepalese American Magazine," which highlights the Nepali American community's contributions to the socio-economic progress of USA. A mother of two, Kiran Chetry has been into anchoring, reporting and television broadcasting since 1995 during her professional journey from Maryland to Pennsylvania to California. She prides herself on featuring in the Saris to Suits Calendar 2017.
Dr. Renu Khator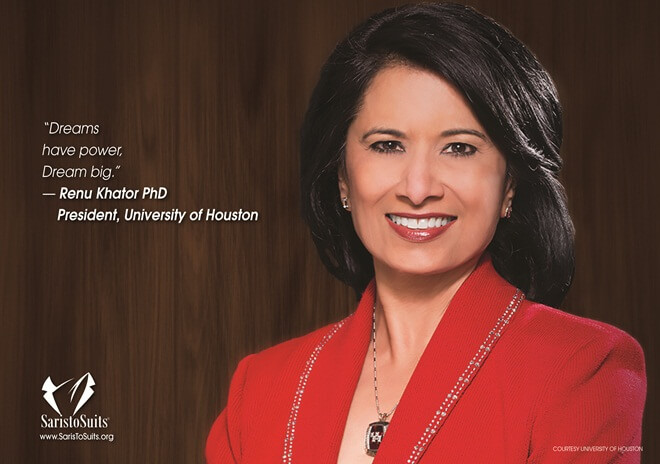 One of the influential Indian American women, Dr. Renu Khator is the President and Chancellor of the University of Houston (UH). Recently she has been inducted into Texas Women's Hall of Fame for her remarkable contribution to the academic progress of Texas. As Chancellor of Houston University, she is at the helm of a system that caters to over 70,000 students. Born in the Indian state of Uttar Pradesh, Renu Khator pursued her masters and PhD in political science at Purdue University. She is an eminent scholar in the global environmental policy and a published author too.
Raaheela Ahmed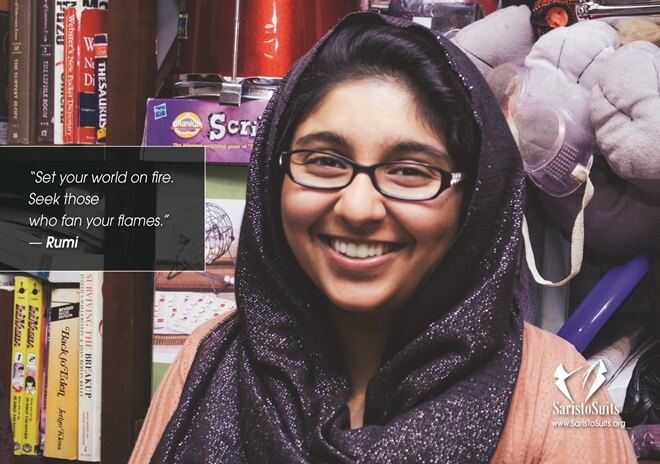 Raaheela Ahmed in the league of women for Patti Tripathi's Saris to Suits Calendar 2017 edition is a financial advisory associate and an elected member on Prince George's County Board of Education in Washington DC Metro Area. She won the Sally Byrd Citizenship Award for her outstanding leadership role at the University of Maryland. Raaheela Ahmed is a double graduate with a B.S. in finance and a B.A. in economics.
Dr. Sangeeta N. Bhatia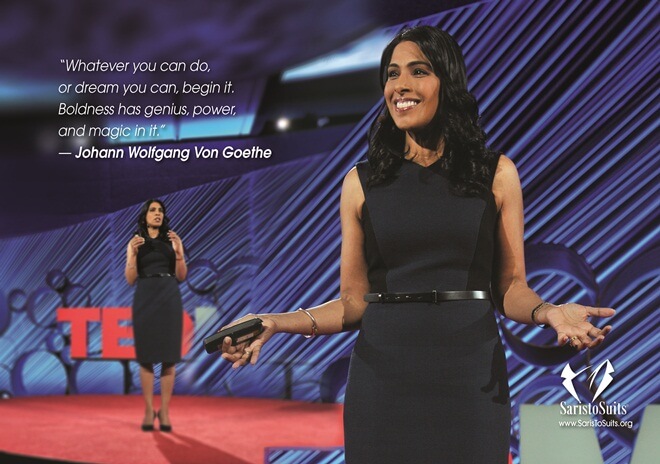 Another powerful face of innovation, leadership and entrepreneurship in the 2017 edition of Saris to Suits Calendar, Dr. Sangeeta N. Bhatia is an Indian American biotech entrepreneur, MIT professor, cancer researcher and biological engineer. Born in Boston, she started her career as a faculty at the University of California, San Diego in 1999 and then became an associate professor. Dr. Sangeeta Bhatia along with her students has launched 10 biotech companies to improve human health through medical innovations. She is a proud winner of the Lemelson-MIT Prize, the 'Oscar for Inventors.'
Malala Yousafzai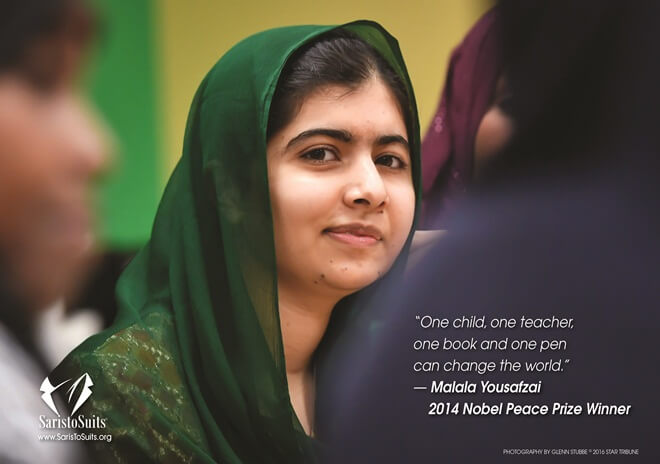 Malala Yousafzai is the most familiar face among the women that Saris to Suits Calendar features in its latest edition. The youngest Nobel Peace Prize winner and a staunch activist for girls' education, she needs no introduction. Her human rights advocacy for education has become a global movement. The United Nations named July 12 "Malala Day" in support of her advocacy for all girl children's access to adequate education.
Roopa Unnikrishnan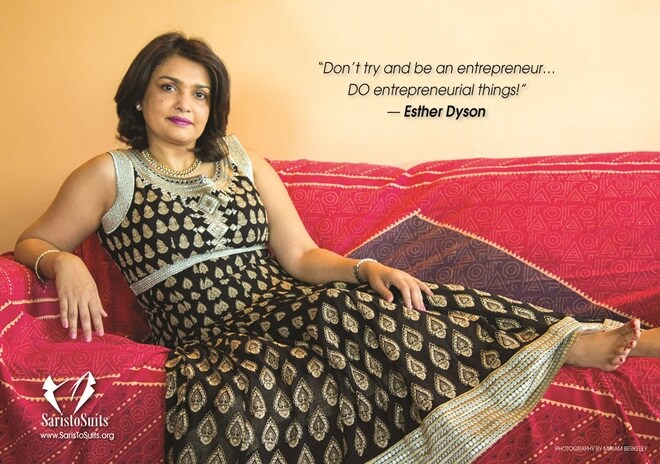 One of the role models of women empowerment for Patti Tripathi's Saris to Suits Calendar 2017, Roopa Unnikrishnan is a published author, innovation consultant and a Rhodes Scholar from Chennai, India. An ardent advocate of athletics in India, she received the Arjuna Award (India's highest sporting prize) in 1999. Roopa Unnikrishnan pursued MBA at the School of Business, Oxford University and married Sreenath Sreenivasan, the Chief Digital Officer of New York City.
Rayna Chandra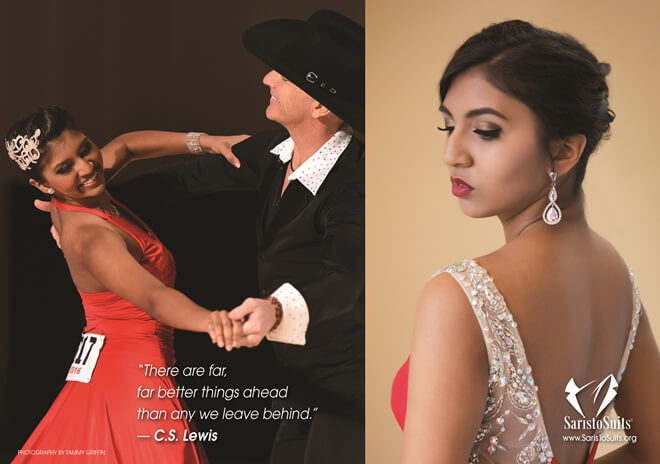 Rayna Chandra is the youngest of all women supporting Patti Tripathi's initiative for women empowerment. A World Champion Ballroom dancer, she turned 18 in September this year. She does lots of charity and dances to benefit several initiatives like PACE for girls and Saris to Suits. Based in Florida, she traces her roots to Hyderabad and Bengal. She aspires to study law aiming to help victims of domestic violence. Her surgeon father and dentist mother are well known for their philanthropic activities in Florida.
Dr. Nazeera Dawood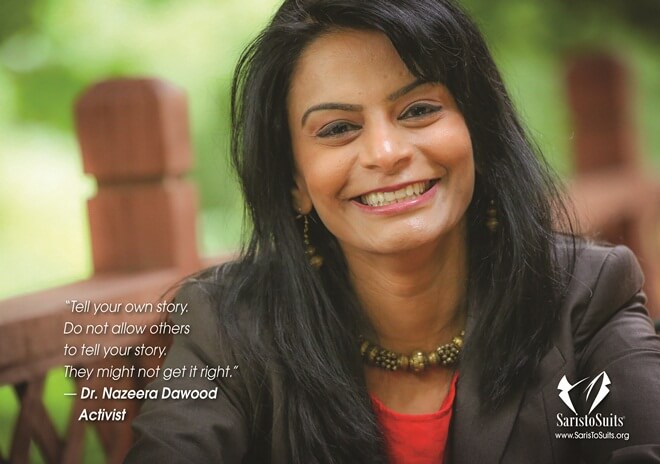 Dr. Nazeera Dawood is a courageous activist for women and a health & wellness ambassador for Fulton in the Greater Atlanta Area. She has been working for community health improvement from India to Atlanta. She serves as the Deputy Chief of Staff at the Fulton County Office of the Chairman Board of Commissioners and works as the health promotion program manager for the Fulton County Department of Health and Wellness. In 2014, Fulton Country honored her and recognized her leadership by declaring October 1 as 'Dr. Nazeera Dawood Appreciation Day.'
Cara Elizabeth Yar Khan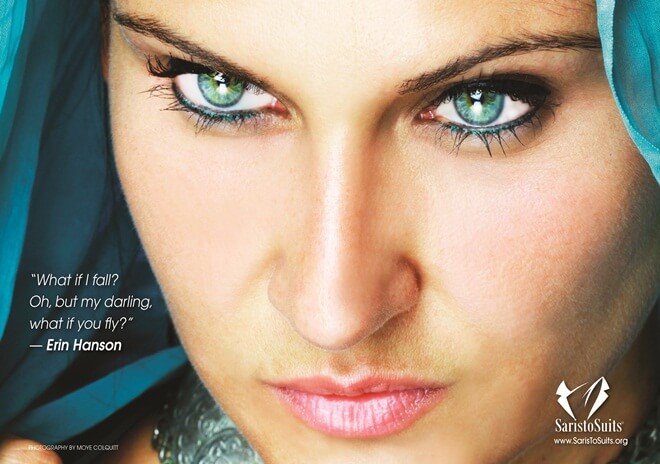 The bravest of all role models featuring in the 2017 edition of Saris to Suits Calendar, Cara Elizabeth Yar Khan is a fighter and activist. Born in Hyderabad and raised in Canada, she was diagnosed with a rare, progressive muscle-deteriorating condition at 30. However, it couldn't hold her back from becoming a humanitarian and working for the underprivileged children on behalf of UNICEF. Cara E. Yar Khan went on to work in Angola, China, Botswana, Madagascar, Haiti and Mozambique. Though she needs the support of two leg braces and canes to walk, she plans to cross the Grand Canyon on horseback in April-May 2017 to fight discrimination against the physically challenged.
Dr. Vanila Singh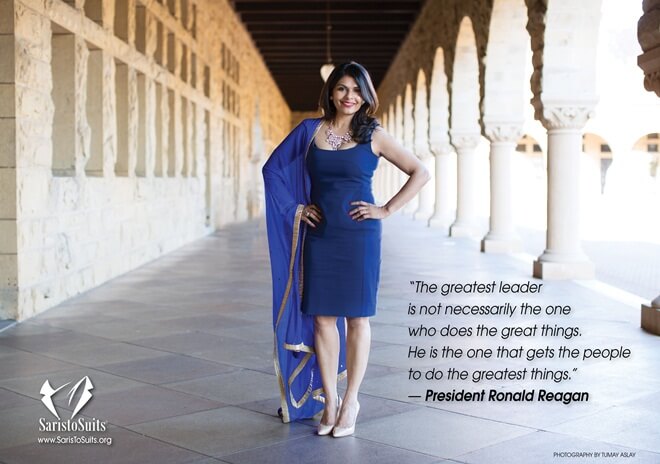 An Indian American of Rajasthani origin, Dr. Vanila Singh is a powerful proponent of STEM (Science, Technology, Engineering and Mathematics) for women and girls. She is also an Associate Professor of Anesthesiology at Stanford University. Based in California, Dr. Vanila Singh advocates the national health policy and motivates immigrants to take part in public service as well as political affairs. Among the inspiring leaders in the Saris to Suits Calendar 2017 edition, she is trained in Kathak and Bharatnatyam.
Reshmee M. Bharratt and Puneet Kaur Sandhu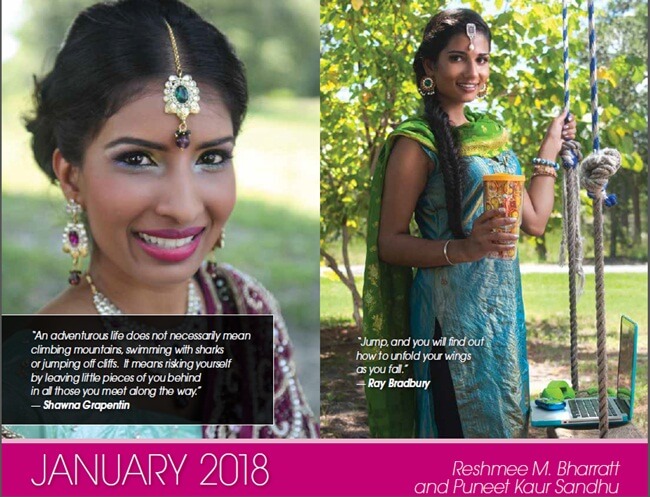 Reshmee M. Bharratt and Puneet Kaur Sandhu are also associated with Patti Tripathi's Saris to Suits Calendar. Reshmee is an accountant at PwC in Orlando and a member of the Saris to Suits board. Puneet Kaur, a UK-born Punjabi American in Florida, is one of the volunteers for Saris to Suits. An aspiring documentary filmmaker, she is looking to pursue masters in journalist at City University of New York.
Join the Saris to Suits, a non-profit initiative and contribute to empowerment of economically disadvantaged women in developing countries including India. All contributions to this noble charity are exempt from federal tax under 501(C) 3 Revenue Code in USA. For more information, log on to SarisToSuits.org or write to Info@SarisToSuits.org. You can also post your queries in the comment section below.
Note: All the photographs are copyright protected and belong to SarisToSuits.org. Downloading the photographs is strictly prohibited. Any violation of the copyright will result in a legal action.