Today, Mother India is proud of another Indian American, Nand Mulchandani who emerged as a tech wizard for the defense and security of the United States, the super power of the world. India-born Nand Mulchandani has been appointed as the first-ever Chief Technology Officer of Central Intelligence Agency (CIA) that collects, processes and analyses intelligence reports from around the world to strengthen national security of America. Announced by CIA Director William J Burns, his appointment is a new feather in the cap of not only Indian Diaspora, but also India at large.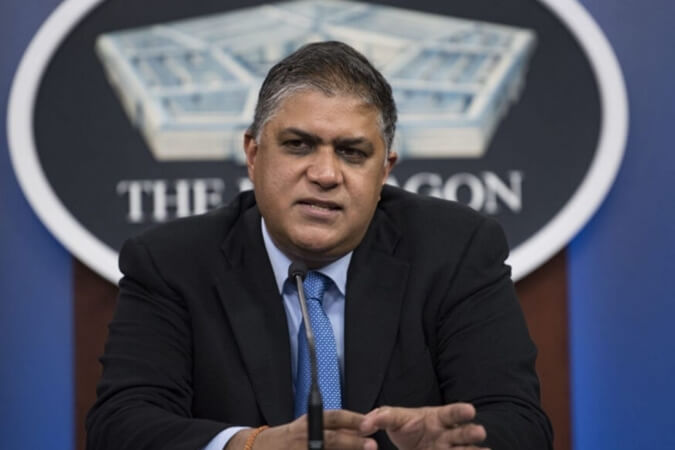 He, in his new role, will be "leveraging cutting-edge innovations to further CIA's mission." He was a Silicon Valley serial entrepreneur before he made the cut as a technology expert in defense, intelligence and security. He had been the CEO of several successful start-ups that he co-founded prior to joining the Joint Artificial Intelligence Center (JAIC) as CTO in 2019. JAIC, a subdivision of the US Armed Forces, is responsible for deploying AI technology in the US Department of Defense (DoD). He took over as Acting Director of JAIC and reported to the Chief Information Officer of DoD for 4 months in 2020.
As Acting Director of the Joint Artificial Intelligence Center, he was the senior executive in charge of JAIC's relationships with the White House, US Congress, Armed Forces, National Security Commission and various federal agencies. Furthermore, he helped build and implement a futuristic strategy for JAIC, according to his LinkedIn profile. His leadership in transforming a small setup of JAIC in the Pentagon into a larger organization did not go unnoticed. His exposure to and experience in the Department of Defense served as the foundation of his new appointment to a most responsible position, the first-ever CTO of Central Intelligence Agency. He shared on LinkedIn:
"I'm excited to announce that I'll be joining the Central Intelligence Agency (CIA) as their first ever Chief Technology Officer! And believe me, this was certainly an "offer I could not refuse. Technology is eating the world, and there is no question around the impact it is having on Human Intelligence gathering (HUMINT), which is surprisingly at the core of almost all the other types of intelligence that is collected and processed. This impact is so significant to the CIA's mission that Director Burns made the focus on Technology one of his top priorities. Creating this new role and having it report directly to him is a clear signal that he's serious about driving this change. I couldn't be a luckier person to get this job and am excited to continue my journey in public service with the CIA."
After finishing schooling at Bluebells School International in New Delhi, Nand Mulchandani travelled to the US on a student visa. He earned a bachelor's degree in computer science and math from Cornell University. Thereafter, he continued to obtain an MS degree in management from Stanford University and study masters in public administration at Harvard University's Kennedy School of Government. Among his start-ups in the Silicon Valley, Oblix was acquired by Oracle; OpenDNS was acquired by Cisco; and Determina was acquired by VMWare whose CEO is Indian American Rangarajan Raghuram.

Indian Americans are carving out a niche for themselves in not only intelligence and security, but also defense and military. Recently, Shanti Sethi, a military veteran with 29 years of stellar experience in the US Navy, joined the Biden-Harris administration as a defense advisor to Kamala Harris. Interestingly, she was the first Indian-origin navy officer to have commanded the USS Decatur, a missile destroyer. More two Indian Americans have recently been given key roles in the Department of Defense. Sabrina Singh, a versatile communication expert who worked on communications for presidential campaigns from Hilary Clinton to Kamala Harris, has been appointed as director of integrated public affairs campaigns at the Department of Defense.