Amid the mayhem at the US Capitol grabbing all the headlines on January 7, Indian American Dr. Raj Iyer's swearing-in as the first Chief Information Officer of the US Army is the best news to watch out for. After the Pentagon, the headquarters of the US Department of Defense, created the position in July 2020, he became the first-ever CIO of the mightiest army and made history.
Dr. Raj Iyer is one of the highest ranking civilians in the Department of Defense. Prior to taking over as the US Army's first-ever CIO, he served as the principal advisor to the Secretary of the Army and represented the Secretary in matters pertaining to information management. His new designation is now equivalent to the rank of a three-star General.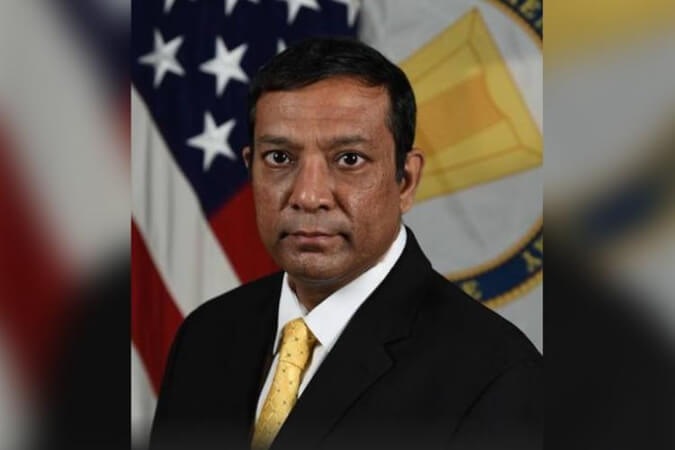 As the US Army's CIO, Dr. Raj Iyer will be responsible for the execution of the policies aimed at modernizing the US Army in contrast to the rivals, China and Russia. The annual budget worth USD 16 billion allocated for the US Army's worldwide IT operations will be spent under his supervision. Reportedly, more than 15,000 military personnel and civilians who are strategically posed in 100 countries will be working under him. He will make sure that the budget is utilized to justify the Army's commitment to leveraging the best of futurist technologies, such as robotics, artificial intelligence, machine learning, cloud computing, etc.
Born in Tamil Nadu and raised in Bengaluru City, Dr. Raj Iyer graduated from National Institute of Technology Trichi before he moved to the United States for higher studies. He studied MBA at the University of Michigan and earned an MS degree in electrical engineering from the University of Texas, Arlington. He is a distinguished PhD alumnus of the University of Texas.
When he was an undergraduate in the USA, his father's savings fell short of the tuition fee for one semester. However, he was lucky enough to secure a full fellowship that helped him pay for tuition and rent until he completed graduation.
Former managing director at Deloitte Consulting LLP, Indian American Raj Iyer has established new institutions, such as the first office of the Chief Technology Officer in the US Army. During his illustrious career spanning 26 years in the USA, he supported several businesses in both defence and non-defence fields with technological solutions to complex enterprise challenges.
It was his father who made him value education and instilled passion for public service into him. With his father's teachings, he had started the journey towards fulfilling his American Dreams. His wife is a healthcare IT manager in the US government.