"That 17-year old was me. I later found out that the inspirational powerhouse of a woman who spoke to me was Michelle Obama…."
The excerpt above is part from a letter to former First Lady Michelle Obama from a 38-year-old Indian American woman named Sindhu, who was inspired to make something of her life in service to others 21 years ago. Sindhu, then a 17-year-old Indian girl, was sitting dejected in a chapel as if she were lost in a labyrinth of despairs, one day in 1996. A chance encounter with Michelle Obama in the chapel proved to be a blessing in disguise for Sindhu. It lent her a new lease of life with a purpose, an aim, a goal to reach. It transformed her life by rekindling the dying flames of optimism and confidence in her innermost world. Soon after the day which got etched in her memory, Sindhu joined a hospital as a volunteer and signed up for an after-school program. She started teaching creative writing and literature to the underprivileged children in a community.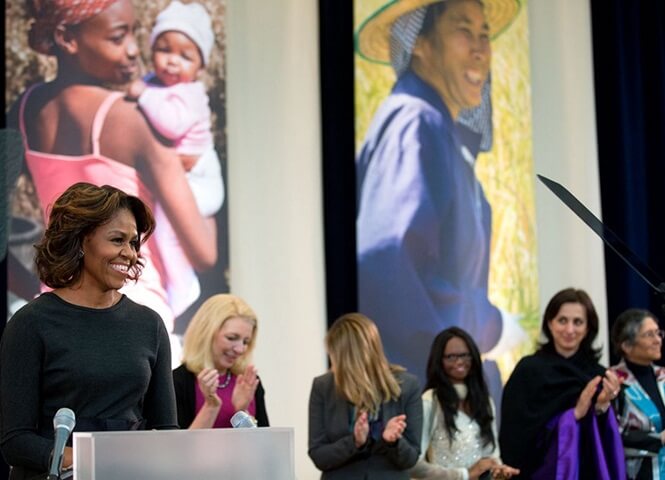 She was not in the know of who spoke to her in the chapel and brought her life alive. Eventually, she got to know that the lady was none other than Michelle Obama.
Today, Sindhu is a 38-year-old woman on a mission, a bit older in body but much younger in spirit. She motivates medical students to develop a passion for behavioral sciences and psychiatry. She helps children and adults cope with mental illness, with equal empathy for them. In an after-school outreach program, she teaches 6th graders how to boost their mental health and keep stress away. The fire of positivity lit in her as a freshman at the University of Chicago has never been extinguished. It continues to be aflame.
Recently Sindhu went to visit Michelle Obama and thank her, but former First Lady was on a vacation. She left a note for her, which makes an inspiring story for us.
In the letter, she profusely thanked Michelle Obama "for helping a vulnerable teenager to challenge the notion that she was powerless, for teaching by both words and example that the best uses of power and influence are in the service of others and out community." She expressed her deepest gratitude to Michelle Obama and Barack Obama for their "profound levels of activism within our community, leading up to a historic event that I did not think I would witness in my lifetime." In the letter, she further thanked both of them for treating children, their own and all of America's, with kindness and spontaneity."
In her letter to Michelle Obama, Sindhu wrote that she is now a middle-aged Indian American woman and that she tied her knot with an Indian feminist man. "I am a proud mother of a feminist 3-year old son. They are amazing. The ways in which you have impacted the world have left me expecting so much more from our world. And I know that this is not an expectation I can have without being part of that change."
"No occasion would have been better other than International Women's Day for former US President Barack Obama to share Sindhu's thanking letter to Michelle Obama, which is full of inspiration and positivity for us." – Indian Eagle
Travel Beats is a leading Indian American portal by Indian Eagle, a trusted travel partner of Indians in USA. Subscribe to Travel Beats' free newsletter for the latest immigration, visa, air travel, community news and exclusive stories.