Durga Puja is one of the grandest and most-awaited Indian festivals in October 2022. It is a most spectacular celebration in the Indian state of Bengal. However, the festival is celebrated with equal enthusiasm wherever Bengalis are in the world. About two dozen of Durga Puja events in New Jersey and New York transform the northeast cost into a mini Bengal with cultural exuberance this time of the year. Bengali associations across New York and New Jersey started preparations months ago, so that the festivity does not fall short of joy and happiness in their adopted home. They can live away from home, but can't survive without the blessings of Maa Durga, the bliss of bhoger kichudi, the beats of dhak, and the ecstasy of dunuchi naach.
Travel Beats, a leading Indian American community portal by Indian Eagle, recommends some of the best places for Durga puja 2022 celebrations in New York and New Jersey.  "Elo re Dugga elo re…"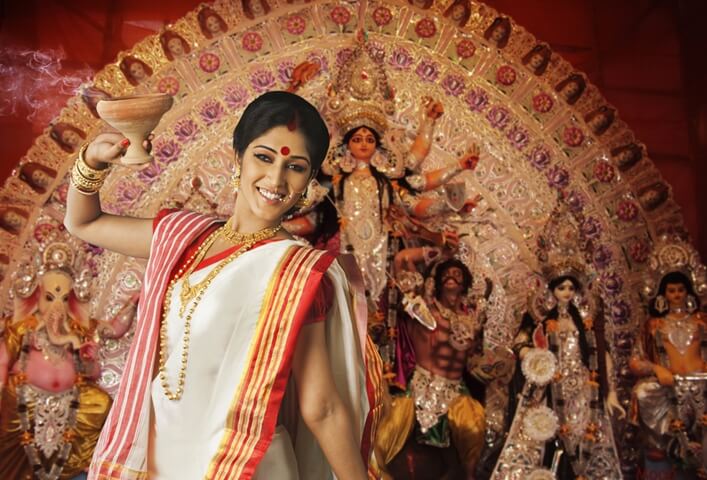 Sanskriti Durga Puja 2022: Buffalo, New York
Sanskriti, a Bengali cultural association in Buffalo, is one of the best and oldest places for Durga Puja celebrations in New York. Founded in 1974-75, the Sanskriti Durga Puja is a cultural platform for the present generation of Bengali Diaspora in the northeast US to have a tryst with their heritage, literature, and traditions thousands of miles away from India. Sanskriti also celebrates other festivals with equal enthusiasm. Their Durga Puja celebration was graced by such renowned performing artists as Purna Das Boul and Bhupen Hazarika in the years gone by.
Dates: October 7 to 9
Venue: Hindu Cultural Society, 1595 N French Road, Getzville, NY 14068
Contact: president@buffalosanskriti.org, +1 716-331-7657
Website: Buffalosanskriti.org
East Coast Durga Puja Association, New York 
The East Coast Durga Puja Association (ECDPA), the oldest Bengali community in North America, is recognized for their celebration as the best of all New York Durga puja events. Mayor Eric Adams presented them with a citation in 2019 recognizing their contribution towards creating a platform for themselves and other ethnic communities in the borough of Brooklyn. Like previous years, the ECDPA 2022 has a lineup of cultural programs, including a kids talent show.  
Dates:

October 14 to 16

Venue:

Gujarat Samaj Hall, 17315 Horace Harding Expy, Queens, NY 11365

Contact:

(516) 308-2246 or ECDPANY@gmail.com 
New York Kali Mandir Durga Puja, Baldwin
One of the most traditional Durga Puja events in New York is organized by New York Kali Mandir in Baldwin. Inspired by the Dakshineswar Kali Temple of Kolkata, NYKM is home to Goddess Kali worshiped by Bengalis and other Indians. Founded in 2005, the temple doubles up as a community organization for them and helps preserve their age-old cultural traditions in New Yok Metropolitan Area. Located close to NY JFK International Airport, the temple has a well-stocked library for all age groups. Those interested in volunteering can serve the temple this Durga Puja.    
Dates: October 1 to 4
Venue: 614 Seaman Ave, Baldwin, NY, 11510
Contact: nykmdevotee@gmail.com, +1 516-771-5254
Website: Nykalimandir.org
Also read: All about first Hindu temple canteen in New York
New York Sarbojanin Durga Puja Committee, Long Island
Unlike big-budget Durga puja celebrations in New York, the NYSDPC family's Durga Puja is known as Barir Pujo (puja in homely style). NYSDPC, a Bengali community calling New York home away from home, was founded in 1984. There are no cultural programs on their schedule this year; but aarti, pushpanjali, and bhog (prasad) distribution are the actual delights of their celebration.
Dates: October 1 to 2
Venue: VFW HALL, Franklin Square, NY
Contact: +1 631-586-2086
E-mail:  nysdpc@gmail.com
Website: Nysdpc.com
Durga Puja at Ramakrishna Vivekananda Center of New York
Durga Puja at the Ramakrishna Vivekananda Center of New York for the followers of the Ramakrishna order is among the best Durga puja celebrations in the Greater New York Area. Founded in 1933, the center organizes the puja to worship the Divine Mother and seek Her blessings for the humankind. The chanting of sacred hymns and the singing of devotional songs in chorus are the mainstay of their celebration without pomp and in strict adherence to the principles laid out by Belur Math, the headquarters of Ramakrishna Missions worldwide. You must carry your vaccination proof to attend the puja there.  
Dates: October 2
Venue: 17 E 94th St, New York, NY 10128
Contact: (212) 534-9445
E-mail:  rvcenternewyork@gmail.com
Website: Ramakrishna.org
New York Divya Dham Mandir Durga Puja, Queens 
Organized by a local Bengali Hindu community, Durga Puja at Divya Dham Mandir in Woodside Queens is a five-day celebration unlike several other Durga puja events in New York. Kumari Puja, Sandhi Puja and Sindoor Khela are the major attractions of Durga Puja here. Established in 1993, Divya Dham Mandir is a must visit as it is home to a 20-ton Jyotirlingam surrounded by 1008 smaller Shiva lingams, and 51 statues of Divine Mother representing the 51 Sakti Piths in India. There is a massive replica of the cave where Ma Vaishno Devi is enshrined.  
Dates: October 1 to 5
Venue: 34-63 56th St, Queens, New York 11377
Contact: +1 718-606-2315    
East Coast Cultural Association Durga Puja, NY
East Coast Cultural Association, one of the youngest communities in New York, is inviting everyone to attend the celebration and participate in their cultural activities. Visitors will be treated to the authentic food of Bengal at the venue. Their Durga puja celebration stands for cultural integrity and camaraderie. They will also be organizing Kumari Puja and socio-cultural entertainment programs this year.
Dates: October 7, 8 and 9
Venue: 1616 Hillside Avenue, New Hyde Park, NY
Website: facebook.com/ECCA-East-Coast-Cultural-Association-107264072111866/

Utsov Inc. Durga Puja 2022, Edison NJ
Utsov Inc. is known for one of the biggest Durga Puja celebrations in Edison, New Jersey. Utsov Inc. Durga Puja 2022 in East Brunswick has a couple of 'wow' factors – delectable Bengali food and cultural programs. Online or offline registration is mandatory to enter the venue. Amit Paul, who rose to fame as runner-up in the Indian Idol Season 3, will be entertaining the audience on a musical evening at the Utsov Inc Durga Puja in East Brunswick.  
Dates: October 1 and 2
Contact: 732 648 7461 or 313 338 8678, utsov@utsov.org
Venue: Jo Ann Magistro Performing Arts Center, 200 Rues Lane, East Brunswick, NJ 
Website:

Utsov.org
Also read: Amazing Facts about Akshardham Temple in New Jersey
Garden State Puja Committee: Durga Puja in New Jersey
One of the oldest and biggest Durga Puja events in New Jersey is organized by the Bengalis of Garden State Puja Committee, Jersey City. GSPC Durga Utsov 2022 will celebrate its 41st anniversary over foot-tapping numbers of Jeet Ganguli from Bollywood and the melodious voice of Anweshaa of Coke Studio fame. Bongobhoj – a traditional Bengali food fare – is the mainstay of their celebration. Garden State Puja Committee, Jersey City is a non-profit community organization bridging the gap between their life in the US and their roots in Bengal, and providing gharoa paribesh for all festive celebrations.
Dates: October 1 and 2
Venue: William L. Dickinson High School, 2 Palisade Ave, Jersey City, NJ 07306
Contact: +1 201-993-4577 | info@gardenstatepuja.org
Website: gspcnj.com
New Jersey Kallol Durga Puja 2022  
One of the most awaited Indian festivals in New Jersey, Kallol Durga Puja is a memorable celebration every year. Among the oldest Bengali organizations in the US, Kallol has grown from 24 members to a few hundreds in 2022. Multicultural programs including musical performances by eminent artists from India are integral to their Sharodiya celebration. The three-day festivity is an absolute cultural extravaganza at Kallol in Somerset, NJ. Visit their website for the puja and program schedule.     
Dates: September 30 to October 2
Venue: Ukranian Cultural Center, 135 Davidson Avenue, Somerset, New Jersey 08873
Contact: 732.290.5218

Website

:

Kallol.com
Also read: Why Bengal worships living goddesses during Durga puja
Alor Benu Durga Puja in Edison, NJ 
The 'Ekchala' style Durga idol is the main attraction of this simple, humble celebration by a few Bengali families in Edison. This is more a gharoa (family) puja than a community puja. The festive evenings of OCT 1 and 2 will see various cultural indulgences by the organizers and their families. The puja schedule is chock-a-block with traditional rituals from the morning till family dinner in the evening. 
Dates: September 30 to October 2
Venue: 2 Farmhaven Avenue, Edison, NJ 08820
Contact: aamantran@aalorbenu.net
New Jersey Ananda Mandir Durga Puja 2022
Durga Puja at Ananda Mandir in New Jersey is a most traditional one. Hundreds of New Jersey Indians throng the shrine to immerse themselves in festive revelries for five days. New Jersey Ananda Mandir is one of the few Hindu temples in USA that follows the Bengali calendar precisely for celebrating Durga Puja and other festivals. The temple that also doubles up as an Indian cultural center was commissioned in 1995 and completed in 2003. You need to pre-register online for a slot. On successful booking of a slot, you will receive a confirmation email, which you will have to show to the volunteers at the temple complex.
Dates: October 1 to 5
Venue: 269 Cedar Grove Lane, Somerset, NJ 08873-5212
Contact: (732) 873-9821 or info@anandamandir.org
Website: Anandamandir.org
Garden State Cultural Association: Plainfield, NJ
Among Durga puja events organizers in New Jersey, Garden State Cultural Association (GSCA) is in the 27th year of the celebration. GSCA, a nonprofit Indian American organization of Bengalis in Plainfield, leaves no stone unturned to make Durga Puja a grand get-together of not only Bengalis but also other Indian communities over delicious food and cultural entertainment. Registration is compulsory for whoever wants to attend the celebration. You can register on their website given below. Iman Chakraborty and Benny Dayal are among the eminent guests this year. Kumari Puja is a not-to-be-missed event at GSCA, NY.       
Dates: October 8 and 9
Venue: Plainfield High School, 950 Park Avenue, Plainfield, NJ 07060
Contact: (908) 754-3079 or contact@gsca.us
Website: web.gsca.us

Bengali Cultural Society Durga Puja 2021: South Jersey
Of Durga puja events in New Jersey, Bengali Cultural Society's celebration is a lot more than food, fund and frolic. Rather, it mirrors the rich cultural and literary heritage of Bengal on the American soil. Founded in 1978, Bengali Cultural Society is not just one of the oldest Bengali diaspora associations, but a philanthropic organization too. They publish their own magazine Sanskriti every year and runs a Bengali language school for their young ones and those interested in learning the language. Each day of the festivity will culminate in an authentic Bengali community dinner. Iman Chakraborty, a National Film Award winner from Kolkata, will add soulful melodies to the celebration on October 2. Only those who are fully vaccinated are welcome to the BCS Durga Puja 2022 in South Jersey.
Dates: September 30 to October 2
Venue: Indian Cultural Center, 820 NJ-73, Marlton, NJ 08053

Contact

: info@bcssj.org

Website

: Bcssj.org
New Jersey Bharat Sevashram Sangha Durga Puja
The New Jersey chapter of Bharat Sevashram Sangha celebrates Durga Puja to worship the Supreme Power of the universe. The chanting of slokas and hymns reverberates in the air of the ashram temple on the five days of Durga Puja. Devotees can soak in numinous vibes that the ambience is rife with this time of the year. Devotees are required to pre-register for the Durga puja event at Bharat Sevashram Sangha Durga in New Jersey.
Dates: October 1 to 5
Location: 3490 Route-27 Kendral Park, New Jersey 08824
Contact: 732 422 8880/ 347 735 2984 | devotees@sevashramsangha.org
Website: sevashramsangha.org
Dakshineswar Ramakrishna Sangha Adyapeath Durga Puja 
Adyapeath in Edison, an extension of the Dakshineswar Ramakrishna Sangha Adyapeath in Kolkata, is a must visit for its atmosphere full of divine bliss during Durga puja festivities. Adya Maa (Primordial Kali) is the presiding deity of the temple where 'Ekchala' styled Durga idol is worshiped in the sabeki way. Established in 1995 in New Jersey, Adyapeath is dedicated to the service of divinity and humanity.       
Dates: October 1 to 5
Location: Kiddie Keep Well Camp, 35 Roosevelt Dr., Edison, NJ 08837
Contact: 732-249-7077
Website: AdyapeathUSA.org
Travel Beats is a leading Indian American community portal catering latest news and stories to Indians in USA. It publishes the latest visa, immigration and travel news alongside interesting and inspiring stories of Indian Americans. Subscribe to our free newsletter for upcoming news, stories and events in US cities.