Kati Roll, an easy-to-grab snack on the go from the street food landscape of Kolkata, has found home in the United States since Payal Saha started cashing in on her nostalgia in 2002. A newly wed bride from India back then, Payal turned her cravings for Kolkata's Street food into her passion for a business in the US where spouses of H1B visa professionals were barred from taking up jobs due to H4 visa restrictions. She opened the first outlet in New York City, which eventually became a $16-million franchise – The Kati Roll Company – from the US to London.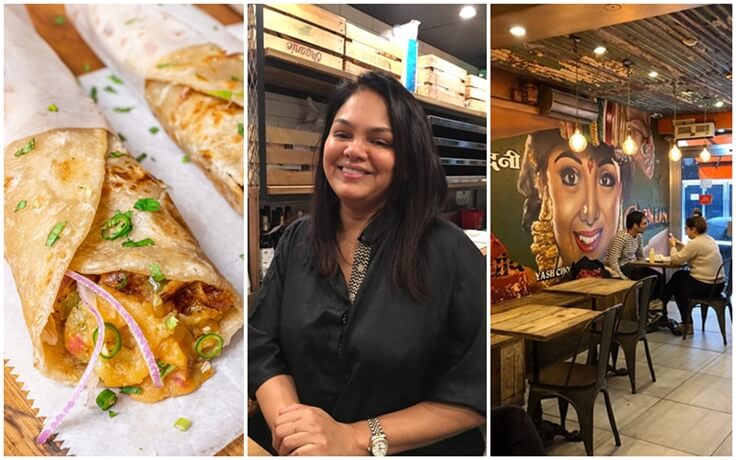 Stuffed with skewer-grilled ingredients wrapped in flatbread (paratha) topped with sauces/chutneys and seasoned with chopped green chilies, Kati Rolls resonate with various emotions of Kolkata and define the vibes of different occasions. Grabbing bites of an egg roll or a chicken roll or a chicken egg roll is a ritual during a movie interval, a get-together, a friendly soiree, a holiday outing, a shopping spree, and during a lazy walk on a breezy evening in Kolkata. Even hopping across Durga Puja pandals and binging on Kati Rolls go hand in hand in the City of Joy.
Today, Payal Saha's Kati Roll Company in New York has four outlets – Grand Central, Greenwich Village, Midtown East, and Midtown West. Grand Central is the newest one, while the oldest outlet is at Greenwich Village. Her business expanded to London where she owns an outlet near Oxford Street. Presenting Kati Rolls as a quick snack and a casual meal to people on the move in highly cosmopolitan cities like New York and London has been the recipe of her success thousands of miles away from India.
She took a flight to Kolkata from New York before making her entrepreneurial debut and visited many fast-food joints selling Kati Rolls from north Kolkata to south Kolkata. She also helped at a shop to learn the nitty-gritty of making and serving Kati Rolls the way it is done in every nook and corner of Kolkata. She went on to open the first outlet of the Kati Roll Company in New York without a business plan and any prior experience of running a business. There was no such extravagance as ceremonial opening. Her zeal to offer an authentic taste of Kolkata's favorite street food to Americans, especially New Yorkers helped the business grow.
"She knew she may not be able to provide the vibes that treating one's tastebuds to Kati Rolls in a typical Kolkatan setting comes with. However, she recreated the filmy ambience that many Indians are fond of by decorating her Kati Roll Company outlets in New York with vintage posters of old Bollywood movies and Bengali films. This reminds me of the décor of Google's Indian restaurant in Silicon Valley," said Sourav Agarwal, the Editor of Travel Beats.
The USP of Payal Saha's Indian street food business is chapati, not paratha. She chose whole durum wheat over refined floor to make chapatis to wrap various fillings in rolls. Durum wheat is rich in protein, potassium, zinc and dietary fibre. This is what distinguishes her rolls as healthy delights from the paratha-wrapped rolls sold across Kolkata. Achari Paneer Roll and Chicken Tikka Roll are the bestsellers of all varieties, including Chana Masala Roll, Shami Kabab Roll, Aloo Masala Roll, Egg Aloo Roll, Egg Paneer Roll, and Egg Chicken Roll.
Kati Roll Company's founder Payal Saha inherited the entrepreneurial streak from both her grandparents, paternal and maternal. Her maternal grandfather studied chemical engineering at New York University and came back home to start a business. Her rolls are so high on demand even after 20 years that she sells over 3000 rolls a day and over a million a year. The rush is so huge some days that she hires bouncers to manage the serpentine queues of customers. Today, her company is a popular brand recognized by Americans and Indians alike.
This exclusive story is part of the new series, Indian Life in America, by Indian Eagle that hundreds of thousands of Indians in USA have chosen as their reliable air-ticketing partner. Subscribe to Travel Beats, a community portal by Indian Eagle, for Indian Diaspora stories, US-India travel news, visa and immigration updates.
Also Read: Americans in Love with Desi Chai Brewed by Indian-origin Siblings