All the speculations about Indian Prime Minister Narendra Modi's visit to USA for a meeting with President Donald Trump came to an end with the confirmation of his travel in the last week of this month (June 2017). It will be PM Modi's first visit to Washington DC in the Trump administration post the US elections 2016. PM Modi's first meeting with President Trump is scheduled between June 25 and 27.
Both Indians at home and in the US are sanguine about Narendra Modi's visit to USA and meeting with Donald Trump in June 2017 as it is set to take place when the White House's stand on H1B visa and optional practical training (OPT) is a big global issue. India's rejection of the US government's Paris accord charge is another matter in the background of PM Modi's visit to USA in June 2017.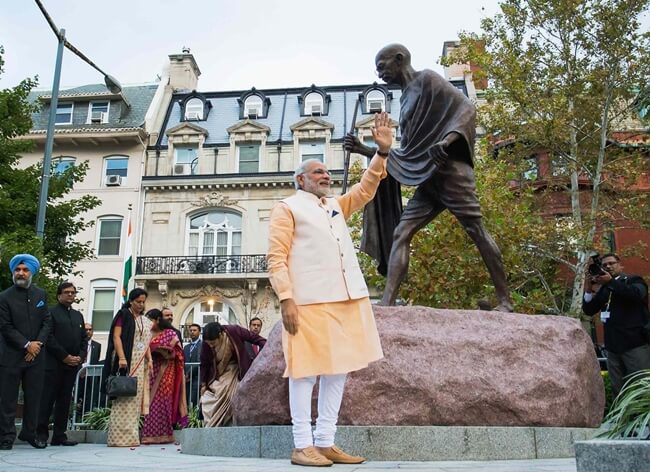 According to the schedule of PM Modi's visit to USA in June 2017, which is not yet fully reveled, he will have an official welcome at the White House and a couple of meetings with the lawmakers in the Trump administration. However, a previously planned visit to Houston for a meeting with leading activists from the Indian community in USA has been removed from PM Modi's schedule of US visit.
The White House's recent executive orders to reform H1B visa norms and restrict inflow of foreign workers on US employment visas have thrown the Indian IT sector out of gear. India's leading IT giants including Wipro, Infosys and TCS, who are the biggest users of H1B visas and who hit the panic button for the US government's latest work visa policy, are looking up to Narendra Modi's visit to USA in June 2017 for a positive change.
PM Modi's upcoming meeting with President Trump has given rise to expectations regarding India's stand against hate crimes to Indians in USA. When Srinivas Kuchibhotla, an aviation engineer from Hyderabad, was gunned down in the Kansas shooting, certain groups of Indians expressed unhappiness about the way India's External Ministry of Affairs responded to the shocking incident.
The schedule of PM Modi's upcoming US visit in June 2017 also includes a round-table meeting with the CEOs of leading American companies. However, the White House has not yet issued any press release about PM Modi's meeting with President Trump. Reportedly, Donald Trump invited Narendra Modi to visit the United States after a telephonic discussion about bilateral ties between two countries in January 2017.
Indian Eagle, a trusted travel partner of Indians in America for booking their flights to India, publishes stories of Indians in USA, shares latest air travel news and lists upcoming Indian American events on Travel Beats, a leading Indian community portal. 
You may Find These Stories Interesting and Word Reading