The celebration of Diwali in the United States is grander this year than the previous years. Starting from the White House and Swaminarayan temples, the festival of lights traveled to Washington Dulles International Airport, the national capital region's gateway to the world, in a historic first this year. President Trump's lighting of the ceremonial lamp in the White House and his message about the administration's commitment to protect religious liberty in the US was followed by a Diwali-special cultural extravaganza at Washington Dulles Airport (IAD).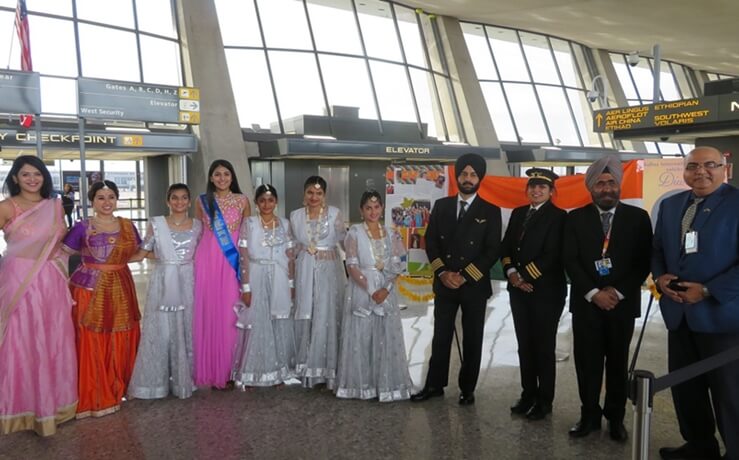 While the Times Square Diwali in New York is the most spectacular one and the White House Diwali is the most talked about one, the Washington Dulles Airport Diwali has scripted a new history by being the first of its kind at a leading US airport. The credit goes to Akanksha Sharma, marketing associate for Metropolitan Washington Airports Authority, for the initiative.
Located in Fairfax and Loudoun counties of Virginia, Dulles Airport (IAD) caters to thousands of Indians from the Washington DC Metropolitan Area and does have good air connectivity with New Delhi. Besides, it is one of the sources of nonstop Air India flights to India. Evidently, Washington Dulles Airport was the first choice for Diwali celebration at a major US airport.
Washington Dulles Airport's Diwali 2019 celebration was at its cultural best. With traditional dance performances and henna art demonstration, the celebration was as diverse as the rich Indian culture. Everyone present at the airport that moment was greeted 'Happy Diwali' and given a packet of cookies. Freebie international chargers were also distributed.
The students of Nrityaki Dance Academy, Virginia enthralled the onlookers, travelers, airport personnel and Air India passengers with their dance performances making the celebration a riveting glimpse of what Indian culture is meant. The performances – classical and Bollywood – were choreographed by Kathak exponent Shweta Mishra, the founder of Nrityaki Dance Academy. She described the celebration as a matter of great pride and making a part of history.
Sneha Mishra, the winner of the 2019 Miss India DC pageant, happened to be present at the airport during the celebration. Pleased to see the Nrityaki students performing Kathak and Bollywood dance with equal élan, she said, "Diwali celebration is a fantastic initiative promoting our culture in the DMV (DC, Maryland, Virginia) area. Air India flight crew were among the attendees.
We are celebrating #Diwali this morning in the Main Terminal! pic.twitter.com/DuaN0e4uA6

— Dulles Airport (IAD) (@Dulles_Airport) October 25, 2019
Happy with the way the programs were organized, Akanksha Sharma is hopeful about Diwali becoming an annual event at Washington Dulles International Airport. If things fall in place as expected, it will be organized on a large scale next year.